Chinese workers' efforts on Transcontinental Railroad honored
By LIA ZHU in San Francisco | China Daily USA | Updated: 2018-05-11 05:08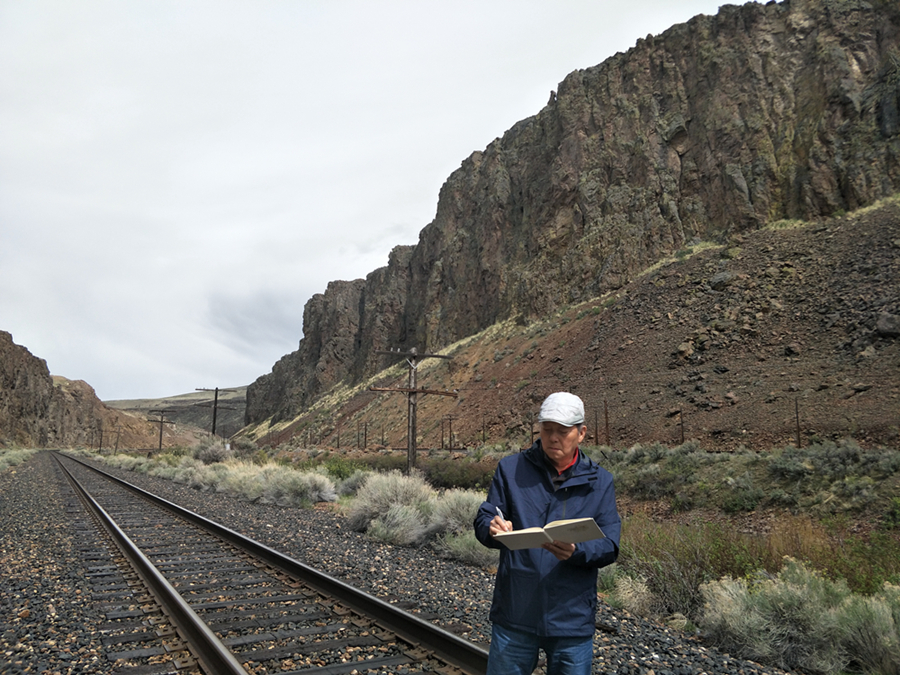 As California celebrated its second Chinese Railroad Workers Memorial Day on Thursday, a Chinese artist and a state Assembly member have produced an art exhibition to honor the workers and promote Sino-American friendship.
Zhao Zhunwang, a Beijing-based artist of traditional Chinese paintings, recently completed a 10-day visit to the historical sites where Chinese workers helped build the Transcontinental Railroad in the US more than 150 years ago.
He traveled, sometimes on foot due to rough terrain, across three states from Sacramento, California, to Salt Lake City, Utah. During the trip, he worked on 60 sketches.
"The paintings depict not only the beauty of the landscape but also the arduous condition for Chinese workers," said Zhao, 73, vice-president of the Art Creation Institute of the Chinese People's Association for Friendship with Foreign Countries.
The sites depicted in Zhao's paintings include the China Wall of the Sierra, Colfax station, Donner Pass and Chinese workers' cemetery. He said he was most impressed by the "China Wall" – the massive retaining walls that hold up parts of the rail line.
"The wall reminds me of the Great Wall in China. It represents the hardworking spirit and perseverance of the Chinese people," Zhao said.
The 60 sketches, which were on display at Assembly member Kansen Chu's office on Tuesday, will lay the groundwork for a large-scale painting, nearly 50 feet long and 5 feet high, depicting the railroad landscape from Sacramento to Salt Lake City.
Zhao plans to finish the painting ahead of the 150th anniversary of the completion of the railroad next year for public exhibition in both China and the US.
"Not until recent years did people begin learning about the Chinese railroad workers. I hope the exhibition can remind people, both in China and the US, of the friendship between the two countries as early as 150 years ago," Zhao said.
Zhao said the project was inspired by a conversation with Chu at his art exhibition in California last year.
"The Chinese railroad workers played a key role in the Transcontinental Railroad, which was in operation for more than 100 years and paved the way for economic growth," Chu said.
"However, their role was largely neglected for many years. There were no Chinese faces in the photos of celebrating the completion of the railroad," he said.
Originally known as the Pacific Railroad, it was completed on May 10 1869, linking the West and the East for the first time in American history with 1,907 miles of contiguous track.
The construction, which took six years, was one of the most remarkable engineering feats of the 19th century.
Nearly 12,000 Chinese railroad workers were recruited, and nearly 1,200 of them died from work accidents, avalanches and explosions while working in the Sierra Nevada Mountains.
liazhu@chinadailyusa.com