Ethiopia ties enter 'new stage'
China Daily | Updated: 2018-05-14 07:07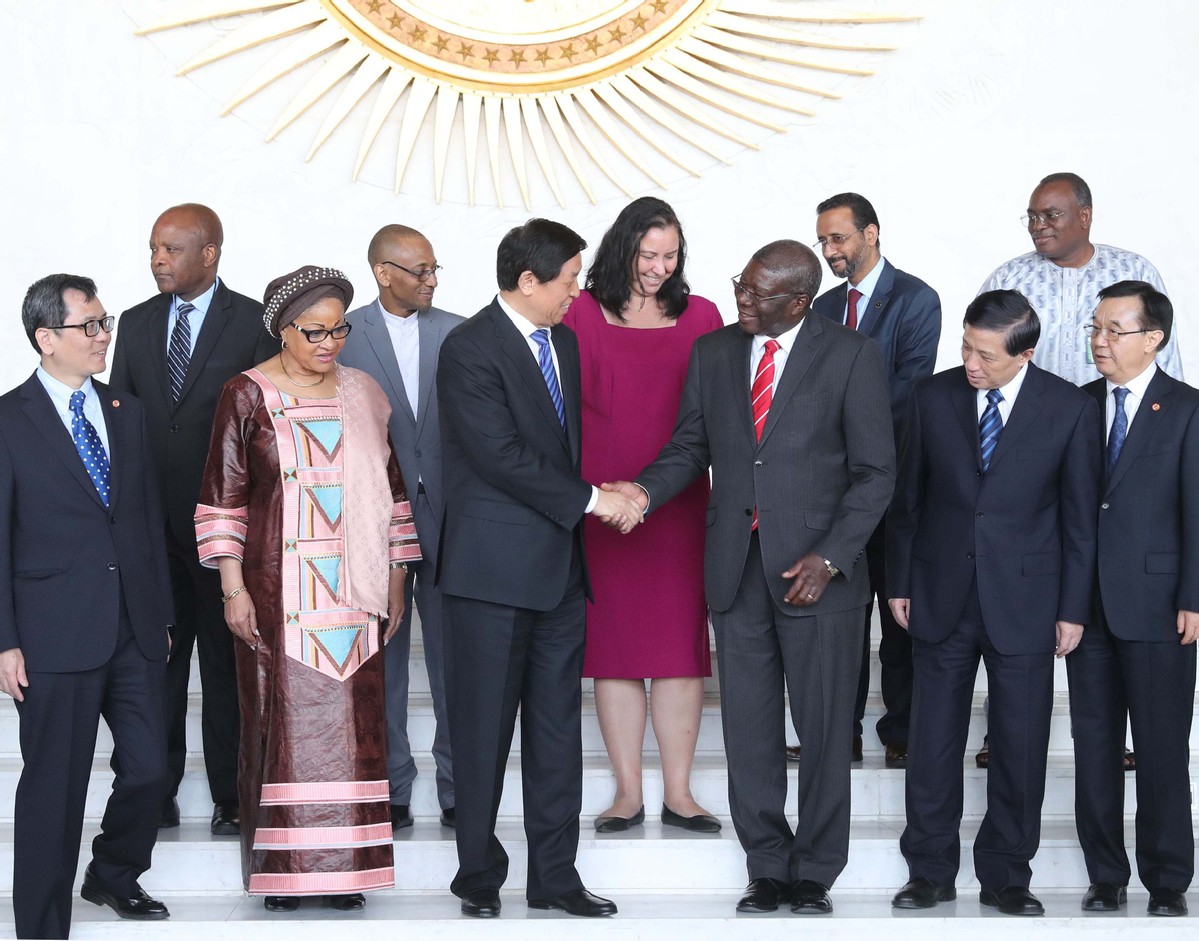 Li tells leaders in Addis Ababa of hopes to expand cooperation
ADDIS ABABA - China's top legislator, Li Zhanshu, made an official visit to Ethiopia from Wednesday to Saturday to promote bilateral ties between the two countries.
In Addis Ababa, the capital, Li, chairman of the Standing Committee of the National People's Congress, met with Ethiopian President Mulatu Teshome and Prime Minister Abiy Ahmed on Friday.
During his meeting with Mulatu, Li conveyed President Xi Jinping's appreciation of the Ethiopian president's contribution to China-Ethiopia friendship.
Ethiopia was the first stop of Li's first overseas visit since he assumed office in March, which, as Li said, showed the great importance that China attaches to the development of the ties between the two countries as well as China-Africa relations. He will later visit Mozambique and Namibia.
"The relationship between China and Ethiopia has entered a new stage of comprehensive strategic partnership of cooperation, and the forthcoming Beijing summit of the Forum on China-Africa Cooperation in September will open up new space for cooperation between the two countries," Li said.
The top Chinese legislator said China is willing to work with Ethiopia to deepen mutual political trust, strengthen practical cooperation and constantly elevate friendship and cooperation between the two nations.
Expressing Ethiopia's gratitude for China's support, Mulatu said the bilateral ties are now in their best period yet.
Abiy and Li exchanged views on China's political system and path of development, and Li briefed Abiy on China's governance experience and practices as well as the 18th Communist Party of China National Congress and the CPC Central Committee with Comrade Xi Jinping at its core.
Li said that five years ago, President Xi put forward the principle of sincerity, real results, affinity and good faith, along with the notion of upholding justice while pursuing shared interests when advancing cooperation with Africa.
The president also said that China should combine its own development with supporting Africa's development while being a sincere friend and reliable partner for Africa.
The top Chinese legislator voiced his expectation that China and Ethiopia should continue strengthening cooperation within the Belt and Road Initiative and the framework of the Forum on China-Africa Cooperation. They should give full play to the role of the Addis Ababa-Djibouti railway as an economic "main artery," actively construct economic corridors along the railway's route, boost cooperation in the creation of industrial zones and the development of oil and gas resources, and develop new areas of cooperation.
Li invited Ethiopia to participate in the first China International Import Expo in Shanghai in November.
Abiy said that the friendly relations between Ethiopia and China are as solid as a rock. He said President Xi's thoughts on governance are an important guide and reference for the development of Ethiopia and African countries in general.
During the talks with Muferiat Kamil, speaker of the Ethiopian House of People's Representatives, and Keria Ibrahim, speaker of the Ethiopian House of Federation, Li briefed the two speakers on China's political system, the National People's Congress and its standing committee.
Muferiat and Keria said Ethiopia values cooperation with the NPC and that the African country is ready to learn from China's development experience and work with China to step up trade cooperation as well as people-to-people exchanges.
In another development, the top legislator called for closer China-Africa cooperation while meeting with Thomas Kwesi Quartey, deputy chairperson of the African Union Commission at the AU headquarters in Addis Ababa.
During the meeting on Friday, Li said China and Africa are a community of common destiny as they share deep-rooted friendship and the same pursuit of development and prosperity.
Li envisaged the huge potential for cooperation as China works to achieve its "two centenary goals" while Africa is also pushing for the realization of its Agenda 2063.
Quartey welcomed Li's visit to the AU headquarters, whose office building, he said, is the embodiment of high-level cooperation between Africa and China.
Africa's Agenda 2063 is highly compatible with the Belt and Road Initiative, Quartey said, calling for joint advancement.
Xinhua