Tibetan group concludes visit
By Zhao Huanxin in Washington | China Daily USA | Updated: 2018-05-15 23:48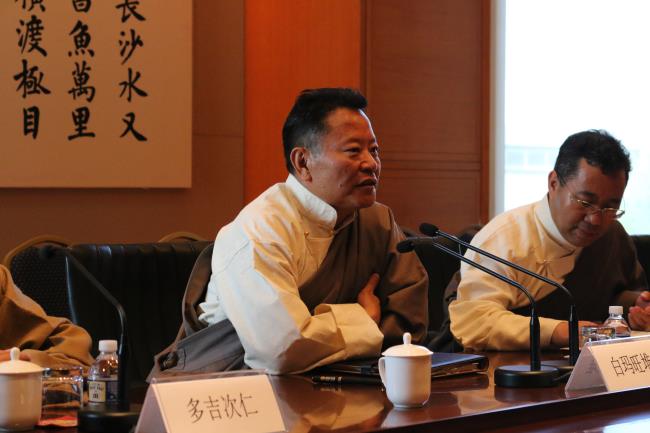 The Tibetan autonomous region is ready to ramp up exchange and cooperation with the US and contribute to overall China-US relations, a delegation of national lawmakers from China's Tibet said on Monday.
The delegation of the China's National People's Congress from Tibet autonomous region wrapped up a six-day visit to the US on Monday. The group was led by Pema Wangdu, deputy to the People's Congress of the autonomous region.
During their visit to Washington and San Francisco, they met US Congress members, State Department officials, and some Tibetan people who are staying in the US, according to a press release from the delegation.
In their talks, Pema Wangdu said Chinese President Xi Jinping and US President Donald Trump have maintained close contact and reached broad consensus, thus guiding the two countries to make a series of important advances in their relations.
Meanwhile, there exist some disparities and sensitive issues between the two countries, which need to be properly dealt with, he said.
The Tibet autonomous region is ready to implement the important consensus reached by the two presidents, enhance exchange, cooperation and mutual understanding with the US, thus contributing to the China-US relationship, he said.
Pema Wangdu also said it is obvious to all that tremendous progress in all aspects has been made in Tibet, where the people's rights and freedom are fully protected.
He said that the Tibet-related issues bear on China's sovereignty and territorial integrity and core interests, and that the Tibet affairs are China's internal affairs which any foreign country has no right to intervene in.
He expressed the hope that the US side would respect China's core interests and concerns, not allow the 14th Dalai Lama to visit, and fully understand the sensitivity of the Tibet-related issues, and "cautiously and properly" handle the issues, so that they will not disrupt China-US relations.
The US side said it expected to develop constructive, result-oriented relations with China, and to strengthen cooperation so that the relationship will continue to yield fruit, according to the press release from the Chinese delegation.
The US side acknowledges that Tibet is a part of China and has maintained its position of not supporting "Tibet independence", said the release.
The region in southwest China recorded economic growth of 10 percent year-on-year in 2017, a double-digit growth rate 25 years on a row.
In an interview on Friday in Washington, Pema Wangdu said Tibet is developing its tourism industry, as well as the "pure land" industry, which highlights clean energy, barley agriculture, yak livestock farming and mineral waters production in favor of the unique ecology of the plateau, which has an average altitude of 13,100 feet.
Contact the writer at huanxinzhao@chinadailyusa.com