Trade, innovation stars of summit
By May Zhou in Houston | China Daily USA | Updated: 2018-05-16 16:24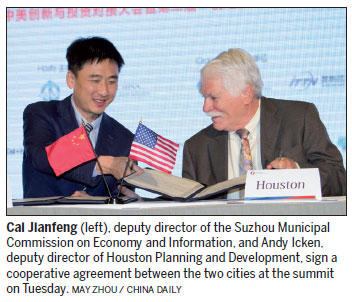 China is highly interested in protecting intellectual property for its own benefit, a Chinese envoy told a large business innovation gathering in Houston on Tuesday.
Friction over trade and technology has risen lately between China and the US, but Consul General Li Qiangmin in Houston assured the audience that China supports IP protection.
"Without IP, it's hard to realize the innovative development goal China set for itself. China has stepped up the effort for IP protection, which conforms to China's own interests," he said.
Li spoke at the third US China Innovation and Investment Summit (UCIS) in Houston, which took place on Monday and Tuesday.
Chinese government delegations from Jiangsu, Guizhou, Hubei, Jilin, Heilongjiang and Shaanxi provinces, as well as representatives from research centers and industries traveled to Texas to meet representatives from more than 120 US technology companies.
And more than 700 US companies applied to be in the summit's core program, the InnoSTARS Competition, which also takes place in Chicago, Denver, Atlanta, San Francisco, Boston, Seattle and Miami.
More than 30 US companies won preliminary awards. Five already have been invited by the city of Suzhou for talks on cooperation.
Suzhou, as the highlight city of this year's summit, signed a cooperation agreement with Houston, committing to establish the China-US Bio-Tech Innovation Center (CUBIC) in Houston this year with the Jiangsu Industrial Technology Research Institute.