Summit offers frank talk on trade, innovation
By MAY ZHOU in Houston | chinadaily.com.cn | Updated: 2018-05-16 22:24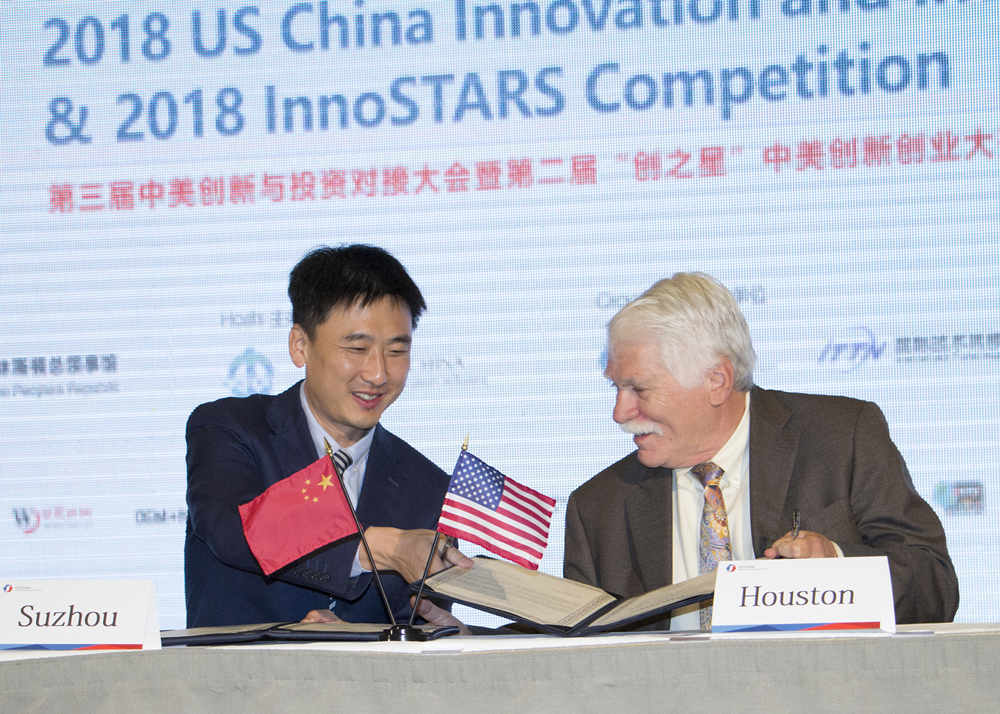 China is highly interested in protecting intellectual property for its own benefit, a Chinese envoy told a large business innovation gathering in Houston.
Friction over trade and technology has risen lately between China and the US, but Consul General Li Qiangmin in Houston assured the audience that China supports IP protection.
"Without IP, it's hard to realize the innovative development goal China set for itself. China has stepped up the effort for IP protection, which conforms to China's own interests," he said.
Li spoke at the third US China Innovation and Investment Summit (UCIS) in Houston, which took place on Monday and Tuesday.
Chinese government delegations from Jiangsu, Guizhou, Hubei, Jilin, Heilongjiang and Shaanxi, as well as representatives from research centers and industries traveled to Texas to meet representatives from more than 120 US technology companies.
And more than 700 US companies applied to be in the summit's core program, the InnoSTARS Competition, which also takes place in Chicago, Denver, Atlanta, San Francisco, Boston, Seattle and Miami.
More than 30 US companies won preliminary awards in the first round. Five already have been invited by the city of Suzhou for talks on cooperation.
Suzhou, as the highlight city of this year's summit, signed a cooperation agreement with Houston, committing to establish the China-US Bio-Tech Innovation Center (CUBIC) in Houston this year with the Jiangsu Industrial Technology Research Institute.
Initiated by the Ministry of Science and Technology of China and the Chinese consulate in Houston, the summit was organized by the US China Innovation Alliance and China Science and Technology Exchange Center.
In its first two years, UCIS brought together more than 60 Chinese and American innovation organizations, held more than 1,000 B2B match meetings, helped to sign more than 100 agreements, and brought to fruition several major projects, Consul General Li pointed out.
"This has become such an important platform for technology collaboration between China and the US that it was included in the 2017 US-China Social and Cultural Dialogue. Its influence is becoming bigger," Li said.
Referring to IP, LI said that "in 2017, there were over 1.38 million patent applications in China, and China paid $28.6 billion in IP fees. These data fully demonstrate that China is a firm advocate and participant for international rules and IP."
Li believes that in the bilateral relationship, cooperation, not friction, is the mainstream objective.
Chen Futao, minister counsellor of science and technology at the Chinese embassy in Washington, echoed Li's view.
"In the past 40 years, science and technology cooperation is a major component and driving force in the China-US relationship. China and the US have become the number one partner of each other in published joint theses as well as technology transfer. Both gained a lot from each other," Chen said.
Chen said that "globalization, no matter whether you like it or not, it's here. "Smart policymaking has to take this into consideration. Many scholars have stated that more than 80 percent of technology-driven goods come from other countries. China has the advantage to offer the market for innovations, which is market driven."
US leaders shared a similar desire for engagement.
"Houston has enjoyed a thriving relationship with China, going back to 1979 when Deng Xiaoping came to Houston. Today, China is our second-leading trade partner," said Houston Mayor Sylvester Turner.
Turner said that since his "productive" visit to China last December, there has been a surge of Chinese representatives who travel to Houston.
"We are excited by these delegations. There is a great synergy between China and Houston; this summit is another step to build a stronger relationship," he said.
US Congressman Pete Olson of Texas viewed the current differences between Washington and Beijing as "just a little friction between two countries that love each other. I agree with President Trump that we need to have trade that's fair, but I disagree with him imposing tariff after tariff".
"I have faith that by working together with strong dialogue and communication, we can weather the storm, and keep the commerce flowing. We will get this right," said Olson, a Republican.
Pete Saenz, mayor of Laredo, a Texas city near the Mexican border, went to the summit with the intent of meeting and enticing Chinese investors.
Nicolas Consonery, director at Rhodium Group in New York, in reviewing the current investment trend between the US and China, said that due to policy shifts and politics in both China and the US, US-China FDI (foreign direct investment) flows declined by one third in 2017.
While there have been some positive signs lately, he cautioned about uncertainty in the Trump administration's policies.
"I agree we don't want a trade war, and it is critically important that we support and sustain the relationship. This is why we are here, to continue dialoguing, continue investment decision making at the summit," he said.
David Firestein, founding director of the China Public Policy Center at the University of Texas in Austin, said that Trump's tweet about helping Chinese telecom-equipment maker ZTE save jobs made him the first US president in history who expressed concern about job losses in China in public.
"Our two countries are so inextricably linked in terms of scale of bilateral trade, that in reality, even if the two leaders want a trade war, there will be very profound forces in both countries that won't allow that to happen," he said.
In addition, he believes that Trump realizes that if he were to enter a full-fledged trade war with China, he would not be re-elected because his base would be suffering the most, Firestein added.
"The US-China relationship is the most important bilateral relationship in the history of the world; it will be for the lifetime of people in this room and your children. We have to get it right, and as Congressman Olson said, we will get it right," Firestein said.