Chinese students compete in English debate
By Cecily Liu in London | chinadaily.com.cn | Updated: 2018-05-17 02:37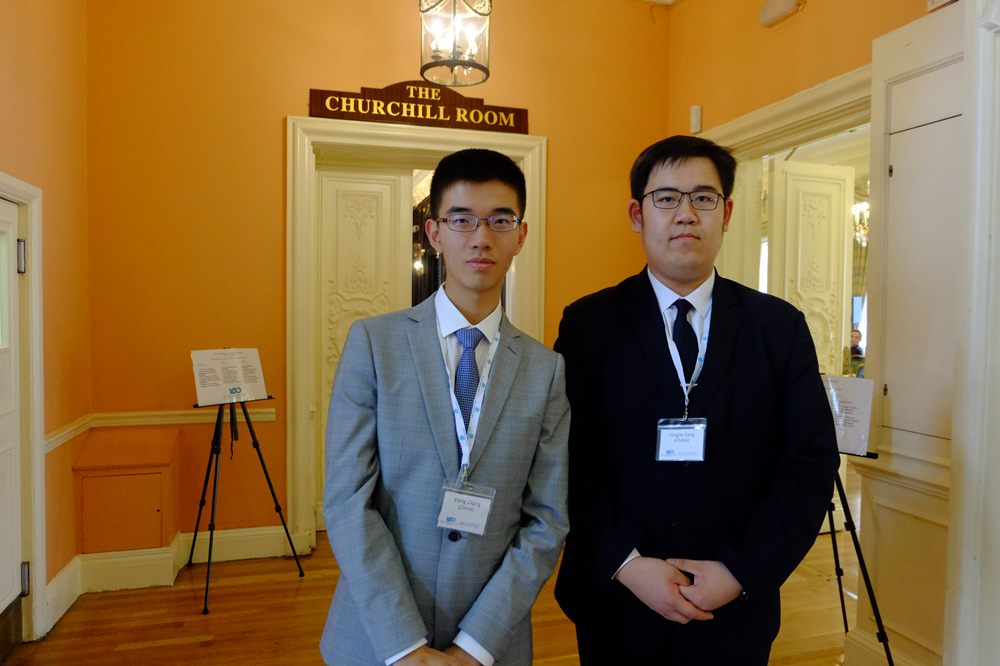 Two Chinese students took part in the semi-final of the International Public Speaking Competition in London on Wednesday, an event featuring 51 participants from more than 40 countries.
The contestants from China were Zang Yingjie, 20, a third-year physics student from Qufu Normal University, and Xiong Ziqing, 19, a second-year English literature student from Shanghai International Studies University. They secured their places at the tournament hosted by the English Speaking Union by winning the 21st Century Cup National English Speaking Competition in China, an event organized by China Daily.
In response to this year's speech topic Great Artists Have No Country, Zang argued that artists should be appreciated for the quality of their work, instead of being judged by their nationality.
"The things great artists do are in the name of humanity," Zang said. "Instead of shackling them with our expectations, we should set them free, trust them in bringing us together, and let them show you the painting that can touch the inner self, the mirror in front of which we should stand, the sunshine that we need in our lives."
Xiong's speech tackled similar ideas. He said globalization should overcome the boundaries that divide artists into nationalities, and to illustrate his point, referred to the ancient Greek philosopher Aristotle's famous quote "I am not a man of Athens, but a man of the world".
Xiong added: "When the virtual walls and boundaries between nations dissolves in the heat and tide of globalization, isn't it the case that every individual has no country, including the great artists?"
After his speech, Xiong admitted he felt slightly nervous. "It is the first time for me to participate in a competition of this scale. But overall I am happy with my performance and grateful for the learning opportunity," he said.
Xiong said his mother and grandmother came to London to support him.
"I am glad that my family is here, as their stories deeply inspired the speech I have prepared for Friday's grand final," he said. Zang and Xiong's outstanding performances came at a time when there is a growing trend among Chinese students to dedicate themselves to learning English.
The China leg of the competition, the 21st Century Cup, was launched in 1996 by China Daily. Liu Xin and Xia Peng, China's national champions in 1996 and 2005 respectively, both went on to win the international competition. Around 900,000 students from Chinese schools and universities took part in this year's cup.
During the weeklong international competition in London, the contestants got to go on an excursion around the city, including a tour of the famous Shakespeare's Globe Theater, and to watch the musical The Lion King. The grand final of the competition takes place on Friday.