Simply a relaxing space, nothing more
By Ren Xiaojin | China Daily | Updated: 2018-05-17 10:06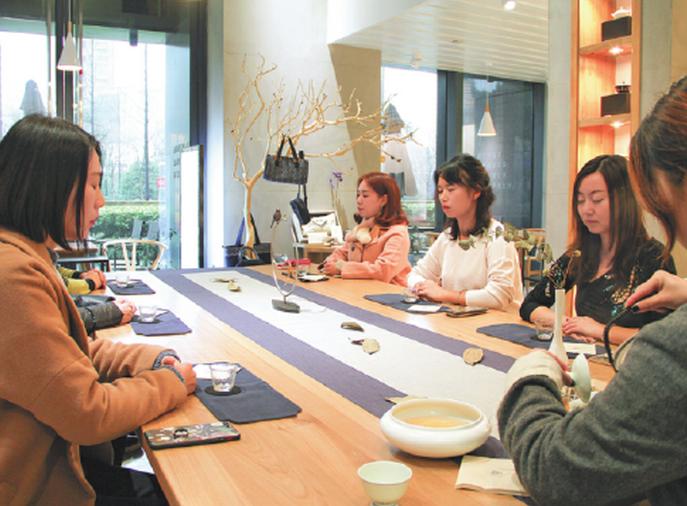 China's young people are well known for their love of Starbucks and other coffee shops, and for chasing after the latest made-to-go fusion tea drinks.
But some hold the belief that one day, that same generation could be lured back to the country's traditional drink - tea, which is grown in this country and has come to represent centuries of national culture.
In the Binjiang area of Hangzhou, where many of the country's internet workers congregate, there's a well-designed 200-square-meter teahouse - Find Why, which specifically targets young people who would like to sit down, have a proper brew and a good chat.
Behind the beautifully designed teahouse - minimalistic furniture, loft-style ceilings and traditional Chinese elements - is its founder Hu Hu, who is also a designer.
"Chinese tea art is like the martial art kung fu," Hu said. "They both have a long history and a lot of varieties; you can find unique categories in every region of China."
"But no kung fu has ever gained half the popularity in China as Taekwondo has," he said. "In the same way, no tea company has become as globally recognized as Lipton, a successful case of industrialism."
"So why?" he asked himself before he started his own practice.
After careful investigation and research, he developed the theory that Chinese tea companies and teahouses have fallen behind in their business thinking.
"Most businessmen are too old-school and give tea too much cultural and historical significance," he said. "Young people live in the age of quick and vast amounts of information. They don't have interest in listening to your long story behind the tea. To them, tea is simply a beverage and a social tool."
Hu decided to apply that philosophy, and his experience in designing, to create a modern teahouse. Find Why offers a friendly environment with a modern style - no more red-wood furniture, no more Chinese calligraphy hanging on the wall, and no more heavy clay teapot. Find Why focuses on the aesthetic value of the space itself. And his tea is simply the drink served there.
Find Why didn't come together quickly or easily, Hu said.
"I failed many times. Wrong location, wrong products were all leading to the fatal closure of my previous teahouses," Hu said. "I used to sell tea equipment and good quality tea leaves in the shop, but people came there to take selfies and would never buy anything."
After a few failures, he figured out what a modern teahouse needs to be - simply a relaxing space with tea, nothing more. Now, the shop in Hangzhou is able to maintain a 3,000 yuan ($470) daily income, enough to keep the shop going.
"It proved the path is right. People do come here for the space, but I could make it better. The issue is money," he said.
"My expertise is designing and I have the idea to combine Chinese and modern elements into desserts that can go with tea, but I can't pay for the skilled chefs." Hu said, a little down but determined. "I'm still looking for investors; so far I'm paying all the bills from my own wallet and it has been tough."
But Hu has never thought about quitting. Just like many other teahouse owners out there still exploring new possibilities no matter how difficult it will be - tearoom plus bookstore, clothes store, dessert offerings - Hu is learning whether the business of teahouses can actually work with increasingly sophisticated Chinese consumers.