Taking a spin in Boston's new Chinese subway cars
China Daily USA | Updated: 2018-05-17 14:35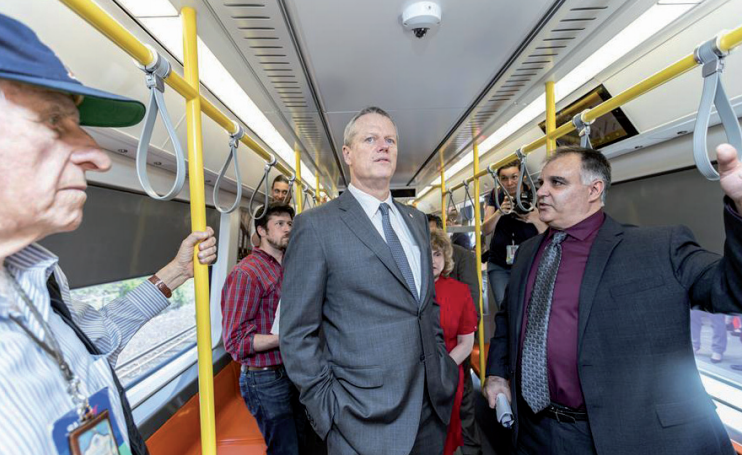 BOSTON - New subway cars designed and manufactured by a Chinese company are undergoing tests and will be ready to transport passengers in Boston by the end of 2018, local officials said on Tuesday.
A set of four cars made an appearance on the test track at Wellington Yard in Medford, a residential and industrial suburb of Boston, when Massachusetts Governor Charlie Baker took a ride on the train while Stephanie Pollack, secretary of the Massachusetts Transportation Department, introduced the features of the vehicles.
The cars were the first four of 152 cars to serve the Orange Line in Boston. Each car needs about 500 hours of test runs before taking passengers on board, according to Pollack.
The secretary said that once the cars are delivered, passengers of the Orange Line will be able to have trains come every 4.5 minutes during rush hour instead of every six or seven minutes currently, which will increase the number of commuters the line can carry per hour by about 40 percent.
The new features of the vehicles include gap mitigation devices, additional passenger emergency intercoms, wider side-door openings, automatic passenger counters and closed circuit cameras.
Baker said the train cars he toured signaled the first step in the delivery of all the new cars, which will gradually replace the nearly 40-year-old cars presently serving Boston lines.
These new cars are part of a contract between the Massachusetts Bay Transportation Authority (MBTA) and China Railway Rolling Stock Corp (CRRC).
According to the contract, CRRC also will design and manufacture 252 new cars for the Boston Red Line subway. The vehicles for both lines are worth a $1 billion.
CRRC Vice-President Jia Bo told Xinhua that most of the new cars will be assembled in the Chinese company's plant in Springfield, Massachusetts, which was completed in April.
"We currently employ 156 local workers in our factory. That's more than what we have promised," said Jia, who added that the factory will probably have hired 260 local workers by the end of 2021.
Xinhua