FM: Better ties sought with US
By ZHAO HUANXIN | China Daily | Updated: 2018-05-25 07:00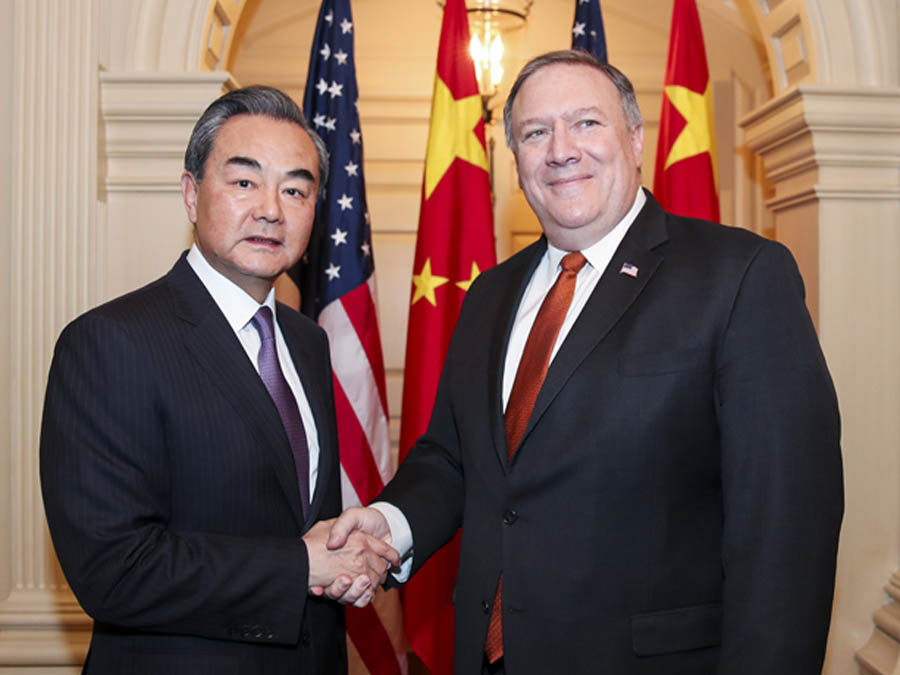 Two nations 'need to steer clear of disruptions', overcome difficulties
China hopes the list of areas in which it cooperates with the United States will get longer while the list of differences will get shorter, Beijing's senior diplomat said in Washington on Wednesday.
The first list includes ramping up mutually beneficial collaboration on a wide range of areas and expanding cooperation on international and regional matters, including the Korean Peninsula nuclear issue, according to State Councilor and Foreign Minister Wang Yi.
"We need to stay clear of disruptions and overcome difficulties and work together to ensure that the China-US relationship will continue to enjoy sound and healthy development," Wang said at a news conference with US Secretary of State Mike Pompeo.
The news conference was held after they met in Washington on Wednesday.
Wang and Pompeo both have praised the strategic guidance that President Xi Jinping and US President Donald Trump provide to the China-US relationship, according to a Foreign Ministry news release.
"We are ready to work to implement the series of consensuses reached by the two presidents, including respecting each other's core interests and major interests and properly handling Taiwan and other sensitive issues," Wang said.
When asked by a reporter if there had been changes to the one-China policy, as the US has recently engaged in a series of negative acts on the Taiwan question, Pompeo said, "No change. It's the same policy that America's had consistently. There has not been any change there."
Wang said that the reporter's question reveals doubts of the Chinese society on the US policy on Taiwan.
The Taiwan question concerns China's sovereignty and territorial integrity, as well as China's core interests, and Washington is expected to abide by its commitment to the one-China policy, Wang said.
Regarding trade, he said, "We believe it is important that both sides are willing to do addition instead of reduction to ease as early as possible and finally address the trade imbalance." Wang said he hopes that the two sides would implement the important consensuses reached during the US-China trade talks on May 17 and 18 through further detailed consultations.
"We know that the discussions are ongoing," Pompeo said. "Our trade teams will continue their regular engagements on these very important matters to each of our two countries."
Wang made a stopover in the US capital en route to China after a visit to Argentina.