Convergence of interests between Africa and China
By Ehizuelen Michael Mitchell Omoruyi | chinadaily.com.cn | Updated: 2018-05-25 09:14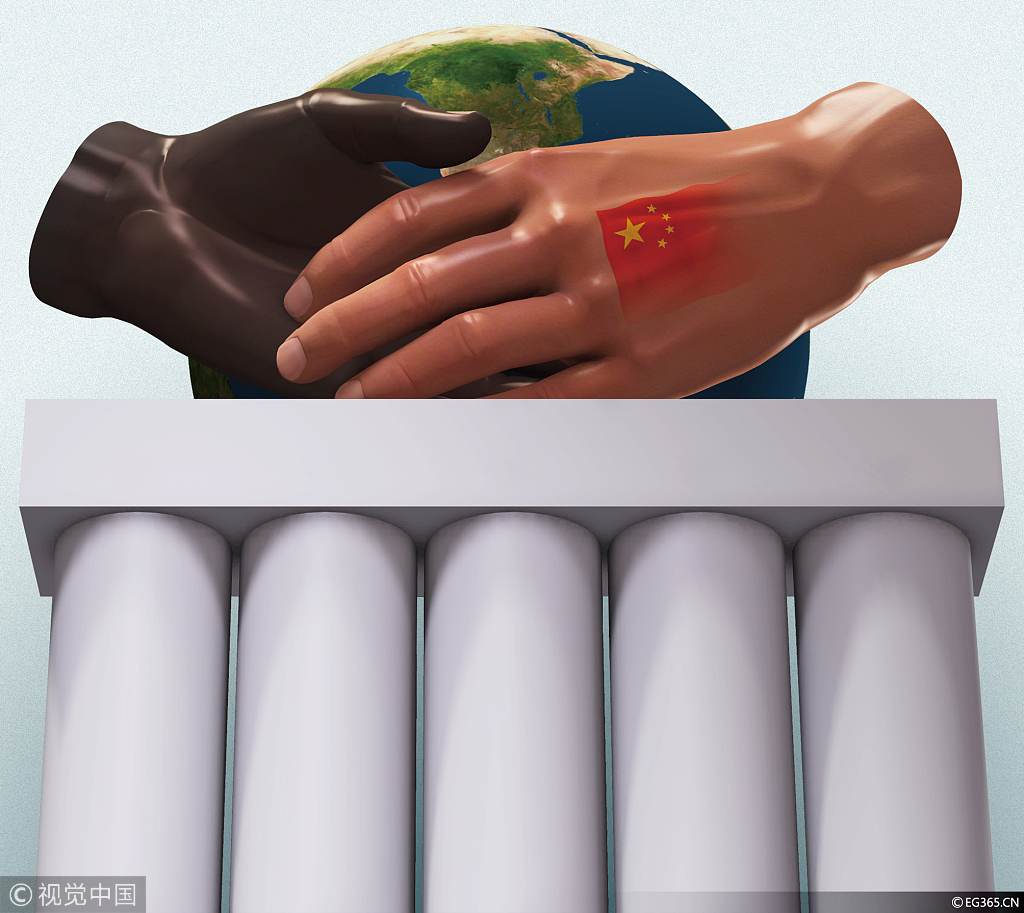 As Africa and China march toward the 70th anniversary (1949-2019) of the establishment of diplomatic relations between both parties next year, the expectations from China and Africa are high. The occasion will acquire considerable symbolism, signifying as it does a new phase in China-Africa relationship. Historical moments will be re-visited and the commitment to expand ties in the future will be reaffirmed. While we wait for 2019 to come, African nations and China look forward to the Summit of Forum on China-Africa Cooperation (FOCAC) due in Beijing on September 2018.
Against the backdrop of profound and complex changes in the global landscape, Chinese and African leaders will again in Beijing meet to discuss the policy of China-Africa friendly partnership, plan for the blueprint of China-Africa collaboration in a new era. At the forum, Chinese and African leaders will roll out key measures to lead the relationship, development, and advance the China-Africa exchange and collaboration in different areas. This is conducive to deepening China-Africa comprehensive strategic cooperation for China-Africa win-win collaboration and common development at a higher level. According to the former Tanzanian president Kikwete, "establishing FOCAC was a great proposal". I concur with the president because through the beneficial framework, African nations and China have been able to strengthen their solidarity and friendship.
Each conference of the forum has introduced specific cooperation measures, especially the successful convening of 2006 Beijing Summit which has stirred significant reaction globally. Furthermore, FOCAC has assisted to foster south-south partnership and the development of global cooperation as well as inject positive energy into global peace, stability, and development. Since 2000, six FOCAC summits have been held at three-year intervals. The 18-year-old FOCAC has been the primary institutional platform and mechanism for the economic cooperation between China and African nations.
It could be as a part of President Xi Jinping's diplomacy, the level of commitment China made at the 2015 summit in Johannesburg was surprisingly extraordinary: The $60 billion is pledged over a three-year period in loans and other assistance including human resources, infrastructure, and manufacturing. This amount tripled the former $20 billion commitment made by Hu Jintao during the 2012 FOCAC Summit in Beijing. The $60 billion is anticipated to help address the challenges in Africa's social and economic development.
Presently, the results of the Johannesburg Summit have been effectively implemented in an all-round way, which is injecting robust impetus into the development of China-Africa cooperation. China and Africa cooperation is rooted in the desire to gain prosperous future for their respective peoples primarily via the framework of FOCAC. FOCAC comprising of numerous African economies and China has turned out to be a premium multilateral forum with an impressive track record and an ambitious future for shared prosperity for both sides. FOCAC is truly a shiny instance of South-South partnership. South-South partnership is the exchange of resources and policies amongst emerging economies to attain sustainable development.
Meanwhile, China is recording a downturn in its growth, undermining its trade cooperation with its African commodity exporters. Actually, China's economic downturn is viewed by some analysts as a critical blow to the continent of Africa's growth prospects. China trade with the continent of Africa has been one of the most dramatic global developments of the new millennium. In 2000 China set up the first FOCAC to serve as a high-level economic diplomacy platform between China and Africa. Since then, China and Africa have made headway economically. For example, for every $100 worth of products Africa exported at the start of FOCAC in 2000, around $3 of them were sold to China. Fifteen years after the establishment of FOCAC, that figure had risen to $24 in 2015.
China-Africa trade volume stood at $1 billion in 1980 before the establishment of FOCAC and rose to $10 billion at the beginning of FOCAC in 2000. A decade later China surpassed the United States as Africa's top trading partner at a total volume of $114 billion. Furthermore, by the end of 2014 China-Africa trade volume has surpassed $200 billion. China total investment stock in Africa is almost $120 billion with over 3, 100 Africa-based enterprises.
There are numerous factors that influence this diplomacy agency. The first is the convergence of economic interest and activities. China is a latecomer on the international economic scene, and most of the nation's development lessons are significant to contemporary Africa. The FOCAC convergence interests cover areas like international trade, high technical training, manufacturing, and infrastructure. It is not accidental that these are also similar issues on top of Agenda 2063.
Much of the continent of Africa's diplomatic agency in its relations with China is mediated via development learning. One clear area of interest for the continent is the role of state capacity in promoting economic development. African leaders are learning how to engage with China via FOCAC and other partnership ventures. These lessons from China are being deployed when both sides are negotiating. Africa and China's dream of sustainable development are "highly compatible" and China is willing to share its approach with African nations. Africa's bond with China continues to bolster via two-way investment and migration. It is projected that African nations had invested more than $15 billion in China by 2014. Most of these investments are in machinery, pharmaceuticals, and high-tech ventures like electronics.
These investments are connected to a rise in the numerous Africans residing in China. It is projected that there are over 200, 000 Africans residing in Guangzhou. A novel generation of African diaspora will soon be adding unique features to worldwide cultural diversity. The number does not include the speedy rising number of African students in China, most of whom are profiting from the scholarships offered by the Chinese government. In contrast to the general belief, China's involvement in the continent of Africa is not limited to trade in raw commodities. Most of the Chinese government financed projects are designed to promote manufacturing and regional trade. For instance, Ethiopia is building up considerable manufacturing knowledge as a result of its partnership with the Chinese.
China's own rise from decades of isolation profited from smart technology cooperation with Japan. How the continent of Africa can adapt such lessons to their local needs will be the ultimate test for the continent of Africa growth in self-confidence and capability to transcend their post-colonial legacies and become the learning economies. Unlike Africa's historical relations with the West, the different chapters of Africa and China display greater determination by Africans and their governments to shape their cooperation with China to reflect the continent's interests.
The author is the Executive Director of the Center for Nigerian Studies at the Institute of African Studies, Zhejiang Normal University.
The opinions expressed here are those of the writer and don't represent views of China Daily website.