Writer Wang Meng delivers lecture on Chinese culture in Brazil
Chinaculture.org | Updated: 2018-05-25 13:25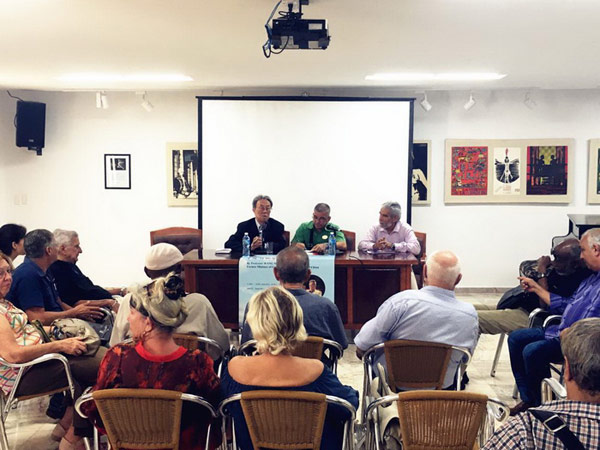 At the University of Brasilia in Brazil, famous Chinese writer Wang Meng delivered a lecture to introduce the profound cannotation and charm of Chinese culture on May 22, 2018.
Wang's lecture was one of the series activities of Chinese Culture Talk organized by China's Ministry of Culture and Tourism.
The theme of the address was China: Tradition and Modernization. Nearly a hundred people attended the event, including Li Jinzhang, China's ambassador to Brazil, Song Yang, minister of the Chinese Embassy in Brazil, Shi Zequn, cultural counselor of the Chinese Embassy in Brazil, and teachers and students from the University of Brasilia.
Wang Meng talked about the historical origin of Chinese culture, the theory of "men born to be good" promoted by Mencius, and its influence on neighboring countries, emphasizing the ideological connotation of wisdom and faith and doctrine of the mean in Chinese culture since the ancient times.
Wang Meng said that the modernization process of Chinese culture started after the May 4th New Culture Movement broke out, and by accepting the achievements of civilizations of various countries, especially the localization of Marxism in China, Chinese culture had provided a firm support for China's development.
According to ambassador Li's speech, the cultural exchanges between the two countries had achieved fruitful results with the development of China-Brazil relations. The lecture provided a valuable opportunity for Brazilians to gain a deeper understanding of the origins and evolutions of Chinese culture.
Enrique Huelva, vice-president of the University of Brasilia, said that the university had always attached importance to cultural and academic exchanges with China. And he hoped that there would be more opportunities for the teachers and students of Brasilia University to experience Chinese culture in a close distance in the future.
After the lecture, Wang Meng answered questions from the audience on the integration of Chinese culture with the development of China, the origin of Chinese culture, and the understanding of world civilization.
Launched in 2015 by the Ministry of Culture and Tourism, the Chinese Culture Talk is a series of high-level cultural and academic exchange activities. Over 80 activities have been held in more than 30 countries and international organizations. The content of the activities varies from philosophy, religion, cultural heritage, literature and art, costume, cooking and Chinese medicine.