Rebuilding consumer trust in dairy industry
By Hu Yongqi | China Daily | Updated: 2018-05-29 09:39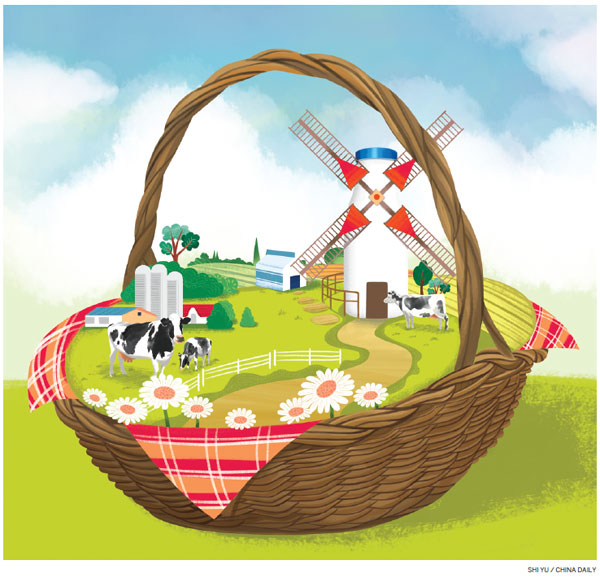 Quality of products will be boosted as sector undergoes revitalization to restore confidence
Wang Yixing first ordered infant formula from a friend in Sydney for his baby daughter two years ago.
He bought three tins each time, trying to make ends meet and not waste any.
"You know it's a dilemma: no one knows exactly how much she will drink as her mother also breastfeeds her. If I buy too much, the milk powder will be wasted, but I also am afraid of a shortage," said the 33-year-old IT technician in Beijing.
Like many other parents, he was mistrustful of domestic infant formula products.
Now, Wang sees new hope after the State Council, China's Cabinet, decided to revitalize the domestic dairy industry and improve the quality of such products at an executive meeting, presided over by Premier Li Keqiang on Wednesday.
Three measures were disclosed in a guideline, approved at the meeting, to rebuild consumer confidence in the dairy industry. A better breed of cows will be introduced and bred in key farms while bases for high-quality milk will also be built, said a statement released after the meeting. National standards for fresh milk and other products will be revised to improve quality supervision.
In 2017, China's production and consumption of dairy products ranked third globally. However, the average per capita consumption was only one third of the world's average, showing great potential of this industry in the world's second-largest economy, said Yu Kangzhen, vice-minister of agriculture and rural affairs, at a policy briefing on Friday.
However, a scandal in 2008 tainted the image of the domestic dairy industry when melamine-tainted milk powder damaged the health of thousands of children around the country, including several children who died. Consequently, many parents, such as Wang, buy milk powder from overseas, often using online shopping.
"The quality and goodwill of domestically made infant formula should be substantially improved within three years to rebuild the confidence in homemade dairy products," the premier said at the meeting.
To accelerate the revitalization of the dairy industry, the quality of infant formula should be the first priority, he said.
Li Guoxiang, a researcher at the Rural Development Institute of the Chinese Academy of Social Sciences, said the only way to rebuild confidence is to significantly improve the quality of milk and the dairy industry's competitiveness. Standardized breeding of cows and using machines to milk will reduce contamination.
Meanwhile, strict quality standards will also be a vital factor ensuring safety, he said. To achieve these goals, more investment in related technologies should be made to play a bigger role in improving the industry's competitiveness, he added.
The researcher's views were echoed by the premier, who said advanced technologies and management expertise should be adopted from leading dairy producing countries.
The opening of the domestic market will in return push forward upgrading of China's dairy industry, he said. Government support should be given while management and oversight compliance should be strengthened to cultivate a market-oriented and law-based environment, the premier added.
"For sure, if the quality of Chinese infant formula is good enough, I can simply go to a supermarket nearby for the milk powder instead of going through the trouble of buying from Sydney. I don't have to do accurate calculations any more when making an order from Australia," the technician Wang said, adding that it's a long-term process to rebuild trust for consumers like him.
In addition to technical upgrading, Yu also said a regular quality report on China's dairy industry will be released while a conference will be held for top 20 Chinese dairy companies to improve branding among Chinese consumers. In this way, he hoped consumers can be convinced of domestic quality.