Paper mill in Maine: as good as it gets
By Hong Xiao and Judy Zhu in Baileyville, Maine | China Daily USA | Updated: 2018-06-04 16:00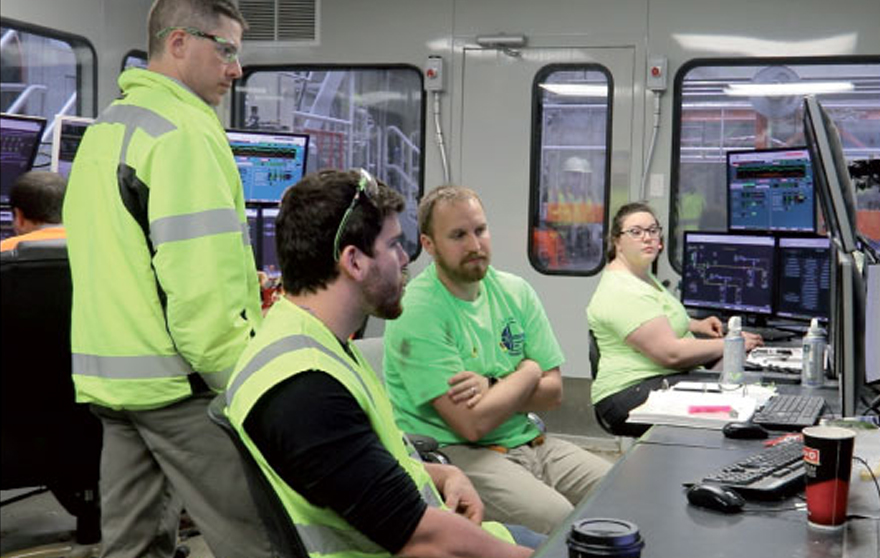 When talking about the rebirth of St Croix Tissue, Collin Scott Beal, who has been working at the mill for 38 years, still gets all sorts of feelings welling up inside.
"When we were shut down in 2009, we were very doubtful if we had a future and we were skeptical we'd be able to get back up and running," Beal told China Daily.
"The investment from International Grand Investment has been the game changer," said Beal, who now works at St Croix Tissue and its parent company Woodland Pulp as an environmental and security manager.
Located in Baileyville, Maine, St Croix Tissue was once a bright spot in the small town for almost a century.
Covering about 40 square miles with a population of 1,500, the town's main industries are pulp and paper production and logistic services.
The facility has been making paper since 1906.
Founded by the owners of The Boston Globe, the mill produced newsprint for the newspaper until the 1960s.
In 1963, the mill was purchased by Georgia-Pacific and over the years converted from newsprint into fine paper.
In 2001, the mill was resold again to Canadian paper company Domtar. As fine paper faced a decline, Domtar closed the mill in 2007, ending 100 years of papermaking.
In the late 1980s, there were 1,200 people working in the pulp, paper, and oriented strand board plants in the area. By 2009, there were about 320 people in the pulp mill left.
In 2010, International Grand Investment Corp (IGIC), a US-based company for a Chinese investment firm, acquired the mill and injected $180 million.
With the idea of maximizing its returns by adding tissue -making capacity, IGIC turned the facility around by converting it from a commodity producer to a value-added facility.
Measures included reducing dependence on oil by installing a pipeline and converting the mill to natural gas in 2011.
In 2016, IGIC invested $120 million in two new tissue-making machines. The expansion included the making of paper towels, facial and other tissues.
John Williams, president of the Maine Pulp and Paper Association, said in an interview that with today's digital age, demand for most grades of paper products continues to drop, however, there is a steadily rising demand for toilet and tissue paper that goes with population growth.
"In an industry where most grades of paper are facing slack demand, tissues are one of the few specialties where sales are actually climbing," said Williams.
The investment has resulted in more than 80 new jobs at the mill and hundreds of indirect jobs. And with the expansion of production, the figure is growing.
Marco L'Italien, vice-president for US East Operations for IGIC, says the high-tech nature of the machines offers a new spin on traditional mill jobs. The employees operate together as part of a high-performance work team, every position from maintenance to process engineer.
As part of new market grant money the company received, 60 percent of the new hires were low income earners. Jobs at the mill pay between $18 and $35 per hour. Women make up 30 percent of the workforce.
The giant machines produce tissue rolls that weigh 2.5 tons, and the mill can produce 125 rolls a day. All of the tissue produced in Baileyville is trucked to conversion facilities in the Northeast US and Atlantic Canada, and some as far away as California, for finishing where it is turned into paper towels, facial tissue and other consumer paper products.
"(St. Croix Tissue) is bringing back what Maine was very, very strong in - the paper industry," said Maine Governor Paul LePage. "We've suffered from a lack of technology investment, and they're bringing in some of the newest technology."