The Artists – 1981 Re-visited
By Laurence Brahm | chinadaily.com.cn | Updated: 2018-06-07 09:18
China Reform and Opening – Forty Years in Perspective
The Artists – 1981 Re-visited
Editor's note: Laurence Brahm, first came to China as a fresh university exchange student from the US in 1981 and he has spent much of the past three and a half decades living and working in the country. He has been a lawyer, a writer, and now he is Founding Director of Himalayan Consensus and a Senior International Fellow at the Center for China and Globalization.
He has captured his own story and the nation's journey in China Reform and Opening – Forty Years in Perspective. China Daily is running a series of articles every Thursday starting from May 24 that reveal the changes that have taken place in the country in the past four decades. Keep track of the story by following us.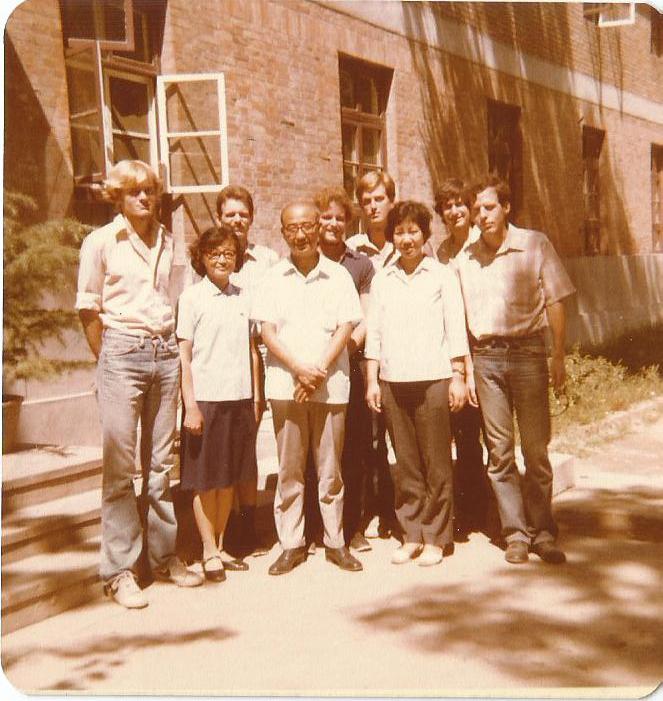 One night at the foreign students dorm we held a dance. Chinese students came and watched. They were curious. Dancing was still taboo in those days, and watching foreign student dance was a curiosity.
While watching the dancing a rebellious art student named Chu Jiangxiong introduced himself to me. We started talking and I was really interested to know that he was studying art. I had myself studied under one of the Dada art movement founders and had grown up hanging out in the museums and galleries of New York City.
Chu was fascinated and asked me to meet him one night with my bicycle under a tree near the lake. When I showed up he was somewhere nearby lurking in the shadows. He waved that I should follow. We rode our bikes on dirt tracks away from the university until we came upon a shack. As we got off our bikes people stepped from the darkness, took my bike and shoved me into a room. Music was playing loudly and the lights were dim. Paintings adorned all the walls of the room, most in a French impressionist style.
I asked who all these people were crammed in the room and why all the paintings. Chu whispered they were other art students who wanted to "hear my criticisms" as a foreign art critic. I was flabbergasted. But what else could I do? So I suggested they turn the lights on so I could see the paintings and put the music down. Chu shook his head. He then explained that they feared authorities would know that I was there. Contact with foreigners was restricted, especially over a dialogue as decadent as art.
I was bothered that all these Chinese art students were simply copying western paintings. Here we were on the eve of a historical transformation and they were painting French countryside haystacks and bowls of peaches.
In many ways the Chinese students I hung out with and myself could feel that we were amidst a China on the cusp of change. There were rumblings among the would-be leaders, talk of gaige kaifang or "reform and opening." At the same time nobody, including those espousing these words were actually sure what they meant or how China was really going to open and reform.
Why weren't the students looking for creative inspiration from their own culture, the things they confronted or cherished in their daily life? I casually suggested that while adopting some western techniques they also merge Chinese images and thoughts, and use Chinese natural brush strokes.
As the hot summer dragged on, Chu and I would meet regularly. He took me to the homes of artists who were already experimenting with such ideas and showed me wild modern explosions painted across white space on the back of old posters from a decade earlier. It was underground art. They were painting abstract and wild colors on the blank paper-nothing was wasted in those days - as they literally turned the poster around to the other side. After hastily showing their experimental works, they carefully rolled up their paintings, hiding them under beds and in cabinets, as these ideas were avant guard and societal receptivity was just beginning to open to new ideas but the artists were already racing ahead.
After leaving Nankai University, I kept in close contact with Chu over these years. In the 1980s I always brought him books of modern art from the museum gift shops of New York. By the 1990s all of these books were available in China. One Sunday he arrived in Beijing and suggested we visit a factory complex. It was called 798 and nascent galleries and studios were just beginning to open. Soon it would become the commercial epicenter of the Beijing art movement that would spread to Song Zhuang and Cao Changdi en masse. A city loaded with art, design and sheer exploding creativity, it always struck me how the western media talked about China not having either innovation or creative talent. Beijing city was imploding with it, everywhere.
In 2017, Chu Jianxiong, a celebrated Tianjin artist and former Dean of the Nankai University Oriental Art Institute, held a joint show with superstar artist Yue Minjun at the Tianjin Fine Arts Museum. Built alongside a pristine lake, the massive art museum struck me as something that would dwarf any cultural center in America in size, and more sophisticated than any I had seen in Europe. Both artists were invited by Tianjin Fine Arts Museum to do whatever they wanted in terms of creative content to just fill the space of the museum.
With massive real estate developments and the transformation of China's cities, new social and societal demands have called for cultural and art centers, and with the scale is the need for creativity to fill the spaces. Irony aside, after four decades mindsets, and attitudes have drastically changed.
Back in those halcyon innocent yet forlorn days at Nankai University, I never imagined, four decades later that these artist's paintings and sculptures would be auctioned at Sotheby's for millions.
Please click here to read the previous episode.