Restoring Chinese art
By Cheng Yuezhu | China Daily | Updated: 2018-06-12 08:18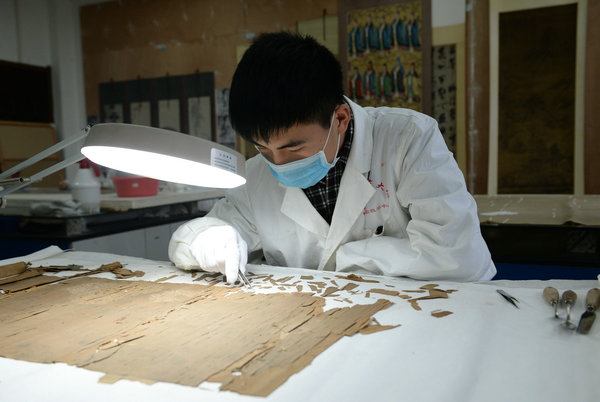 "The original historical and cultural information was often misinterpreted by later generations (during those restorations). So, we should look at the historical background so as to restore the original features of the works."
In his case study on the work of Emperor Taizong Receiving the Tibetan Envoy (Bunian Tu), Yu countered the assertion of artist Ning Enbao, that the Palace Museum had damaged the painting during the restoration process, resulting in the disappearance of a white cloth bag and the obscuring of the view of a maidservant's hand.
According to Yu, the "white cloth bag" was in fact an illusion from a piece of damaged silk, and the seeming obscuring of the hand was caused by low-resolution printing.
Yu pointed out that art restoration goes hand in hand with art research. "So, only when we know the reason for the damage (of the artwork) and the history of its restoration, can we restore it properly."
Context is also key in calligraphy authentication. This is showcased by Cai Yaoqing, a researcher at the Museum of History at Taiwan, who investigated artist Wang Duo's copy of calligrapher Yan Zhenqing's work, Liu Zhongshi Tie.
Though the work is listed as a copy by Wang, the piece differs greatly from Yan's original work.
Explaining the difference, Cai points out that 1639, the year when Wang produced the copy, was when Wang's second daughter died. It marked the continuation of Li Zicheng's peasant rebellion at a time when there was widespread famine.
Related Stories