Restaurant chain honors chef Bourdain
By China Daily | China Daily USA | Updated: 2018-06-13 15:57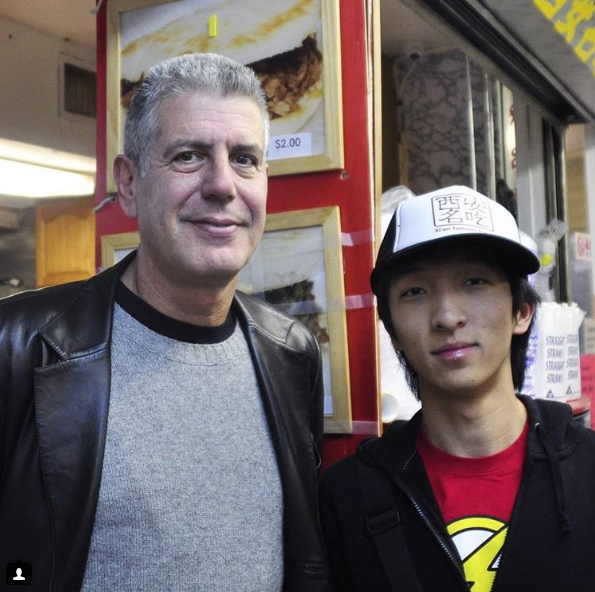 Jason Wang, co-owner of Xi'an Famous Foods, remembers 11 years ago when the restaurant was only a small stall selling Western Chinese food in Flushing, Queens.
But after American chef Anthony Bourdain visited and featured it on his show No Reservations in 2007, the restaurant in a neighborhood with a large Chinese population drew huge crowds and today has 12 locations across New York City.
To show appreciation and respect for Bourdain, who passed away by suicide last week at the age of 61, the popular food chain raised more than $73,000 for the National Suicide Prevention Lifeline last Friday.
"We wanted to do something for Tony - paying him tribute by donating our net sales of all 12 of our stores to the organization," Wang said in an interview with China Daily on Monday.
Wang wrote on the company's Twitter account Friday morning: "In honor of his memory and all of those dear people who left us all too early, and in taking whatever action we can to prevent suicide in the US, Xi'an Famous Foods will be donating 100% of our net sales from today."
Wang said in response to their post, many Bourdain fans came to their restaurants last Friday and their sales almost doubled, with one location running out of food an hour before closing.
"It's so unfortunate that we lost so many good people to suicide in recent times, we wanted to do something that maybe will prevent this for other individuals who have their own struggles," Wang said.
"In Chinese culture, we talk about yiqi (brotherhood spirit), we talk about respect, we talk about paying back," Wang added. "I'm not saying this would pay back what Tony did for us, but it reciprocates in some way to show our appreciation.
"When I first met him, I was still a college student, and he came to our store, which was just a small stall in the basement of a food court in Flushing," Wang recalled, adding it was his father who prepared interesting off-menu dishes to impress Bourdain.
Wang said it was eight years later, when he and Bourdain were interviewed for an article, that he finally got a chance to tell Bourdain how he and his show helped the restaurant.
"I approached Tony and told him, while he may have no idea what he had done for our family and business by simply saying he enjoyed the food, I wanted him to know it helped bring our family out from living in one room in Flushing to living the American dream," Wang said.
The chef and world traveler, whose popularity grew with his CNN series Parts Unknown, visited China on numerous occasions and expressed his appreciation for Chinese food and culture in many different shows.
When he opened season four of Parts Unknown with a visit to Shanghai in 2014, he wrote "China - Shanghai in particular - is a very different looking place every time I go. And I believe that the world as a whole, largely because of what's happening in China, is going to be a very different looking place."
For an episode about Sichuan, he wrote "the spicy, sensualist heartland of all the things I love about China".
"Every time I interacted with him, I felt he was very respectful of people," Wang said. "He really wanted to relate and understand the culture and the people behind the food."