French adaptation of Bergman play makes a scene in Beijing
By Chen Nan | China Daily | Updated: 2018-06-14 07:31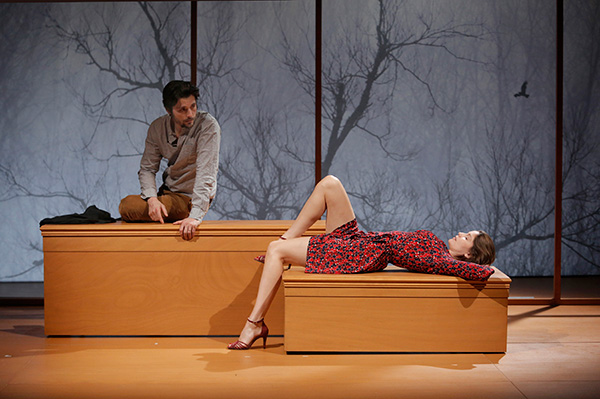 In Scenes from a Marriage, the late Swedish director and writer Ingmar Bergman laid bare his own life, including his relationship with his ex-lover, Norwegian actress and director Liv Johanne Ullmann, as well as his failed marriages and that of his parents.
Originally conceived as a six-episode Swedish TV drama in 1973, Bergman, who wrote and directed Scenes from a Marriage, also adapted the script for film.
Additionally, there have been more than a hundred stage adaptations worldwide, performed in numerous languages.
Most recently, French director, Safy Nebbou, turned the classic into a French-language play, which premiered in Paris in February 2017.
With more than 150 performances worldwide, the production, Scenes from a Marriage, made its debut in China on June 12 at the National Center for the Performing Arts in Beijing - a month before what would have been Bergman's 100th birthday.
The 90-minute play follows a couple who have been married for over ten years. They have two daughters and enjoy a happy, peaceful life. However, the husband has fallen in love with another woman, and the couple has to separate.
"My mother was a big fan of Bergman and she took me to watch the film version when I was 13 years old," Nebbou recalled, speaking before the play's opening. "I couldn't understand the film then, but I always wanted to adapt Bergman's work into a theatrical play."
He added: "I kept the play as simple as possible because Bergman's script is very strong. His insight about marital breakdown is very sharp and accurate, like a surgeon performing an operation.
"For me, the process of adapting Scenes from a Marriage into a play was a process of self-realization," Nebbou continued, "I am not married but I learned a lot about marriage from this play and what I knew myself."