Malaysian pianist gives Chinese folk songs a modern twist
By Cheng Yuezhu | China Daily | Updated: 2018-06-22 07:53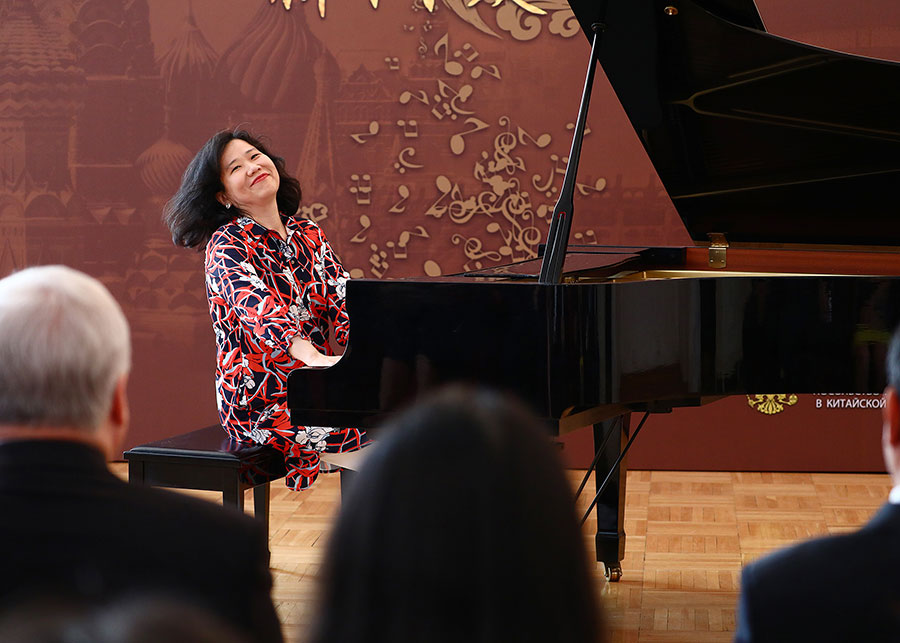 Four years after her A Dream of Red Mansions piano concerto, renowned Malaysian pianist Claudia Yang recently debuted her latest work, Twelve Chinese Folk Fantasies for Piano and Orchestra, a series of modern adaptations and compositions of Chinese folk songs.
Using piano pieces and orchestral accompaniments, Yang, along with Russian composer Artem Vasilliev, reinterpreted nine Chinese songs including Caiyun Zhuiyue (Colorful Clouds Chasing the Moon), Moli Hua, (Jasmine Flower) and Zai Na Yaoyuan De Difang (In that Place Wholly Faraway).
"What I have adapted or written has a sense of modernity," Yang says about the 12 folk fantasies.
Yang's fondness for Chinese folk songs comes from her multicultural background.
Though she was born and raised in Malaysia, Yang has an ancestral home in Fujian province and was first introduced to Chinese folk music as a child.
Yang, who studied piano and singing from the age of 4, won third place in a Malaysian regional vocal contest, before joining a choir in Muar town and gaining access to local folk music ensemble, where she learned to play traditional Chinese instruments including the guzheng and erhu.
Although Yang chose to study piano professionally in Vienna after graduation from middle school, her love for Chinese folk music was undiminished.
"I remember I had a cassette of Chinese folk songs, and I enjoyed listening to it so much that I even took it to Vienna. I am never tired of listening to the songs."
Besides her interest in folk music, Yang is also fascinated by the stories behind the songs.
"The reason I chose folk songs is that they are close to everyday life, because they are often inspired by tales of love, scenery or festive events. They have stories."
Based on her interpretation of Chinese folk music, Yang also composed three songs from scratch, Xishui Bian (Creekside), Chuan Ge (Barcarolle) and Langfang Qing Ge (Langfang Love Song).
These songs are designed to be fairly easy to play, as Yang hopes that people can perform them, even senior citizens who have just started learning the piano.
"I want folk songs to be a part of people's lives-like listening to them at home or when driving."
To achieve this aim, Yang found Vasilliev, a composer with a "modern and harmonious style".
Speaking about Yang, Vasilliev says he is amazed by her "unique" performing style.
"She is able to exhibit different performing styles and skills. Not only can she perform traditional folk music, but she also excels at Russian classical music."
The folk fantasy series is listed in the "Chinese Culture Going Global" project of its production company, Ennova Culture, and as the artistic director of the company, Yang is planning to showcase the series on a global tour in 2019.
Speaking about the project, Yang says: "Many Westerners today want to know about Chinese culture, and, as a foreigner, I can take Chinese orchestras global, and let people know about China. I feel this is something I can participate in."
Related Stories