Fishing for seafood glory in Africa
By Liu Yukun | China Daily | Updated: 2018-07-02 09:22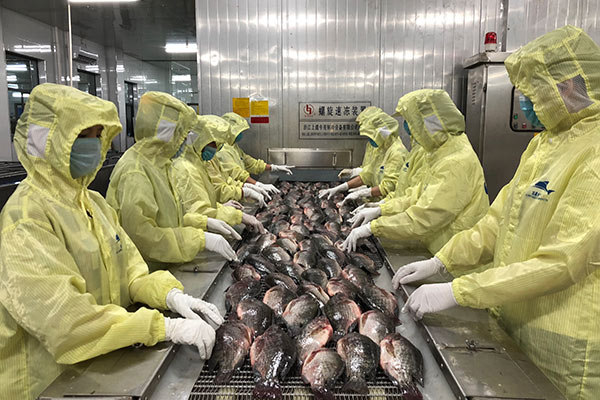 Having netted big profit and bright reputation in Angola, Fuhai Atlantic eyes world
Meng Qingyong, 53, who founded Fuhai Atlantic Fishing Co Ltd in 2016, never thought the seafood firm would emerge in just one year as the leader with 30 percent market share in Angola in southwestern Africa.
"We never expected the success," said Meng. "I didn't even know Angola before I stepped into the business there. I was reluctant about the investment."
Yet, Fuhai Atlantic invested 100 million yuan ($15.38 million) in Angola in 2017. Average monthly profit of 300,000 yuan in 2017 in Angola appears to suggest that the return on investment was very good.
For the first quarter this year, Meng's Fuhai Atlantic achieved 50 percent growth rate in revenue compared with that of last year.
The firm has six fishing vessels, each capable of catching about 200 metric tons of fish per day. Its main catch in Angolan waters is the European pilchard, a species of ray-finned fish. It is sold mainly to local and European markets.
"Our products from Angola don't travel to China as the two countries have different quality inspections for imports," said Meng.
In China, Fuhai Atlantic operates as Zhanjiang Jingchang Aquatic Product Co Ltd. "The China market for aquatic products has become more competitive and less profitable," said Meng.
"That was the very reason why we decided to go global. Favorable policies such as tax cuts in overseas markets, and mega projects such as China's Belt and Road Initiative, were also an important reason."
But the go-global strategy was not easy to implement. "We (company officials) didn't know foreign languages. We had trouble finding the right places to set up our factories, and had difficulties negotiating with local governments," said Meng.
Communications with local residents also posed problems. "Some local residents have biased opinions about us setting up factories, especially as ours was the first attempt in that village," said Meng. He was referring to Fuhai Atlantic's seafood processing and packaging factory in Benguela, a city in west Angola.