Nippon Foundation's head wants to bridge China-Japan gap
By WANG XU | chinadaily.com.cn | Updated: 2018-07-04 14:09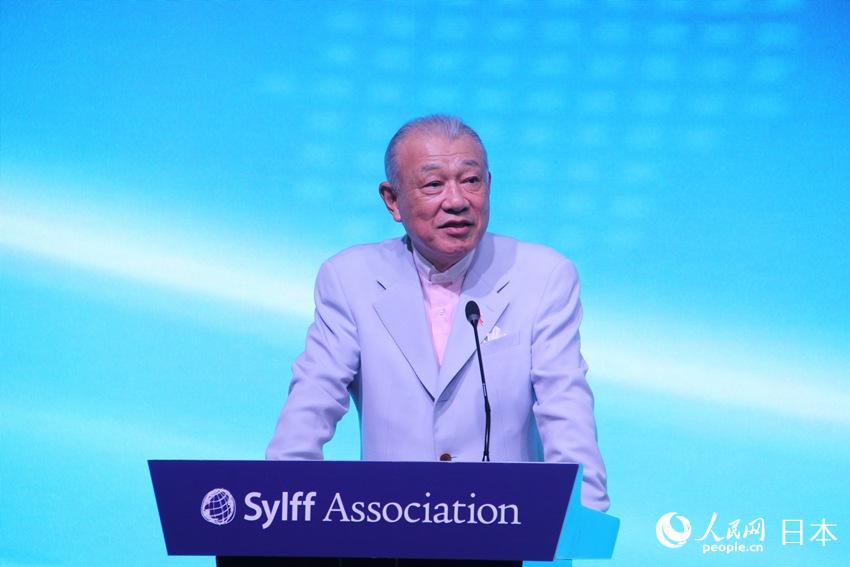 I never want scholarship winners to be pro-Japanese; I just want them to be people who know more about Japan, Yohei Sasakawa, chairman of the Nippon Foundation, said on Saturday.
The philanthropic activist made the remark during an interview with China Daily after attending a ceremony to celebrate the 25th anniversary of the Ryoichi Sasakawa Young Leaders Fellowship Fund's establishment in China in Peking University.
When asked why he was setting up such a program, Sasakawa said narrowing the gap between the peak and the valley of Japan-China relationship has always been his motivation.
"Japan and China have been in contact with each other for over 2,000 years, and for most of the time they have had a good relationship," Sasakawa said. "But there always will be ups and downs in a relationship, and it is our responsibility to narrow that gap from the civil perspective."
"I want to promote understanding and make people recognize their differences through this program," he added.
In his speech at the ceremony, Sasakawa said the SYLFF was founded to help nurturing leaders who understand diverse and shared values, and shed light on emerging issues brought by the society.
"I hope they can look at issues from a broader perspective and address increasingly complex issues confronting contemporary society," Sasakawa said.
Lin Jianhua, president of PKU, expressed his gratitude to Sasakawa for the foundation's long-term support toward Chinese students.
"The SYLFF has developed into a fellowship program for students at 69 universities in 44 countries," Lin said, "and over half of its scholarship winners are Chinese."
"The SYLFF has made great contribution to promote students' international perspectives, to encourage them to take part in social activities and to facilitate cross-border communication," Lin said.
Zhao Linshan, secretary-general of China Educsation Association for International Exchange, said he had three expectations concerning the future development of SYLFF in China.
"I hope that universities taking part in the SYLFF program have a high-level management team to standardize the procedure, I hope that relevant parties from China and Japan can work together to make the SYLFF program a renowned one with world influence, and I hope that students who accept scholarships to contribute more to China and to the world," Zhao said.
Representatives from 10 Chinese universities that accepted SYLFF support also attended the Saturday's event.