Pinnacles of ambition
By Liu Xiangrui | China Daily | Updated: 2018-07-06 07:50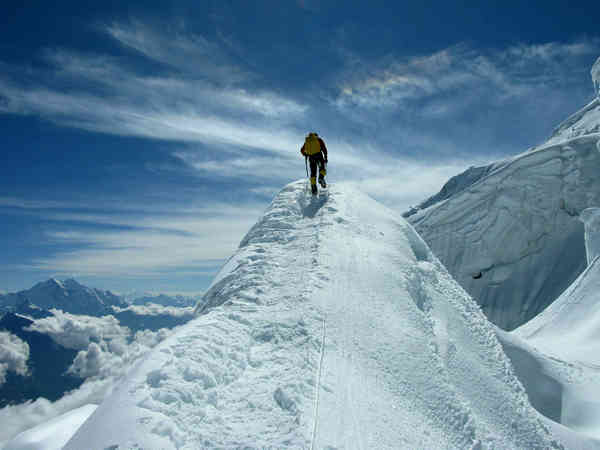 When Zhang Liang finally reached the summit of the Mount Denali in Alaska, the highest peak in North America, the 54-year-old amateur mountaineer acted rather cool about it, and not like a man who had achieved the pinnacle of his climbing ambitions-the so-called "14+7+2".
In mountaineering circles, "14+7+2" refers to conquering the world's top 14 peaks over 8,000 meters, climbing the highest peak on each of the seven continents, and reaching the North and South Poles by foot. This "grand slam" of expeditions represents a long-held ambition for many professional mountaineers, let alone amateur climbers.
But by ascending Mount Denali on June 7, Zhang, a bank employee from Shenzhen, Guangdong province, became the first Chinese climber-and only the second person in the world-to achieve this feat. South Korean mountaineer Park Young-seok was the first person in the world to have completed the grand slam in May 2005.
According to Zhang, he was not as excited as people might have expected when he finally completed the grand slam.
"For me, I was just glad that I had completed another expedition successfully, after prolonged torment and many challenges," he recalls.
Zhang admits that Mount Denali, which was not the highest peak he had ever attempted, was more challenging and energy-sapping than he had expected. He lost a lot of weight during the expedition, which took his team 12 days to complete. Each of the members had to carry more than 70 kilograms of equipment, either on their backs or dragged behind them in sleds, to ascend to the height of 4,000 meters.
The team had to overcome the notoriously extreme and changeable Alaskan weather conditions, which were comparable to those Zhang faced on his approach to the North Pole. Even during summer, temperatures can drop to as low as minus 35 C. At the summit of Mount Denali, where wind speeds can reach up to 160 kilometers per hour, the oxygen density can drop to as low as 42 percent-even lower than on Qomolangma.
According to Zhang, he developed his passion for mountaineering because he simply enjoys the process of climbing and likes to challenge himself both mentally and physically.
Over the course of nearly two decades, Zhang has grown from being an ordinary climbing enthusiast into becoming one of the most respected mountaineers in the world.
"Mountaineering was just a hobby for me in the beginning, but it eventually changed the path of my life," says Zhang, adding that the biggest gratification comes not from the sense of achievement or improvement in his skill levels, but from growth in the spiritual sense.
Originally from Hebei province, Zhang moved to the booming industrial hub in Guangdong province after graduating from university in Shijiazhuang, capital of Hebei in the mid-1980s. He took up a position at a Shenzhen branch of the Agricultural Bank of China.
In 1999, he came into contact with some climbing enthusiasts and later joined a local mountaineering association. Like many others, he started out by joining hikes up some of the small peaks near the city.
In 2000, two of his climbing partners died in a severe mountaineering accident while attempting to climb a mountain glacier in Qinghai province, Northwest China.
"I felt sad to have lost my friends, but later it became something that ignited my curiosity. I wanted to discover the charms of glaciated mountains and find out why people were willing to risk their lives climbing them," Zhang says.
So he followed a group, made up of members of the national professional mountaineering team, to explore the same mountain.
As it was the first time he had seen and experienced a glaciated mountain peak, he suffered acutely from the high-altitude environment.
"The symptoms were so bad that, at one point, I decided that I'd never return to these kinds of places again," he recalls.
However, despite being initially put off by the experience, it had planted the seeds of ambition in his head. Before he realized it, his ideas had grown so big that he had already started to plan more adventures.