Solar company has sunny outlook for Florida plant
China Daily USA | Updated: 2018-07-09 13:10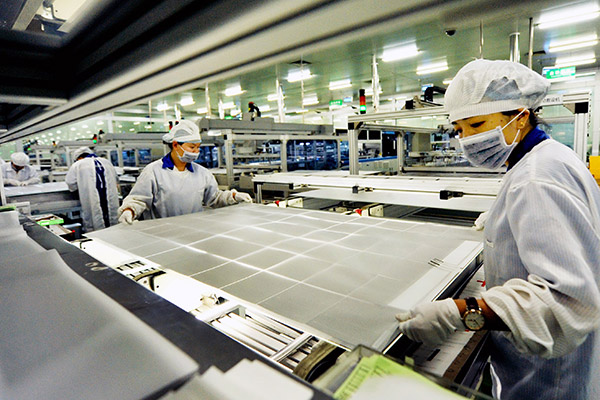 JinkoSolar's expansion plans in Florida will advance despite tariff storm clouds.
The multinational maker of solar panels and cells expects to start manufacturing at a new factory in Jacksonville, Florida by the fourth quarter, and production will not be affected by the latest US tariffs on Chinese products, a company executive said on June 19.
The Trump administration on June 18 threatened to slap a 10 percent tariff on $200 billion of Chinese goods in addition to import duties previously announced on $50 billion in goods.
Jeff Juger, business development director of JinkoSolar, said the $50 billion in tariffs on Chinese products "do not impact our operation in Florida because all the cells we're going to import (to the plant) come from Malaysia".
Although the Trump administration placed tariffs on imported solar panels in January, Juger said the Florida plant would take advantage of an exemption that allows US manufacturers to import 2.5 gigawatts of tariff-free cells for use in the manufacture of solar modules at American plants.
"The 2.5 gigawatt exemption gives us quite a bit of headroom to import tariff-free cells," he said at the Renewable Energy Finance Forum in New York on June 18.
Juger said JinkoSolar has applied for an exclusion to the cell import tariffs that would allow it to import a large-format solar cell it manufactures in Malaysia for use in building solar modules in Florida.
Juger said he is hopeful the administration will give the exemption because Jinko is the only manufacturer that makes that particular cell.
"If the government grants that exclusion request and lets us import these cells, it will allow us to further scale up the factory in Florida," he said.
Around the time the administration imposed up to 30 percent tariffs on solar modules and cells in January, the company based in Shangrao, East China's Jiangxi province, announced it was seeking a US partner.
The Jacksonville factory will employ more than 200 workers, Juger said.
"We just have to persevere no matter what the circumstances," he said. "The decision to invest in the Florida factory is a testament to our commitment to the US market."
In late March, Jinko and US-based NextEra Energy signed one of the largest solar- panel supply deals ever for 2,750 megawatts (MW).
"This deal will further solidify our leadership in the US market," said Nigel Cockroft, then-general manager of Jinko US, Clean Technica reported.
"As NextEra Energy continues to invest heavily in new solar projects across the country, we're thrilled to have the opportunity to buy cost-effective, reliable solar panels made here in America," said Jim Robo, NextEra Energy's chairman and CEO.
The new Jacksonville facility will have the capacity to build 400 MW of solar modules annually - or around 1 million panels each year. Jinko expects to rely on the Port of Jacksonville for a large volume of its importing and exporting.
"Investing in this solar panel manufacturing facility makes clear our commitment to Florida and the growing US market," said Chen Kangping, CEO of JinkoSolar. "This will be one of the world's most advanced solar panel manufacturing facilities, which will provide us with the flexibility and manufacturing capacity to support our local partners and growing US customer base."
Jinko probably could use a boost from the US plant.
On June 26, the company reported fiscal first-quarter earnings per share of 12 cents, a sizable drop from EPS of 48 cents from the year-ago quarter. Wall Street analysts were expecting EPS of 24 cents.
Net income was $590,000, a decline from $9.18 million from the year-ago quarter. Revenue was $728.06 million, which surpassed analysts' estimates of $721.73 million.
"Overseas orders will account for about 80 percent of our overall shipments for the entire year, demonstrating our expanding global footprint and the success we have seen in reducing our reliance on any single market," Chen said on the earnings call.
Reuters contributed to this story. Contact the writer at williamhennelly@chinadailyusa.com