Shanhaiguan - A strategic pass where Great Wall reaches sea
By Bruce Connolly | chinadaily.com.cn | Updated: 2018-07-10 16:25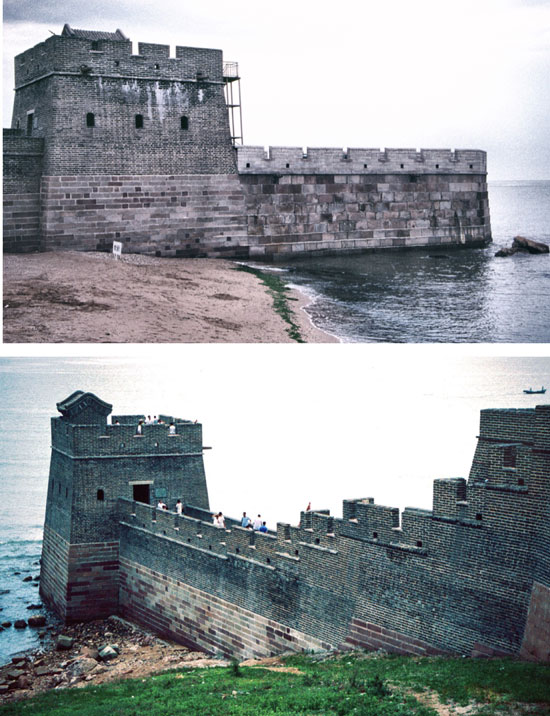 Travelling recently to Tianjin from Beijing by 300 km/h high-speed train I thought back 22 years to 1996. A very different experience on a slow-moving 18 coach "green" train heading to Qiqihar in far northeastern China. I was going as far as Shanhaiguan on the border of Hebei and Liaoning provinces. Unlike today's spacious reclining seats and air-conditioned comfort I was in a hard-sleeper cubicle with five other passengers. On those older trains there was much more time to socialize, to share food, experiences and so on. For me, rail travel then was more of an adventure but looking back, I was also seeing a country so different from today, one going through stages of modernization.
As my handwritten scribbling notes, not far south of Beijing "donkeys hauled wooden ploughs across the fields. On long, straight highways, shaded by tall poplar trees, mules also pulled carts transporting harvested crops and at times, people. Shepherds looked over grazing flocks near villages of single floor courtyard buildings located alongside fish ponds. At stations, fruit sellers offered their produce through the open carriage windows. There was also considerable heavy industry and a seemingly constant movement of long freight trains."All of this before arriving at Tianjin where platform staff members stood at attention saluting as our train pulled in. Changed days indeed!
Beyond Tianjin the railway passed canals, salt beds, fish farms, oil wells, port development, urban construction and yes, more donkey carts alongside railway yards with working steam engines. Gradually open countryside and rolling hills increased before stopping at the beautiful coastal resort of Beidaihe, the large ocean port of Qinghuangdao, and shortly after Shanhaiguan. I had arrived at a small city located where the Great Wall of China rose from the sea to climb steeply up a mountain range before stretching out on a momentous journey 7,300 kilometers across northern and northwestern China to Jiayuguan in Gansu.