All Thai boys, coach evacuated from cave
By Liu Xuan | China Daily | Updated: 2018-07-11 01:53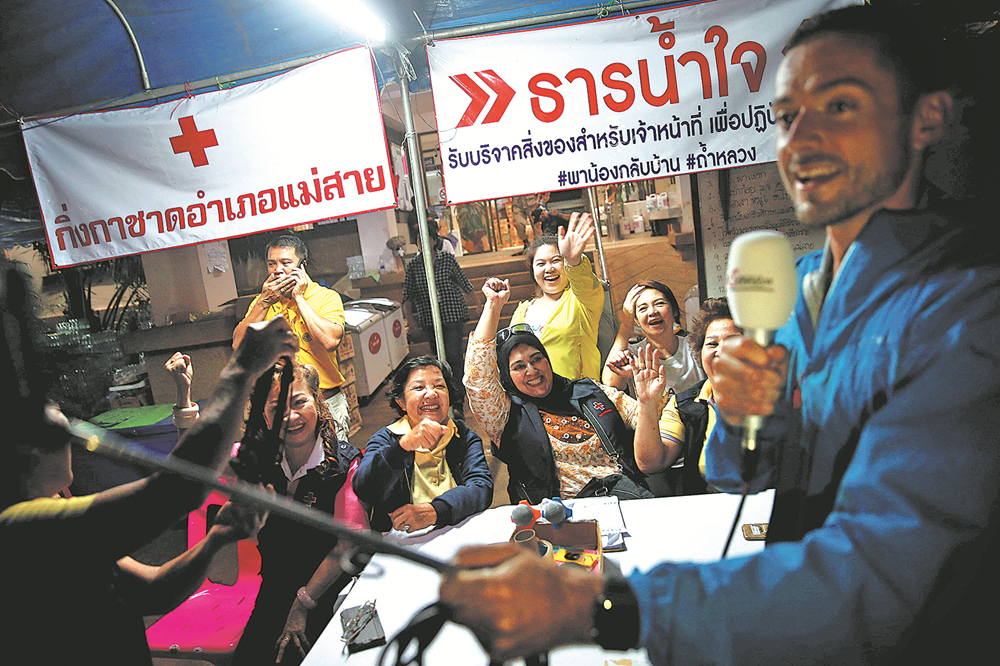 The dramatic dayslong rescue operation of a Thai youth soccer team came to a cheerful conclusion on Tuesday night when all 12 members and their coach were retrieved alive from the cave after weeks of fears, tears and finally joy, the Thai Navy SEALs team announced.
The third day of divers hauling the children, sometimes underwater, out of the cave concluded a rescue operation in which one diver died. The last four boys and the 25-year-old coach capped successes of the two previous days, during which eight boys were rescued from the dark, muddy cave.
"We are not sure if this is a miracle, a science, or what. All the thirteen Wild Boars (the soccer team) are now out of the cave," the SEALs posted on their Facebook page.
A doctor and three SEALs who had stayed with the team emerged safely from the treacherous cave hours later.
Journalists at the scene reported there were cheers and sighs of relief at the volunteer site soon after the last team member left the cave.
According to Thai authorities, the rescue plan required two divers to accompany each of the boys through the cave. Along the way, they had to climb, squeeze themselves through narrow passages and dive through the cave's heavily submerged sections.
The boys wore full-face masks and were between two diving specialists, tethered with the diver in front, who also carried the boy's compressed air bottle. Guide ropes and rows of air tanks were installed every 25 meters to ensure their safety.
The evacuation started on Sunday morning and by evening four of the boys had been rescued. The mission got going on Monday and managed to pull another four boys out.
World leaders offered congratulations on the successful rescue effort.
The first eight team members were in good health mentally and physically, but were unlikely to be able to take up an offer to attend the World Cup final in Moscow, doctors said on Tuesday.
"They can't go, they have to stay in the hospital for a while," Thongchai Lertwilairatanapong of the public health ministry replied when asked about the offer to attend Sunday's match.
FIFA President Gianni Infantino invited the youngsters and their coach to the World Cup final if they could be rescued in time and were healthy enough to travel. Gianni later acknowledged the team members wouldn't be able to attend.
Jessada Chokdamrongsuk, permanent secretary of the Ministry of Public Health, said the group would remain under observation at the hospital for at least a week.
"They're likely to watch it on television," Jessada said.
The Nation newspaper and Agence France-Presse contributed to this story.