China-Arab ties mapped
By XU WEI | China Daily | Updated: 2018-07-11 07:29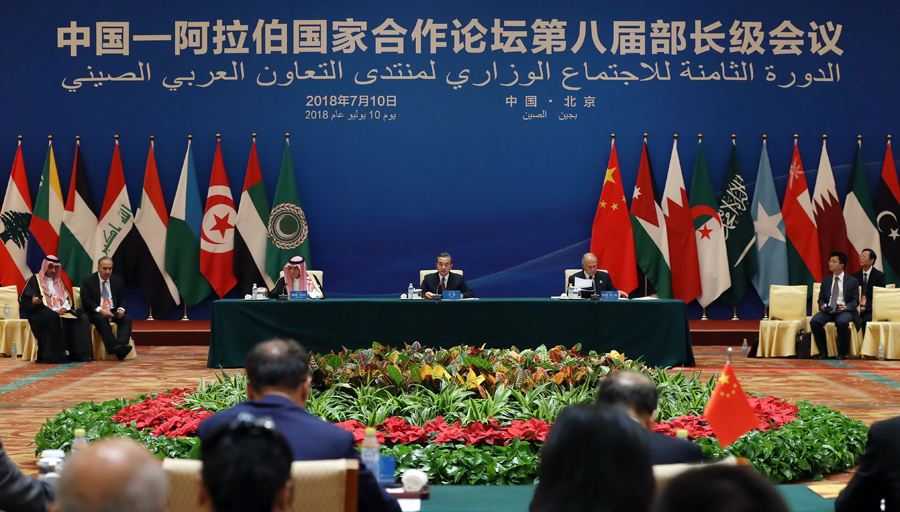 China-Arab ties mapped
The three outcome documents signed at the eighth ministerial meeting of the China-Arab States Cooperation Forum have outlined a clear, systematic and complete road map for China-Arab relations at present and in the near future, State Councilor and Foreign Minister Wang Yi said on Tuesday.
Wang said at a news briefing that the meeting has made history and was a great success.
"It is a meeting that planned the future," Wang said, referring to the three outcome documents, including the Beijing Declaration, the forum action plan for 2018-20 and the declaration for action of jointly building the Belt and Road between China and the Arab world.
President Xi Jinping announced at the opening of the meeting that China and Arab countries have established a future-oriented strategic partnership of comprehensive cooperation and joint development.
"The elevation of the dimension of relations is the new starting point for the two parties to follow the trend of history and jointly move forward. It has also opened a new chapter for China-Arab relations," he said.
All parties at the meeting have agreed to the new nature of China-Arab relations and each one has agreed to push forward the establishment of the new type of international relations, Wang said. A major consensus has also been reached on the joint building of a community with a shared future for mankind as well as on the direction and concept of foreign policies.
The Beijing Declaration focused on setting forth the substance of the China-Arab strategic partnership and making clear the direction for deepening relations and collective cooperation.
The action plan for 2018 to 2020 came up with a new plan and measures for cooperation in areas including trade, industry, energy and culture. The declaration for action put forward major proposals for the joint building of the Belt and Road for China and the Arab world.
"It is a meeting that focused on cooperation," Wang said, adding that the two parties have reached over 100 points of consensus over cooperation in various areas.
The meeting also promoted peace, as Xi said in his speech that China is willing to serve as the defender of the peace and stability of the Middle East together with the Arab nations and help the Middle East to blaze a new path of overall revitalization, Wang said.
"China will continue to firmly support the Arab nations in safeguarding their legitimate rights and pushing forward an early, fair and just settlement to the Palestinian issue," he said.
Adel bin Ahmed Al-Jubeir, the Saudi foreign minister, said at the news briefing that Arab countries are optimistic about the outcomes of the meeting and the development of China-Arab relations.
The Arab countries are looking to become a strong partner of China to jointly push forward the development of the Belt and Road Initiative and achieve mutual development and prosperity, he said.