Tesla to build super factory in Shanghai
By Wang Junwei | chinadaily.com.cn | Updated: 2018-07-11 16:37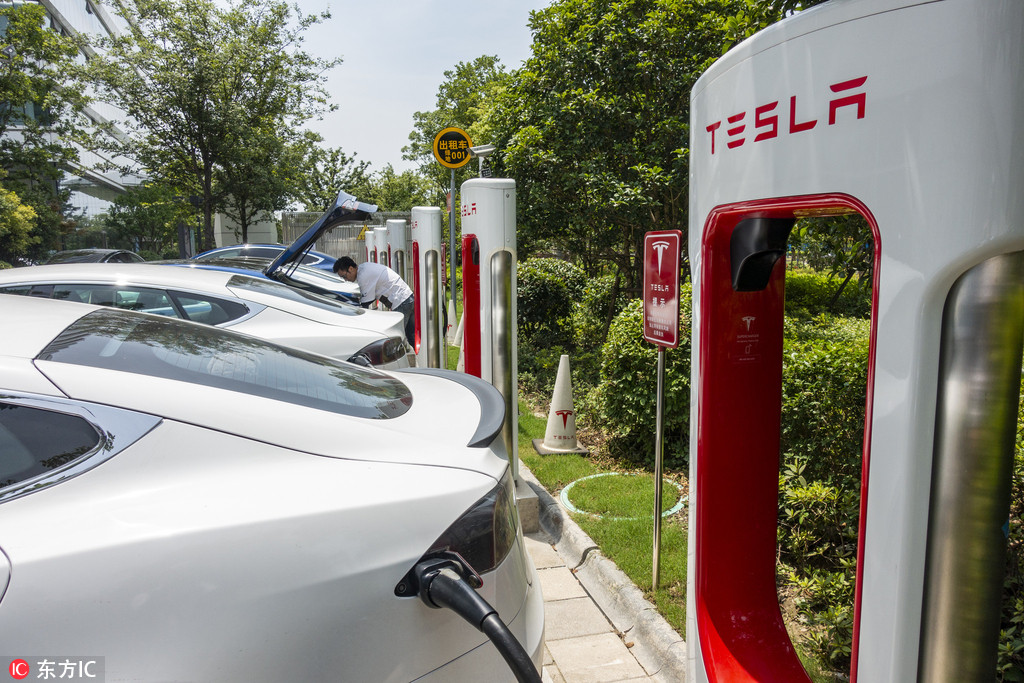 The US electric vehicle industry leader Tesla will set up a wholly owned super factory in Shanghai with a production capacity of 500,000 vehicles a year, making it the largest foreign investment manufacturing project in Shanghai, the city's information office said on Tuesday.

According to the agreement signed by Tesla, Shanghai Lingang Area Development Administration and Lingang Group, Tesla will set up a factory for research and development, manufacturing and sales. At the same time, an electric vehicle research and development innovation center will also be built there as a major part of Tesla's global R&D system to promote relevant technological achievement transformation.
"Shanghai is working to speed up efforts to implement the central government's policy for further opening up. We will build a new industrial system led by strategic emerging industries, supported by advanced manufacturing industries and focused on a modern service industry," Shanghai Mayor Ying Yong said yesterday.
"We are very pleased to have a strategic cooperation with Tesla and welcome Tesla to invest its entire industrial chain of R&D, manufacturing and sales of electric vehicles in Shanghai. The government will support the construction of its factory and create a sound business environment and provide better services for all kinds of enterprises including Tesla," Ying added.
The city just released key points of its action plan for further opening up, including automobile, aircraft and shipbuilding industries on Tuesday.
According to statistics from the China Association of Automobile Manufactures, China is the world's largest automobile market with 24.72 million passenger car sales and about 777,000 new-energy vehicle sales in 2017. Tesla sold over 17,000 cars in China last year, up 51 percent from 2016, China Automobile Dealers Association reported.
In April, China announced ownership restrictions on new-energy vehicles would be removed this year. The wholly owned factory in Shanghai will be Tesla's first outside the United States, serving as a good example of green and sustainable development, said Elon Musk, the company's chief executive.
Last week, Tesla raised prices for all models sold in China, with increases ranging from 139,300 yuan to 255,600 yuan ($20,896 to $38,342) after tariffs on cars made in the US jumped to 40 percent due to China-US trade tensions.