100 aircraft mark centenary of RAF
By Julian Shea in London | China Daily | Updated: 2018-07-12 07:01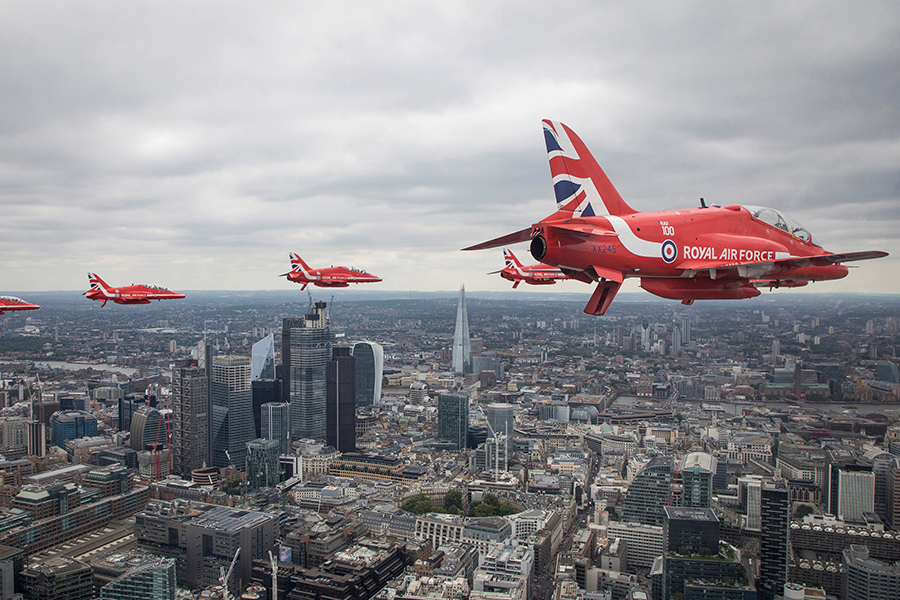 Londoners and visitors packed the streets of the capital of the United Kingdom on Tuesday to view a spectacular flypast of Royal Air Force aircraft over the city.

Thousands of people including the Queen and other members of the royal family looked up to the skies as 100 planes and helicopters flew in formation across the capital, down the Mall and above Buckingham Palace.

The event, which was preceded by a service of thanksgiving at Westminster Abbey, was the culmination of celebrations across the country to mark the centenary of the foundation of the military service, known as the RAF, on April 1, 1918.

Until that date, the British army and navy had each had their own separate flying divisions, founded in 1911, just eight years after the first successful flight by the Wright brothers Orville and Wilbur, at Kittyhawk in North Carolina, the United States, in 1903.

Those two divisions-the Royal Flying Corps and Royal Naval Air Service-were finally formed into one specific service toward the end of World War I, but it was in World War II that the RAF truly established itself-which was the reason for the delayed centenary celebrations.

The date of the commemorative flypast-July 10-marked 100 years and 100 days of the RAF, and was also the 73rd anniversary of the start of the Battle of Britain in the summer of 1940, when Germany's Nazi forces tried to destroy the RAF ahead of their planned invasion of Great Britain.

Despite being hugely outnumbered, RAF pilots, supported by fliers from many other countries, including most famously Poland, resisted and saw off the planes of Germany's air force, the Luftwaffe, and the invasion plan was abandoned.

The two fighters most associated with the Battle of Britain-the Hurricane and the Spitfire-featured prominently in the flypast, which included everything from small training helicopters to huge transport planes, and aircraft ranging from the Lancaster World War II bomber through to the first public display of the new F35 Lightning fighter.

After weeks of blue skies and high temperatures in the UK, weather conditions on the day returned to more typical British overcast skies but that did not lessen the crowd's enjoyment of a display which could be seen across the whole of London, and ended with the RAF's famous Red Arrows display team flying above the city and releasing red, white and blue smoke trails.