Father, son reunited in immigration crisis
China Daily | Updated: 2018-07-12 10:01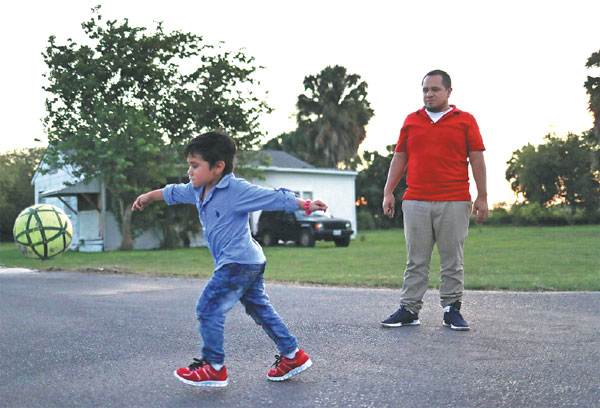 SAN BENITO, Texas - With tears and smiles, Salvadoran asylum-seeker Walter Armando Jimenez Melendez was reunited with his 4-year-old son Jeremy on Tuesday after six weeks of anguished separation.
"(I went) without knowing where he was - if he was eating, how they were treating him," said Jimenez, 29, as he shared a meal with his child for the first time since May. "Imagine the joy I felt."
The father said that he and his son were overcome with emotion when they set eyes on each other. The boy cried, he said. Asked if he was happy to see his dad, Jeremy shyly smiled and nodded.
Jimenez, who was held in two different facilities in Texas, said he did not learn he would rejoin Jeremy until four hours before and did not believe it until he saw the boy. Jeremy was among 63 children under the age of 5 whom Judge Dana Sabraw in US District Court in San Diego ordered the US government to reunite with their parents by Tuesday. They were separated by immigration officials when they crossed into the United States from Mexico.
On Tuesday, Sabraw told government attorneys he would not extend that deadline set two weeks ago for the children under 5 or for 2,000 other children to be reunited by July 26.
"These are firm deadlines. They are not aspirational goals," said the judge.
The government had asked Sabraw to extend the deadlines because it needed time to test DNA to confirm family relationships, run background checks, find parents who were released from custody and review parental fitness.
"We've saved kids' lives by keeping them from being with some really evil people some of them," Health and Human Services Secretary Alex Azar told CNN, adding that 38 children were to be reunited on Tuesday.
Last resort
However, medical experts say DNA testing should only be used as a last resort, and raises a host of ethical problems.
US President Donald Trump was dismissive of reporters' questions about the missed deadline.
"Tell people not to come to our country illegally," he said. "That's the solution."
Not all of those separated from their children, however, had crossed the border illegally. Some, like Jimenez, walked up to a border crossing point and asked for asylum.
Trump stopped separating families last month following public outrage and court challenges.
More than 2,300 children were separated from their parents after the Trump's administration announced its "zero tolerance" policy in early May. The government is seeking to prosecute all adults who crossed the border illegally. While parents are held in jail to await trial by a judge, children are moved into various centers across the country.
Reuters - AP