Payment demands may come at a price for US: China Daily editorial
China Daily | Updated: 2018-07-12 23:14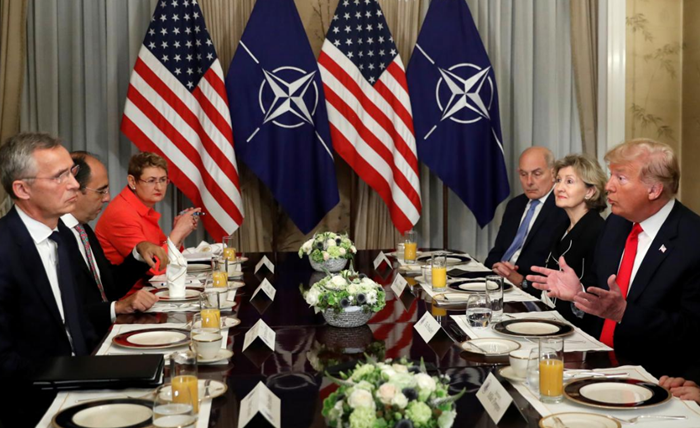 The meeting of 29 Western leaders at the NATO headquarters in Brussels that started on Wednesday has once again revealed the rift between the United States and its allies in Europe.
US President Donald Trump was as combative as expected on the opening day of the two-day meeting, tongue-lashing the other NATO members for not spending enough on their own defense and accusing Germany of being captive to Russian energy supplies.
Although who-pays-what has become a familiar feature of NATO summits in recent years, Trump has shaken the alliance to the core, by questioning why the US should pay to defend Europe when its European members are not willing to pay to defend it.
He has spent the two days haranguing the other leaders that their countries must pay their share of the bill and swiftly raise their contributions to 2 percent of their GDP.
But it is not so much the cost that is now worrying the US' European allies as the Trump administration's apparent ambivalence to the alliance itself.
Although Trump said on Thursday that the United States' commitment to NATO remains very strong, those words of support come after he reportedly said in the closed-door meeting with the other leaders on Thursday that they had to increase their support by January or the US would go its own way.
Trump may be right in his earlier assessment that the decades-old military bloc is "obsolete", as it was a product of the Cold War, but his seeming indifference to maintaining the alliance has merely reinforced the perception that the transatlantic unity that has been the foundation of the West-led order is no longer as strong as it was.
The broadening rift between the US and its European allies that has been revealed by his demands that they pay more for the US security umbrella could further widen after Trump's meeting with Russian President Vladimir Putin in Helsinki next Monday — which may well prove to be the most welcoming part of the European tour for him.
Trump's belligerent performance at the summit might have got him the results he wanted but it also showed his administration is not convinced that the global governance system, of which the US was a key architect, still serves the US' interests.
The forces of history that have gathered momentum over the past decade have revealed the relative decline of the West since its heyday after the collapse of the Soviet Union — whose presumed threat NATO was formed to deter — and the tendency of the Trump administration in response to this has been to throw the US' weight around to show that if it wants it can go it alone to get what it wants.
In doing so the administration is displaying the flaws in the Western-led institutions, which need to be more accommodating of the global trend to build a community with a shared destiny.