A month on, have DPRK, US improved relations?
By Pan Mengqi | China Daily | Updated: 2018-07-13 09:03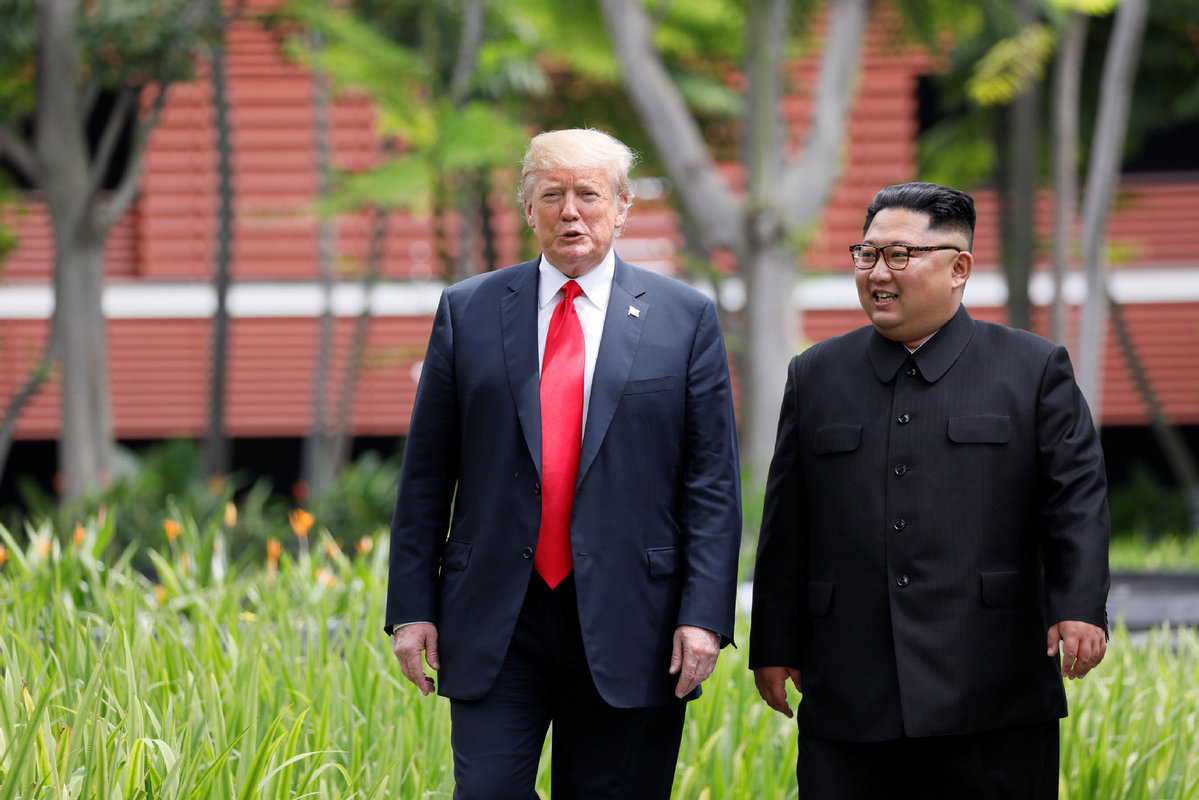 It has been a month since the historic Kim-Trump summit took place in Singapore. Yet whether Washington and Pyongyang can start a new bilateral relationship, as stated in their joint statement, remains unclear.
Experts and analysts are skeptical of how the two-page abstract statement signed by the two leaders can be translated into a pragmatic action plan, and the recent interaction of the two seems to drag the dream of detente back to the reality of hostility.
On July 6, US Secretary of State Mike Pompeo paid his third visit to the Democratic People's Republic of Korea, but the meeting ended in his counterpart's accusation that the US had a "gangster-like" mindset in its demand for denuclearization.
In a statement, Pyongyang said the US side came up only with its "unilateral" demand for denuclearization, calling for CVID (complete, verifiable, irreversible denuclearization), but never mentioned the issue of establishing a peace regime on the Korean Peninsula.
Pyongyang's censure was in contrast to Pompeo's description of the talks as "productive". The US' top diplomat brushed off the accusation, saying "if those requests were gangster-like, the world is a gangster" in response to the criticism.
The apparent deterioration in talks is an evidence that the two sides have too many differences on the key issue of denuclearization.
Time magazine quoted a US veteran official, Thomas Countryman, as saying that "there is bound to be a rift when two nations don't speak to one another for such a long period of time".
Many other experts were skeptical that with such a rift Pyongyang and Washington can achieve any real progress within a reasonable time.
The first problem both face is to reach an agreement about the sequence and reciprocity in the process of denuclearization.
In a recent Korean Central News Agency statement, Pyongyang emphasized the signing of a formal agreement with the United States to end the Korean War as a key measure to remove the danger of war on the peninsula and normalize DPRK-US relations.
US President Donald Trump, however, insisted the DPRK will receive relief in sanctions and the two sides will accelerate their schedule only when Pyongyang demonstrates verifiable and irreversible efforts in denuclearization.
Fan Jishe, a senior fellow at the Chinese Academy of Social Sciences, said for the US, Trump wants to get done with denuclearization fast, before he finishes his first term in January 2021, or even preferably overnight. But for the DPRK, it will not make any substantial moves at denuclearization until it gets solid security guarantees.
"The process will be very challenging as the questions like which country should take the first step and what should be reciprocated by the other side will be tough hurdles to cross," said Fan.