I left my heart in Shanghai
By Hujjatullah Zia | chinadaily.com.cn | Updated: 2018-07-23 11:54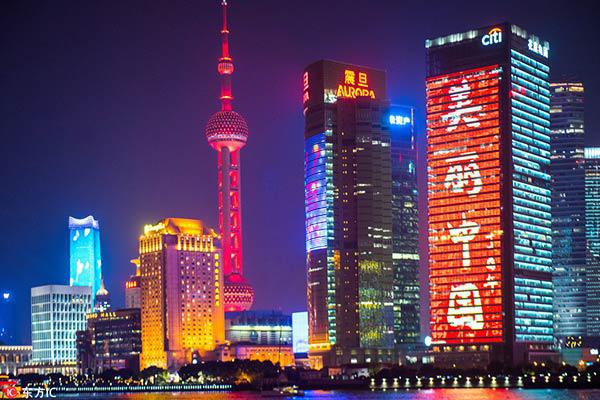 If there is paradise on earth, it's in Shanghai. This city of China will win one's heart and mind in one way or the other. The modern skyscrapers, the nighttime twinkling lights of the city and sparkling streets will fill you with an outpouring of hope and pleasure.
This city showcases its charm and beauty to tourists with flickering eyes and greets people from around the world with open arms. The integration of traditional sites and modern structures and amalgamation of different ethnic minority groups have made this city more diverse and colorful. Due to indescribable charm and attraction, Shanghai deserves to be called the bride of the east.
Shanghai individuals exercise their rights and liberties with a strong sense of satisfaction. The smile on the lips of young boys and girls strolling hand in hand on colorfully lightened streets of Shanghai reveal the freedom they enjoy. The appetite for wandering around the city, especially at night, will be hardly ever satiated. The streets are bursting with pedestrians in downtown at night as people relieve the boredom of their dawn-to-dusk hard-work through having a walk with their families.
Shanghai carries historical events in her heart and it is the birthplace of the Communist Party of China. The site of First National Congress of the CPC opened on July 23, 1921, in Shanghai is Chinese historical landmark which added to the value of this city. In this congress, the founding of the CPC was proclaimed by 13 delegates of seven CPC's early organization and two representatives of the Communist International. Since its renovation in 1952, this site was opened to the public and changed into a tourist attraction. This site is now a key historical monument and exhibits the wax statues of deputies to the Congress, precious documents, recording the historic events revolving on the founding of the Party and its activities in the following years.
The reform and opening-up initiated by Chinese government in 1978 have made a strong impact on the economic development of Shanghai. That is to say, Shanghai is the beating heart of China in terms of economy and world's financial center and modern international metropolis. For instance, Shanghai's local budget revenue increased from 16.92 billion yuan in 1978 to 664.22 billion in 2017. It contributed 3.6 percent to China's GDP and the imports and exports via Shanghai customs accounted for 21.5 percent of the nation's total.
This city is also a highly significant transport hub in China as it handled 972.57 million tons of cargo last year and generally 208.55 million passengers departed from Shanghai.
Shanghai has more than 20 sister ports, including Osaka and Yokohama of Japan; Seattle, New Orleans, New York City and New Jersey of the United States; Antwerp of Belgium; and Marseilles of France.
Addressing 46 journalists from 44 Asian and African countries, Zhong Xiaomin, deputy director general of China International Import Expo Bureau, said the first China International Import Expo will be held in November at National Exhibition and Conventional Center – the world's biggest single structure and exhibition complex in Shanghai. According to her, 186 companies from 38 African countries, 1,200 companies from 39 Asian countries and 156 companies from Oceania will participate in the expo, which aims to reinvigorate global change, and focus on opening, innovation and investment as well as global trade. This expo, which will transform Shanghai into a desirable shopping paradise, indicates the city's support to opening wider to the outside world as it was emphasized by Chinese President Xi Jinping at Boao Forum. Hence, Shanghai is the mainstay of China's economy and was highly influenced by reform and opening-up policy.
I had a memorable time on my 5-day trip to Shanghai along with Asian and African journalists but I feel like I left my heart in that beautiful city. Five days to explore Shanghai or deeply touch its charm oozing from Shanghai Tower and skyscrapers, which kiss the sky, will not be enough at all. Although we had a dinner at the top floor of Shanghai Tower and also did a river cruise, our thirst for looking at the sparkling streets and visiting modern structures and historical relics was not quenched.
Bidding farewell after five days to Shanghai was like saying goodbye to one of my bosom friends. How is it possible to love a city the way you love your hometown only after five days of stay? This is due to its magnetism and mesmerizing environment.
The author is an Afghan journalist and freelance writer based in Beijing.