Premier backs world trade order
By Hu Yongqi | China Daily | Updated: 2018-07-25 07:01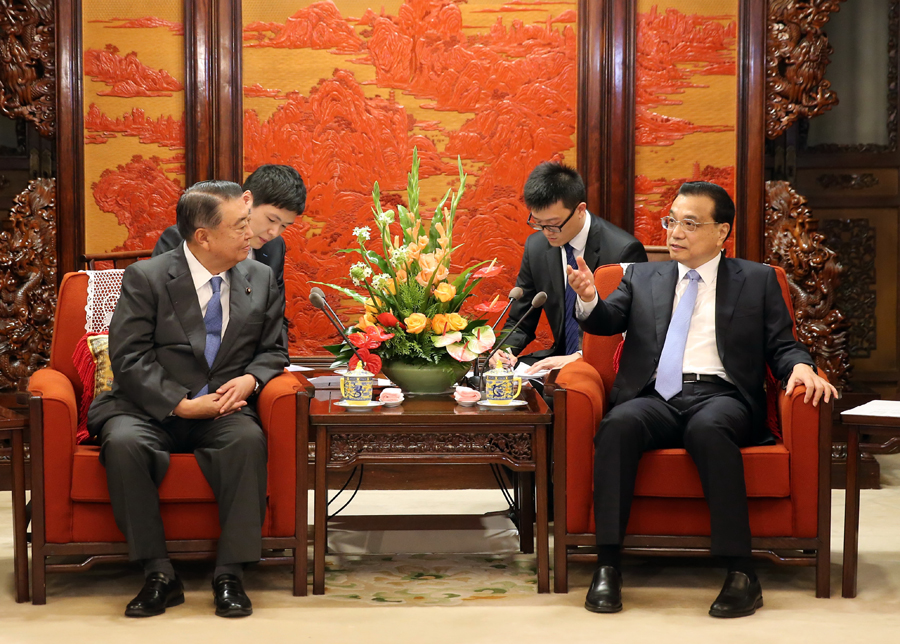 Li says China, Japan need to cooperate in preserving multilateralism
Premier Li Keqiang called on Japan to work with China in safeguarding multilateralism and free trade, as the countries are confronted by rising trade protectionism and anti-globalization sentiment.
As major economies and beneficiaries of free trade, China and Japan should defend the rules-based international order, Li said in Beijing on Tuesday during a meeting with a delegation of Japanese legislators headed by Tadamori Oshima, speaker of the House of Representatives of Japan's parliament.
China will continue opening up, further lower its market access threshold and welcome companies from other countries, including Japan, to expand exchanges with the world's second-largest economy, Li said.
A stable and healthy development of bilateral relations will be beneficial to both countries and also foster regional and global peace, stability and prosperity, he said.
Li met with Oshima when he traveled to Tokyo two months ago to attend the seventh China-Japan-Republic of Korea Leaders' Meeting and pay an official visit to Japan, the first by a Chinese premier in eight years.
The two neighboring countries should abide by the principles and spirit of the four political documents signed between 1972 and 2008 and fulfill agreements that have been reached by both countries to bring bilateral relations back onto the right track, Li told Oshima.
The premier said China is willing to strengthen dialogue with Japan on innovation and promote innovative development. China also would like to expand third-party cooperation with Japan to achieve win-win outcomes, he said.
Li also called for strengthening exchanges between legislative bodies from both countries to enhance understanding and mutual trust.
Oshima said Li had productive talks with Japanese Prime Minister Shinzo Abe during his visit to Japan and moved bilateral ties back onto the right track. Japan is ready to push forward bilateral relations, based on the principles of the four political documents, he said.
Japan is also ready to boost cooperation with China in various fields, including legislation, Oshima