Bird's nest sales taking off
By Zheng Yiran | China Daily | Updated: 2018-07-27 10:50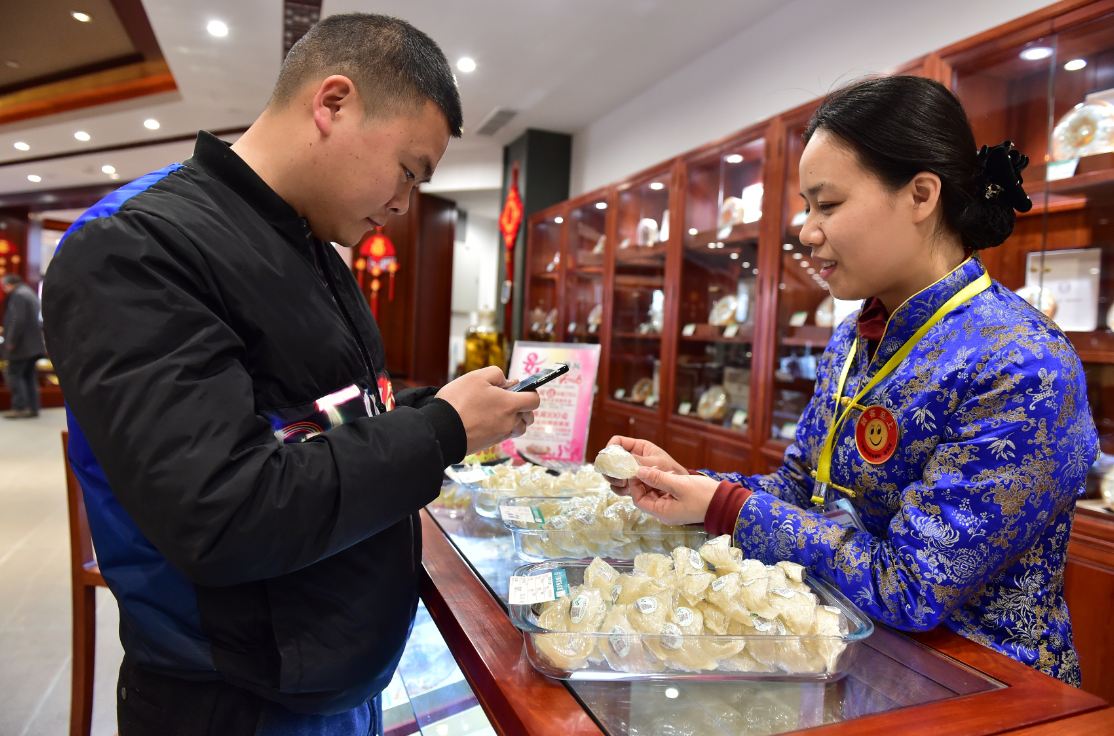 Traceability and rising popularity among younger consumers powering growth
Eating bird's nest soup in an upmarket Western restaurant was once considered the preserve of the wealthy. Now, with the help of big data technology and e-commerce, the experience is accessible to ordinary people.
From 2015 to 2017, the country's trade volume in the bird's nest industry surged roughly 30 times, and bird's nests sold on Alibaba's e-commerce platform in 2017 fetched more than 1.48 billion yuan ($218 million), according to the latest big data report from the Edible Bird's Nest Market Committee of China Agricultural Wholesale Markets Association.
The report, which is the committee's first of its kind, showed that during the past three years, bird's nest consumption experienced a transition from being a women's privilege to a cuisine suitable for people of all ages. Furthermore, those aged between 26 and 30 are the main consumers, while those aged between 18 and 25 were the second-largest group.
Yan Hailiang, senior e-commerce analyst in the bird's nest industry, said there are two main types of edible bird's nest - dried and instant. "After the promotion of imported traceable bird's nests in 2016, consumers' purchasing confidence greatly increased, which led to a significant growth in the sales of dried bird's nests."
Traceability is the highest quality standard in the dried bird's nest market - each bird's nest is guaranteed with certification from the Chinese Academy of Inspection and Quarantine, the nation's public institute for food quality. The certified bird's nests carry a label featuring an anti-counterfeiting code and a QR code, allowing consumers to easily access information about product quality and origin.
Yan said that younger consumers were generating another incredible growth point, from instant bird's nests. "The substantial growth in the two major bird's nest products contributed to the thirtyfold consumption increase in the whole industry."
"I buy instant bird's nests from a Thai daigou, who buy products in Thailand and sell them to buyers in China. The bird's nest soup is stored in a sealed bottle. I have one bottle three times a week, which costs me about 120 yuan per week. I think the price is reasonable," said Liu Xin, 25, from Beijing.
The effective ingredient in the instant soup is dried bird's nest, which, according to merchants, is sold at roughly 25,000 yuan per kilogram. According to another consumer who has dried bird's nest regularly, it costs her 500 yuan a week.
Guangdong, Yunnan and Hainan provinces now produce dried bird's nests, but the output is limited. As a result, the product mainly comes from Southeast Asian countries. Due to import tariffs, the price is still relatively high.
Ever since bird's nest products were approved for import in 2014, supported by the government's favorable policies, imports have surged from 3.09 metric tons to 81.4 tons last year, a twenty-sixfold increase.
From Jan 1 to May 31, the Chinese mainland imported a total of 42.6 tons of traceable bird's nests, an increase of 141 percent year-on-year with 3.94 million CAIQ certificates being issued. It is estimated that the figure will surpass 120 tons in 2018, as the Chinese Bird Nest Traceability Management Service Platform forecast.
The imported traceable bird's nests mainly come from Malaysia, Indonesia and Thailand.
In terms of the distribution of the consumption group, statistics from the EBNMC showed that edible bird's nest consumers are mainly located in southern China, with Jiangsu, Zhejiang and Guangdong provinces ranking as the top three. Northern regions such as Shandong, Henan and Hebei provinces and Beijing also have high consumption rates.
"The distribution is in line with the country's economic development level," Yan said.
According to EBNMC's big data, urban workers with medium to high incomes make up the majority of consumers, taking up 49.2 percent.
"This group of people, which happens to be workers under the highest social and work pressure, are fond of consuming bird's nests as a tonic."
The committee also released data showing the supply power of foreign companies exporting dried bird's nests and the manufacturing levels of domestic instant bird's nest processors, as a guide for the optimization of the industry's value chain.
"Big data has helped address market price fluctuations and quality instability resulting from the country's reliance on bird's nest imports. In addition, it contributes to integrating resources and increasing the competitiveness of the domestic industry, raising the overall development level," said Tan Chengzhe, chairman of the Bird Nest Credit Alliance of Registration and Certification.