义务教育教师法定工资待遇 (yìwù jiàoyù jiàoshī fǎdìng gōngzī dàiyù): Compulsory education teachers' legal wage and treatment
China Daily | Updated: 2018-08-03 07:44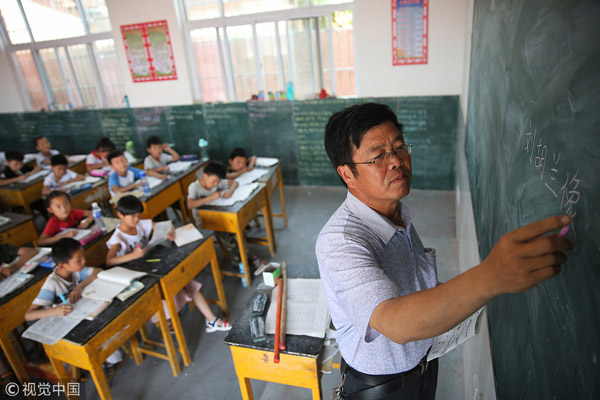 Education, especially compulsory education, has a bearing on the long-term development of the country and the nation. It is necessary for local governments to shoulder their responsibilities and ensure that the average wage level of compulsory education teachers is not lower than the average wage level of local civil servants, Premier Li Keqiang stressed at an executive meeting of the State Council, China's Cabinet, on Monday.
Li said that local governments must ensure the average salary of compulsory education teachers meets the standard set out in the Compulsory Education Law. He said that all localities have to report on teachers' salaries to the Ministry of Education and the Ministry of Finance on a regular basis and inspections will be conducted in due course.
"We must vigorously encourage and attract outstanding talents to become teachers, especially compulsory education teachers, and foster greater respect for teachers and teaching," Li said.
The meeting also instructed governments to issue subsides to teachers in remote, poverty-stricken areas and provide allowances to rural teachers. Meanwhile, the ratio of teachers with middle-and high-level professional titles should be increased in compulsory education schools.
Li said that compulsory education is the top priority for the government investment in education, and that the structure of education expenditure must be optimized to promote fairness.