Papermakers set to write new survival story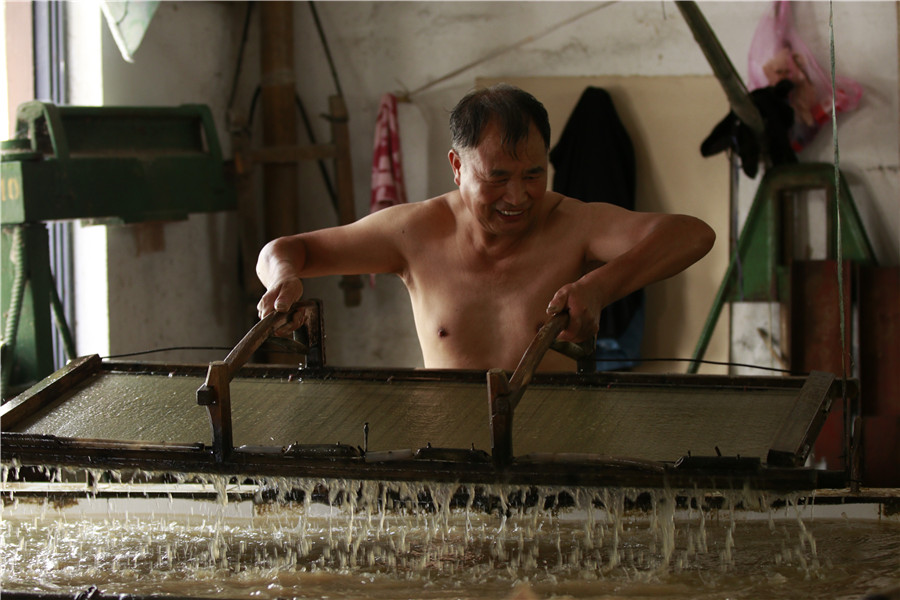 The industry is in flux as machines replace manual production methods, lowering both prices and quality. Zhu Lixin reports from Hefei.
In February, Yang Hongwei posted a video on his WeChat Moments feed that showed his grandfather leading a group of papermakers, including Yang, in singing a traditional song to help maintain energy levels as they pulped bamboo to make paper.
In 2006, Yang's grandfather was recognized as the sole national inheritor of a traditional method of making paper from bamboo that was developed in Jiajiang, Sichuan province, centuries ago.
Official recognition meant the Yang family, from Jiajiang's Macun township in the mountainous southwestern province, became the best-known of the county's hundreds of papermakers.
The same year saw the Jiajiang technique listed as a National Intangible Cultural Heritage.
Yang was still in college when his father died in 2015, and in February, when he shot the video, his grandfather's heath was deteriorating.
The elderly man died in March, and Yang, as the family's only child, became the 14th-generation inheritor of the ancient handicraft.
The 23-year-old is now struggling to maintain the family business.
Jiajiang's handmade paper industry is also struggling as an increasing number of workshop owners embrace machinery and new business models, such as selling, not making, paper.
"The situation is no better in the rest of the country, which is the birthplace of papermaking," said Tang Shukun, director of the Handmade Paper Institute at the University of Science and Technology of China in Hefei, capital of Anhui province, who has been monitoring the handmade paper sector for 20 years.