Harleys, Tibetan culture hit the road
By Palden Nyima and Daqiong in Lhasa | China Daily | Updated: 2018-08-11 03:47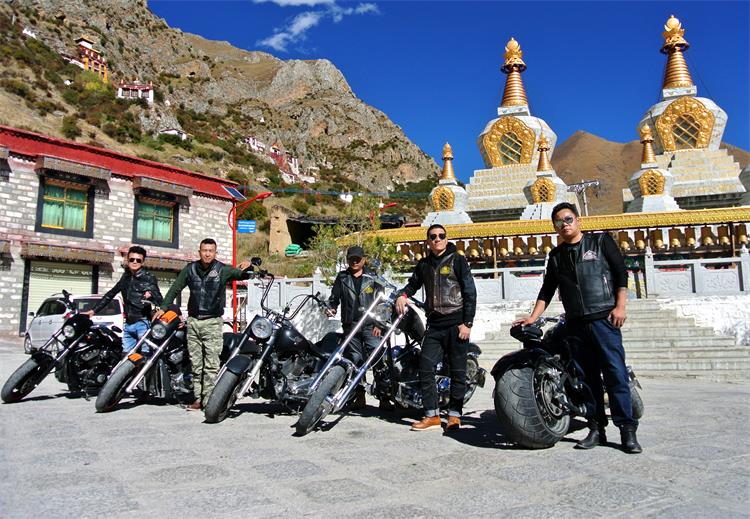 When the members of the Tibetan Harley motorcycle team Garuda are together, they are confused whenever a phone rings, because they all have the same ringtone — the sound of a Harley motorcycle.
The team's nine members have gathered regularly since 2016 because of their love for Harley-Davidson motorcycles. They come from very different walks of life in the city, such as teachers, civil servants, journalists and bar and restaurant owners.
All of them own at least one Harley. At least twice a month in the summer, they ride on their Harleys to various monasteries or go to picnics in nearby valleys, making for an eye-catching scene on the streets of ancient Lhasa, the capital of the Tibet autonomous region. Such rides often attract more than 20 people.
The most expensive motorcycle among the team members is a Fat Boy model, which cost more than 300,000 yuan ($43,800), while the cheapest cost more than 80,000 yuan.
"We bought these Harley motorcycles in other provinces. The good news is that a Harley 4S shop was opened in Lhasa recently, and we can buy or repair our bikes here from now on," said Sonam Tharchen, one of the team's founders.
Although Sonam Tharchen said the common hobby of riding Harleys "brought us together", Tenzin Sheden, the team's other founder, says looking cool on a Harley-Davidson is another reason they gather.
In addition, he said, "We all find Harleys have something in common with Tibetan culture. We love the style, such as wearing silver rings and other decorations."
The team is named Garuda after the Sanskrit name for a giant sacred bird of Tibetan legend.
Tenzen Sheden, who is also a photojournalist at a local newspaper, said Garuda is regarded by Tibetans as a protective deity and the king of birds. Tibetans believe Garuda eats snakes as its main food, and is often portrayed in paintings and sculptures carrying a snake in its mouth.
"We chose Garuda as our logo because, in our religion, it is regarded as the fiercest and the strongest bird," he said.
By wearing the eye-catching white and golden Garuda logo everywhere, such as on the team members' helmets, gloves, jackets and leather shoes, "we believe we will receive the blessing, and we feel safe on the road", he added.
There is also a Tibetan saying: "A Garuda will explore the sky when it is young, and a man will explore the world when he is young."
Tenzen Sheden said the team members hope to establish a formal Harley motorcycle club later this year to expand the team and attract more Harley fans and other motorcycle lovers.
Under their plan, the club would provide services such as motorcycle rides to Tibet's famous tourism sites, including Mount Qomolangma — known in the West as Mount Everest — and Mount Kailash. The team members also will continue to provide advice about routes to motorcycle riders who go to Tibet as well as provide technical help.
Losang Tashi, 30, a member of the team and a restaurant owner who joined the team last year, said he is proud of being a part of Garuda.
"It's strange to ride a motorbike alone, but it's very fun to ride together with friends. We have the same topics, and can lean on each other," he said.
Although it looks wild riding a Harley on the road, the team members said they pay attention to following traffic rules.
"We ride politely on the roads. We do not want to gain a bad name by bad behavior. We want to promote Garuda spirit and culture in everyday life, whatever we do, wherever we go. We always think of our name," said Tenzin Sheden.
The team plans to produce a video to raise people's awareness of road safety.
"We want to stick to riding decently and be environmentally friendly, and we want to do a little bit to contribute to Tibet's tourism."
Contact the writers at palden_nyima@chinadaily.com.cn