Zhoushan builds hub for river-ocean cargo
By Ma Zhenhuan and Xing Yi in Zhoushan, Zhejiang | China Daily | Updated: 2018-08-15 09:26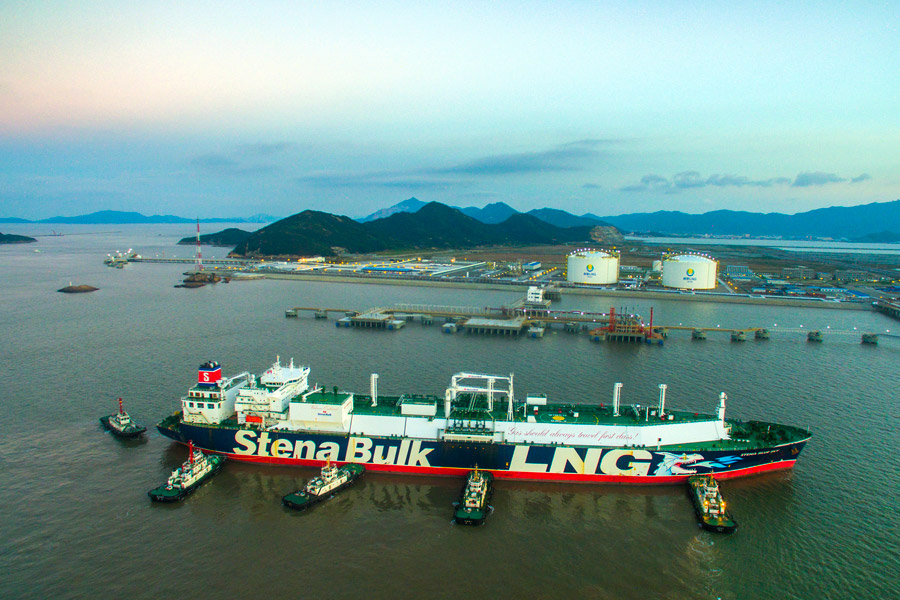 For 53-year-old Pan Guohua, his job is similar to the sport of diving: Both require a perfectly clean entry.
But for Pan, it is definitely tougher. He needs to direct a 400,000-metric-ton giant vessel to dock at a speed no faster than 3 centimeters per second.
"This poses a tough challenge for port pilots like us," said Pan, a senior pilot at Ningbo Zhoushan Port.
Last year, Ningbo Zhoushan Port group, which manages all the ports in Zhejiang province, handled more than 1 billion metric tons of cargo.
Zhoushan Port in eastern Zhejiang has been focusing on constructing a hub to connect ocean and river transportation in a bid to fully tap the potential of the Yangtze River watercourse.
"One of the keys to linking transportation in the East China Sea with the Yangtze River is building a vessel that can sail both on the ocean and in the river," said Chen Wei, deputy director of Zhejiang Ocean Port Development Commission.
On April 10, the nation's first dual sea-river vessel, Jinghai Zhida 1 - which has a hull shape and design that allows it to sail on rivers or ocean - completed its nonstop maiden voyage from Ningbo Zhoushan Port to Ma'anshan Port in Anhui.
Lyu Bing, the ship's project manager at the Seahead Ship Design Institute, said it can carry 20,000 tons of cargo in bulk with a fully loaded draft of 9 meters.
"We streamlined the ship model to increase its capacity, reduce its draft and lower its height to fit the sailing circumstances in the Yangtze," Lyu said.
"Of all the ships that can pass the Nanjing Yangtze River Bridge, ours has the largest dead load capacity," he said, adding that the height limit for a ship passing the bridge is no more than 24 meters, and the new ship's height is 22.3 meters.
While the Jianghai Zhida 1 is still conducting trials, the institute has started the design of a dual sea-river container ship that can carry 738 20-foot-equivalent unit containers, and a 10,000-ton multifunctional ship that can carry both containers and bulk cargo.
Next, Zhoushan will accelerate the building of its dual sea-river fleet, further enhancing the logistics chain.
It is also working to improve its public information platform concerning ports, vessels and cargo, further linking Ningbo Zhoushan Port with ports along the Yangtze, as well as with related shipping and logistics companies and trading companies.
In 2017, the cargo throughput in the Zhoushan Port area reached 458 million tons, accounting for 45 percent of the cargo throughput at Ningbo Zhoushan Port. Of these cargoes, the throughput of river-ocean shipping topped 190 million tons.
The Zhoushan River-Ocean Combined Transportation Service Center was approved by the State Council in April 2016. Covering the Zhoushan Islands New Area and parts of neighboring Ningbo, it encompasses a land area of 2,500 square kilometers, and a sea area of 21,000 sq km.
The Zhejiang Ocean Port Development Commission, which oversees the building of the center, said that in 2020 a total of 350 million tons of cargo are expected to be handled by ocean-river transportation, with the transaction volume of bulk commodities such as iron ore and soybeans doubling from 2017 to 1.14 trillion yuan ($166 billion).
Lin Yiqiao contributed to this story.