Floriculture blooms on Valentine's Day
China Daily | Updated: 2018-08-21 08:50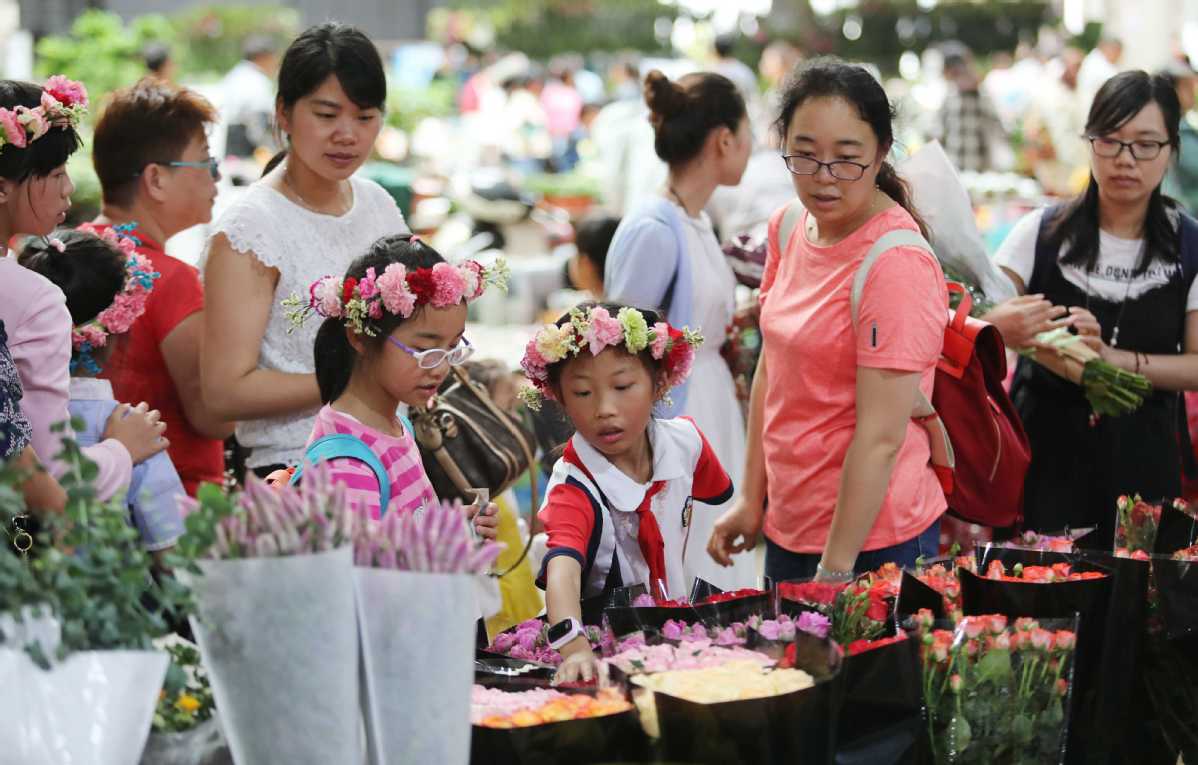 KUNMING - For every 10 flowers sold on Friday, Chinese Valentine's Day, at least seven were from Dounan, a suburb of Kunming, capital of Yunnan province, with prices determined by a live auction.
From 3 pm until late at night, the 900-seat trading hall was filled during the auction for cut flowers at the Kunming International Flora Auction Trading Center (KIFA) in Dounan, one of the largest of its kind in Asia.
Yuan Fuwang, a florist, kept a close eye on the trading screen where deals are made between flickers of numbers. Dealers either sigh or shout over the prices, waiting anxiously to sell their carefully planted beauties.
"I couldn't be more concentrated. A deal is made every four seconds," Yuan said.
On Chinese Valentine's Day, around 48 million flowers worth more than 47 million yuan ($6.8 million) were sold through KIFA, with roses accounting for more than 95 percent of the total.
Quality testing is the first step that the flowers have to go through, which the center classifies into five grades. Buyers then check the flowers in person to select and record the ones they want.
Prices go up with the grades. "The annual average price of a Grade A flower was 1.43 yuan last year, about three times higher than that of a Grade D," said Zhang Li, general manager of KIFA.
When the auction starts, auctioneers usually give a rather high starting price and then gradually lower it.
"When buyers find the price appropriate, they just press a button and the deal is closed," Zhang said.
Florists can receive information about the buyers and the hammer price the same night, and sellers will receive the money the next day.
Before dawn, trucks laden with fresh flowers rush into rural suburbs. With petals littering the floor of the warehouse, more than 500 kinds of around 10 million radiant beauties are on their way to cities across China as well as foreign countries such as Myanmar, Laos, Russia, and Australia.
"The auction benefits both florists and buyers. We use an open and transparent way of bidding which contributes to a fast and effective information transfer on the flower market, reducing problems caused by asymmetric information," Zhang said.
"It's easy for florists to find out the market demand and quality it expects, which helps guide their planting and helps them build a strong brand," he added.
With low latitude and high elevation, Yunnan has one of the mildest climates in China, which has allowed the cultivation of a booming floral market.
Since 1999, when one of China's biggest wholesale flower markets was established in Dounan, the suburb of Kunming has been turned into the leading supplier of flowers across the country.
The fast-growing trade between China and neighboring countries under the Belt and Road Initiative has seen flower sales enter a peak season, helped by expanding international air links. "Flowers, the name card of Yunnan, are going global," said Zhang.
"For example, some traditional festivals in Vietnam often lead to sale surges in Dounan, and even influence market prices during the auction."
Around 30 percent of the flowers auctioned at KIFA every day are exported to South and Southeast Asian countries.
By the end of 2017, more than 12,000 households from over 400 florists cooperatives had registered with the KIFA, with total flower cultivation area exceeding 2,600 hectares and an output value of around 450,000 yuan per hectare.
The trade volume of KIFA has maintained double-digit growth, selling 6.53 billion cut flowers worth 5.4 billion yuan last year.
Characterized by large-scale flower plantations, industrialized operations, and exports of numerous flower brands, Yunnan has transformed from a flower production base to a market-oriented base.
"KIFA is expected to become a global flower trading center and a first-class trading market by 2025," Zhang said.
Xinhua