Getting ripped off by repairmen? Dingding's the answer
By Zhou mo in Shenzhen | China Daily | Updated: 2018-08-24 23:59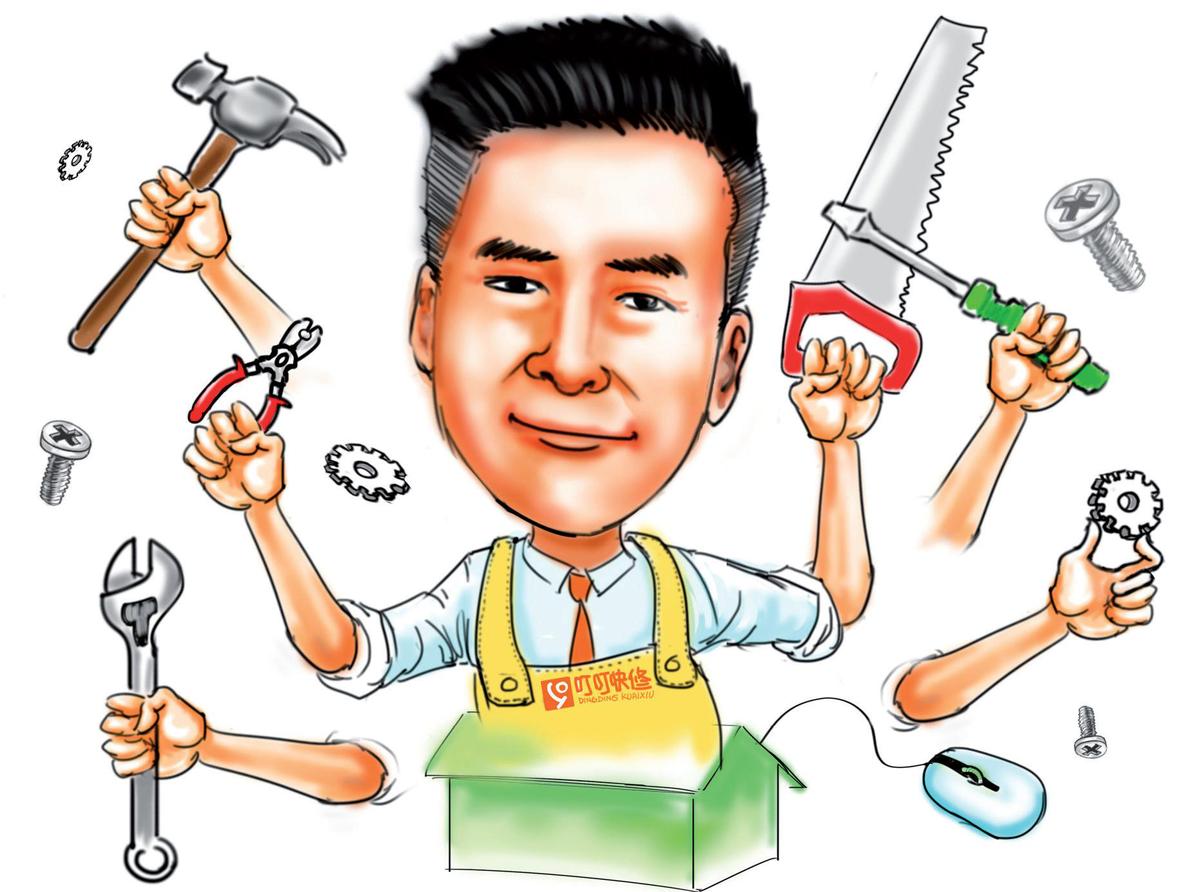 Many people may have the unpleasant experience of being charged several hundred or thousand yuan for having a piece of electrical equipment repaired without knowing what its real problem is, or how big it is.
Consumers are, thus, at the losing end, given that they lack the technical knowledge and there're no strict rules regulating the market.
According to an investigation published by CCTV, 94 percent of consumers believed they had been "tricked" in getting their home appliances fixed. More than 50 percent said they had been overcharged, while 32 percent said the electricians had "exaggerated" the severity of the problem.
"The current home-appliance repair market is chaotic, with no transparency concerning pricing. Consumers are at the mercy of unscrupulous repairmen who charge unreasonable costs, but have no other choice than to accept the deal," says Kong Linyu, founder and chief executive officer of Shenzhen Dingding Technology Co — a Shenzhen-based innovative startup.
To cut operating costs, many home-appliance manufacturers have outsourced their after-sales businesses to third-party service providers, who could, again, outsource them to others.
The practice, now prevalent in the industry, has led to a disorderly market as it's difficult to manage maintenance workers and supervise the services they offer.
"What we do is to regularize the market by building a platform to integrate those resources," says Kong.
Similar to Didi Chuxing, which provides a platform for private car drivers to share their resources by offering ride-hailing services, Dingding Kuaixiu, as the platform is called, integrates maintenance worker resources in Shenzhen to provide home-appliance installation and repair services.
The platform sets strict entrance standards for workers to ensure the quality of services, Kong stresses. It also offers professional training to workers to help them improve their skills.
Since Dingding Kuaixiu's launch in Shenzhen late last year, hundreds of industry workers are offering services or awaiting a qualification examination on the platform.
"We've introduced a 'minimum guarantee' of 8,000 yuan (HK$9,200) monthly for all the service providers on our platform," Kong says.
When they get less than 8,000 yuan from the installation and repair services they offer, say 6,000 yuan, the platform will make up for the 2,000 yuan for them. But, the precondition is that they have to work 26 days a month and accept at least five orders a day.
But, Kong argues that situation is unlikely as the average price for an order in Shenzhen is 180 yuan and, with 130 orders a month, each person can rake in more than 23,000 yuan.
"A worker can get 80 percent of the revenue and we (the platform) get 20 percent," he says.
Dingding Kuaixiu is cooperating with 18 home-appliance manufacturers and e-commerce platforms, including Haier, Gree, Midea, JD and Suning. It aims to raise the number to 60 by the end of this year.
"When our partners get installation or repair requests, the orders will enter our platform's system. We would then dispatch workers to deal with them," Kong explains, adding that Dingding Kuaixiu mainly focuses on the "2B" (to business) market, rather than "2C" (to customers).
The startup has seen remarkable growth in the past few months. "For June, we had 1.2 million yuan in revenue, and we've seen it going up by 150 to 200 percent monthly," says the entrepreneur.
Despite the growth, Kong admits the company has yet to make a profit. "We expect to break even in October."
Having secured a 10-million-yuan angel investment from a senior executive of State-owned cultural enterprise OCT Group, Dingding Kuaixiu is on course to make a pre-A-round financing of 20 million yuan later this year.
Several investors have shown interest in investing in the company, Kong reveals, without elaborating.
According to Beijing-based industry research firm China Market Monitor, the home-appliance repair market is expected to show greater vitality in the next few years.
Currently, every household has an average of 12 kinds of home appliances. For a country with 400 million families, the market is likely to hit 1 trillion yuan by 2020, said Zuo Yanque, an executive of China Market Monitor.
"The home-appliance repair market is highly decentralized at present. Few players can dominate the market because they're unable to provide sound quality," Kong says.
"The industry is expected to become more centralized as improvement of service quality will create more leading players in future."
Kong believes the emergence of smart home appliances will create huge opportunities, and the company will try to standardize the services and lift efficiency by using big data, artificial intelligence and other technologies.
Liu Yanchen, deputy general manager of Shenzhen-based incubator KKStar, has high hopes for the project.
"Dingding Kuaixiu is something that represents the transformation from the 'internet' era to the 'internet of things' era," he said.
"It combines online and offline businesses and, therefore, has great potential in the IoT age."
Contact the writer at sally@chinadailyhk.com