First book in a series of 100 biographies unveiled
By ZHANG KUN in Shanghai | China Daily | Updated: 2018-08-25 02:28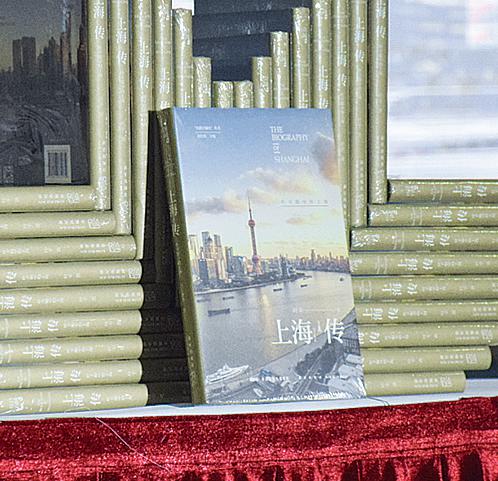 The Biography of Shanghai, the first book in a series of titles featuring 100 cities along the Silk Road, was launched at the Shanghai Book Fair on Aug 17.
According to Lu Cairong, deputy director of the China Foreign Languages Publishing Administration, the project has compiled a collection of profiles on 100 cities located along the Silk Road, in response to the nation's Belt and Road Initiative.
Ma Rujun, head of the New Star Press, said that the series will be a major project for the publisher this year.
"The books will explore the history and focus on the present, providing an in-depth interpretation of the characteristics of each city and exploring their potential for development," he said.
The Biography of Shanghai is written by Ye Xin, a 69-year-old author who resides in the city. Ye's book consists of five chapters, each made up of a dozen short essays about the changing landscape, art and culture, as well as the local delicacies and everyday lives of ordinary folks in the city.
"I grew up in the backstreet neighborhoods of Shanghai," Ye wrote in the preface of his book.
"I used to ride my bicycle on the small lanes and main streets of Shanghai, and made my way onto the crowded bus with innumerable people…I want to write about Shanghai in motion, in constant change, just like how I feel it as I live in it."
The book is a highly personal account about the city, noted Professor Liu Chuanming, editor of the book series. "Ye Xin's writing is individualistic and passionate, which is just what we need in this series," he said.
Liu added that the Silk Road was more than an ancient trading route mapped by archeologists and historians, but rather, an ever-evolving transportation web of human civilization. He expressed hope that he could find authors who can observe and understand these cities and tell of their unique characteristics.
He has commissioned 21 authors so far, each of whom will work on a city. Fifteen of them have already completed writing about cities such as Nanjing of Jiangsu province, Guangzhou of Guangdong province, and Zhangzhou of Fujian province. One of the most complex parts of this project, he pointed out, would be translating the books on foreign cities as they would be first written in their native language.
One of the most renowned novelists in the contemporary Chinese literary scene, Jia Pingwa, will be writing the biography of Xi'an, the capital city of Shaanxi province.
"Cities of special importance can have more than one biography," Liu said. "For example, other writers may join in and create a different biography for Shanghai."
Although the series will feature 100 cities, there will be more than 100 books in total. There will also be a television documentary featuring all the cities.