Bike makers hit hard by sharp slowdown in sharing sector
By Shi Jing in Shanghai | China Daily | Updated: 2018-08-28 10:28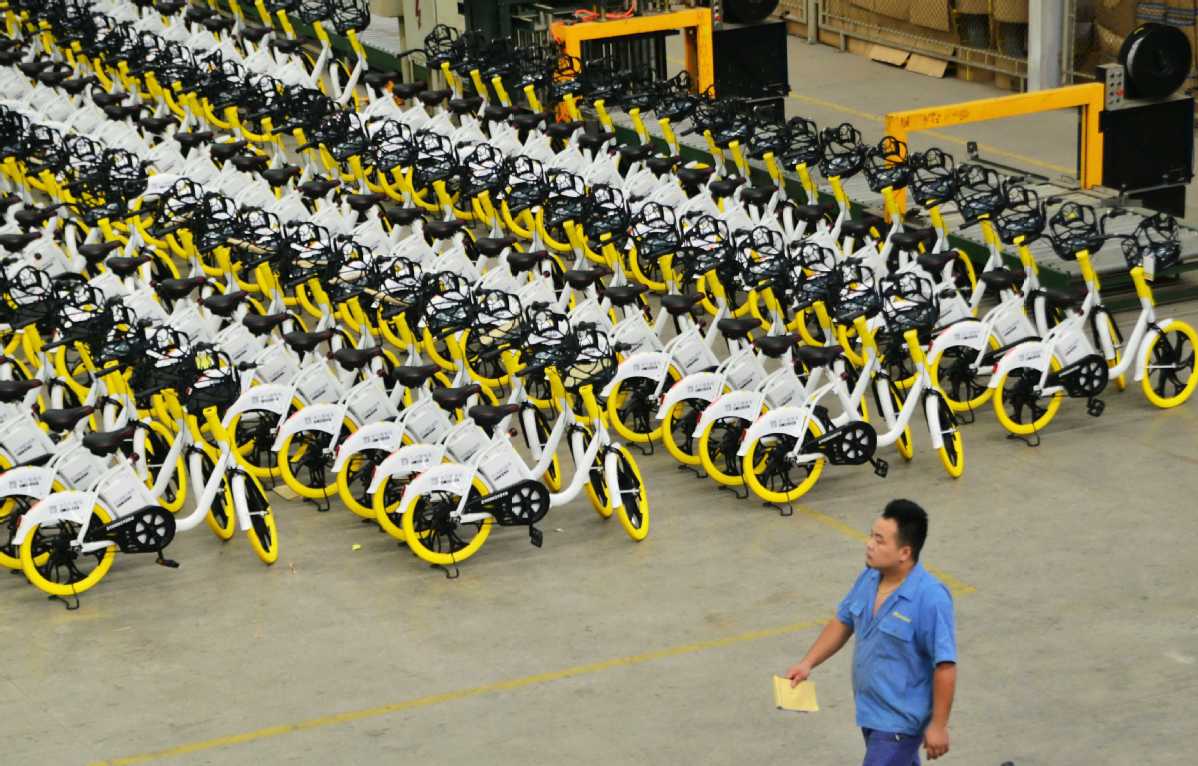 Bike manufacturers' interim results indicate that they are taking a hit due to the slowdown in China's once-vibrant bike-sharing sector.
Century-old bike maker Shanghai Phoenix Enterprise (Group) Co Ltd said in its half-year fiscal report released on Aug 25 that its turnover for the first six months slumped 55.72 percent year-on-year to 353 million yuan ($51.8 million). Its net income contracted by 55.44 percent to 19.11 million yuan. During the same period, the Shanghai Composite Index fell 13.9 percent.
The significant decline in orders from bike-sharing service providers was the main reason for its sluggish performance in the first half of this year, Phoenix said in its fiscal report. As a result, Chinese bike manufacturers and parts suppliers have been faced with overcapacity.
"A number of bike-sharing companies have withdrawn from the market, leading to overdue payments from time to time," Phoenix said in the report.
Phoenix has been a major supplier for Ofo, China's largest bike-sharing service provider. The two companies signed a cooperation deal in May 2017, in which Phoenix agreed to supply at least 5 million bikes to Ofo within 12 months.
But Phoenix said in early May this year that the actual order from Ofo over the past 12 months was just 37 percent of the agreed number.
Ofo has so far completed nine rounds of financing valued at over $2 billion, attracting industry leaders and major investment institutions such as Alibaba, Didi Chuxing, Ant Financial and Matrix Partners.
Ofo's market value was estimated at around $3 billion in July 2017. But it seems that its market has more than halved in one year's time, with a media report saying on Aug 3 that Didi Chuxing and Ant Financial offered to acquire Ofo for $1.4 billion.
The industry giant is also pulling out from most of the overseas markets. Ofo pulled out of Australia, Germany and Israel earlier this year, and announced in late July it was closing most of its businesses in the United States.
Phoenix is not the only bike maker affected by the shrinking bike-sharing sector. Shanghai Forever Bicycle, a subsidiary of A-share listed Zhonglu Co Ltd, has been a major supplier for bike-sharing companies U-bicycle and Gonbike. But half-year results showed that Forever Bicycle's income dropped 22.13 percent year-on-year to 183 million yuan.
Shenzhen-listed HL Corp has been a major supplier for Mobike. Its interim results show that HL Corp's net profit dropped sharply by 87.61 percent during the first six months to 3.84 million yuan. The company said in the fiscal report that the orders from bike-sharing companies had been cut drastically by 90 percent in the first half, which resulted in the 31.12 percent decline in the income from bicycle parts.
According to Ministry of Industry and Information Technology, the total output of bicycles shrank 32.1 percent during the first six months of this year to 19.4 million.
The bike-sharing industry in China, which was born in 2014, experienced exponential growth last year, with the annual growth rate surging to 632.1 percent, according to market consultancy iiMedia Research. However, that number will drop significantly to 14.6 percent this year.
"The market and capital flows have regained stability," said Zhao Hongmin, general manger of internet industry consultancy Sootoo's Shanghai office. "There will be an end to subsidiary wars, which will also signal the beginning of a new era."