Realizing African dreams through FOCAC
By Evaristus M. Irandu | chinadaily.com.cn | Updated: 2018-09-03 07:01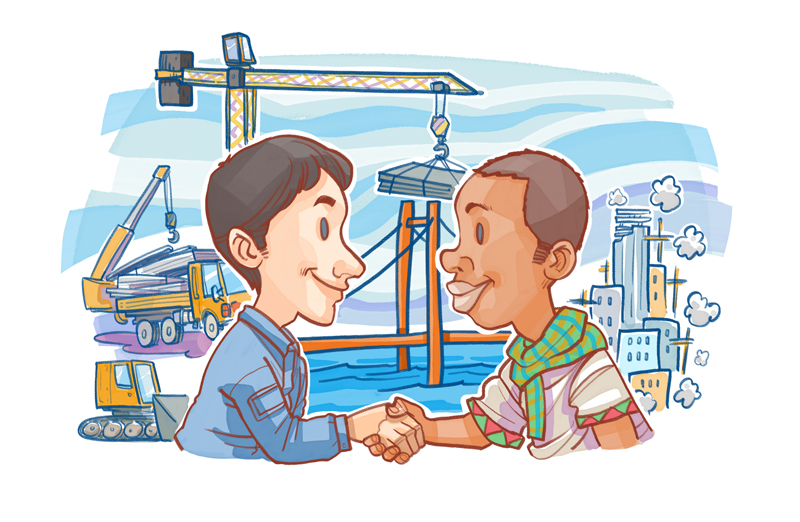 FOCAC: Deepening China-Africa cooperation
The establishment of the Forum on China Africa Cooperation (FOCAC) in 2000 signified the starting point of a new era of China's engagement with Africa. From this date, China launched unprecedented and unparalleled economic cooperation with Africa. The size and potential of China as a world power raised the level of expectations from African countries to dizzying heights.
Since 2000, China-Africa relations have entered a new phase of development, with both sides trying to establish a new type of strategic partnership based on principles of mutual trust, economic win-win cooperation and cultural exchanges. These principles have become cornerstones for China-Africa cooperation.
FOCAC is a forum held in China or an African country on an alternating basis. It was founded in October 2000 at the first ministerial conference in Beijing. Its objective is to strengthen Sino-African economic cooperation and trade relationships in order to establish a new international order that will better reflect the needs and mutual interests of China and Africa. The forum meets once every three years, with this year's FOCAC Summit taking place in Beijing, China, from Sept 3-4.
The theme of the Beijing FOCAC Summit is "China and Africa toward an even stronger community with a shared future through win-win cooperation". Through FOCAC, China will align the Belt and Road Initiative started in 2013 to the African Agenda 2063, the UN 2030 Agenda and development strategies of respective African countries. The aim of the Belt and Road Initiative is to establish an elaborate trade and infrastructure network that will connect Asia with African countries. In the case of Kenya, China is expected to align its Belt and Road Initiative to the country's Vision 2030.
In this connection, African leaders participating in the two-day summit should seize this golden opportunity to deepen and strengthen China-Africa cooperation in order to spur development in their own respective countries. The summit presents an opportunity to alleviate poverty afflicting many people in many African nations and to attract foreign direct investments from Chinese transnational corporations.
African leaders should forge a united front at the summit and push for a common China policy to realize the dreams of the African people envisioned in the African Agenda 2063. African leaders should also review the successes of the sixth FOCAC Summit in Johannesburg, South Africa, in 2015. The major objective of this summit was to promote industrialization and agricultural modernization in Africa.
Trade and strategic partnerships
Considering recent major developments in the global arena, it is high time for African leaders to review cooperation with their three strategic partners: China, the European Union and the United States.
Today, two-way trade between Africa and the EU exceeds $300 billion, but the EU has an uncertain future. Some observers view the EU as a leaderless, shrinking and almost burnt-out power. Efforts by various European leaders to make the EU a formidable global power have not yielded much fruit.
For a long time, the US has stood out as the leading trading and investment partner in Africa. However, at present, two-way trade has reduced considerably from $100 billion in 2008 to $39 billion in 2017. This could signal that the US is a spent force, a declining power saddled with pre-World War I nationalist policies that are old-fashioned and out of step with current global trends of fair, ethical and free trade, among others. It is also doubtful whether the current Trump administration has time for Africa.
Given the gloomy forecasts for the future of the US and the EU, the only African path left for realizing its Agenda 2063 is through Beijing. Many African nations have now adopted a "look East" policy, eager to learn from China's miracle of economic success and yearning for closer cooperation with the country to speed up their development.
China is now regarded as the real engine or driver of the global economy. It is an upcoming modern superpower which respects and supports the other countries it cooperates with (including those in Africa), upholds international law, and also honors multilateral agreements. It has clear global policies of engagement which ensure the sharing of a common future.
China has emerged from being a relatively minor player in African economies about a decade or so ago to becoming one of the principal sources for trade and investment. Today, China's role in supporting African development predates official pronouncements for the Belt and Road initiative, which now provides a galvanizing framework for the Chinese government and corporate leaders and their counterparts to formulate engagements.
In many ways China and Africa are well-suited partners. This is because much of Africa is cash-hungry, infrastructure-deficient and resource-rich. On the other hand, China seeks greater investment opportunities for its burgeoning private sector, and also needs a lot of raw materials for the expanding manufacturing sector. This combination of respective assets and liabilities has fostered a strong China-Africa interdependency, as each party uses the other to reconcile its own balance sheet.
As far as Kenya is concerned, a new era of cooperation with China has begun in earnest. China plans to make joint efforts with Kenya to strengthen the strategic connection of the BRI with Kenya's Vision 2030 and the Big Four Agenda. China will work closely with the Kenyan people in order to accelerate Kenya's rapid and high-quality development and initiate a golden era for China-Kenya cooperation. Since the establishment of diplomatic ties 55 years ago, China and Kenya have cooperated to complete more than 100 major projects, including the standard gauge railway (SGR) and the Moi International Sports Centre. Currently, China is Kenya's largest trading partner, investor and contractor. China-Kenya cooperation brings along tangible benefits to the people of both countries, and promotes the economic and social development of Kenya. This is a result of solid work the two countries have accomplished together. The Mombasa-Nairobi SGR is the best-known project between the two countries. Financed by the Chinese EXIM Bank and constructed by a Chinese State-owned enterprise, the SGR project has created 46,000 local jobs and cut the transport cost between Mombasa and Nairobi by 40 percent.
China's role in the international community, especially in trade and investment, is also rising to a level commensurate with its increasing economic strength as the world's second-largest economy. It is predicted that, in the coming decade or so, China may overtake the United States as the world's leading economy. This growing global influence of China may serve as a tremendous source of inspiration for African countries. Africa is likely to gain immensely from the Chinese experience of unparalleled development achieved in the last two or so decades.
Still, for many African countries, China has already become the leading trading partner in terms of both import and export business. In fact, China has surpassed the US as the single-largest trading partner of Africa.
Food security
The Beijing FOCAC Summit will have to address a wide range of issues, but some are more critical than others. Agriculture and food security should be at the forefront of the deliberations in Beijing. A number of African countries – such as Cameroon, Senegal, Guinea, Niger and Zimbabwe -- have in recent times experienced social unrest due to increasing prices or shortages of food items, worsened by the global financial crisis. To avoid "food riots" in the future, it is crucial today to mobilize resources toward food security in African countries. Enhancing food security is already part of Kenya's Big Four Agenda, and there is a need to come up with a clear agricultural policy emphasizing food security and value addition. This where China should come in to assist Africa by drawing on its long experience in agricultural transformation to speed up the construction of agricultural demonstration centers and ensure an effective transfer of technology in this important sector in Africa.
Lessons learned
African leaders attending the Beijing FOCAC Summit this September should learn a lesson or two from China's socioeconomic achievement of lifting 660 million citizens out of poverty. On average, China alleviates poverty at a rate of 12 million citizens annually. Within the next few years, the country is likely to alleviate poverty for all its 1.3 billion people, which will be a great feat in living memory.
At the Beijing summit, African leaders should ask certain questions: Can't we develop without outside interference? Can't we do away with the Western model of development? Can we look elsewhere for an alternative model of development? The late Chairman Mao Zedong once said, "There is no one path to development. Let a thousand flowers bloom." China-Africa cooperation, if well-nurtured, could be one of the many paths to sustainable development for our continent.
China, as the leading funder for various development projects in Africa, should scale up its investments and financing to assist the continent in building its capacity to achieve food security, increase value addition of raw materials, improve infrastructure, strengthen environmental responsibility and raise the standard of living for the people of Africa. This, in my view, should be the spirit of the Beijing FOCAC Summit.
The author is an associate professor in the Department of Geography and
Environmental Studies at the University of Nairobi, and can be reached at
eirandu@yahoo.com.
The opinions expressed here are those of the writer and do not represent the views of China Daily and China Daily website.