Africa's industrialization: Why is China a good partner?
By Ding Heng | chinaplus.cri.cn | Updated: 2018-09-03 08:21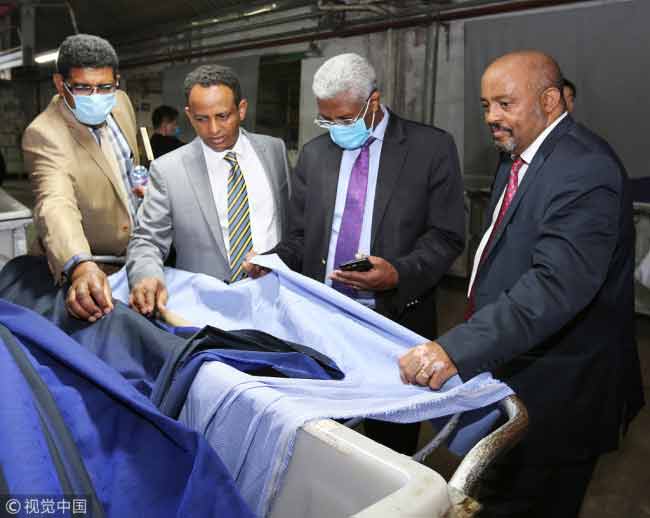 As part of the African Union's "Agenda 2063", a massive socioeconomic development framework put forward in 2015, the continent is looking to boost its manufacturing industry so that it accounts for more than half of its Gross Domestic Product (GDP) by 2063, compared to 10.1 percent in 2014. In the short term, the African Union wants manufacturing to account for at least 15 percent of GDP by 2023.
Manufacturing is not necessarily the right path to development for every African country, especially the tourism hot spots like Mauritius. But a lack of industrial capacity has caused real pain for the continent. Nigeria, a country rich in crude oil resources, had to use 30 percent of its foreign exchange reserves to import refined oil in 2016 because of its insufficient domestic refining capacity. Economies that rely on exporting raw materials were hit hard by the slump in international commodity prices in 2014 and 2015: According to the World Bank, the sluggish commodity market dragged down Africa's overall trade by 16 percent, and GDP growth in Sub-Saharan Africa by 1.5 percentage points in 2015. As Africa slowly recovers from that painful period, there is a growing sense of urgency to develop secondary industries and reduce the continent's economic vulnerability.
Officials in China and Africa have long been discussing ways to make use of China's money and technology to help industrialize Africa. Industrialization topped the list of 10 priorities for improvements in the China-Africa relationship that were announced by President Xi Jinping at the 2015 Johannesburg summit of the Forum on China Africa Cooperation (FOCAC). And it will once again be a focal point at the upcoming FOCAC summit in Beijing, according to China's Foreign Minister Wang Yi. The 2015 FOCAC summit also saw China set up the "China-Africa Industrial Capacity Cooperation Fund" with initial capital of 10 billion U.S. dollars.
Industrialization usually goes hand-in-hand with a growing urban population, as people leave rural farms to work in urban factories. In 2014, 40 percent of Africans lived in urban areas, compared to just 14 percent in 1950. The United Nations expects half of all Africans to live in cities and towns by the mid-2030s. To put this change into a historical perspective, it took Europe 150 years to move from having 15 percent urban dwellers in 1800 to 50 percent in 1950. In other words, the urbanization of Africa is taking place at about twice the speed that it did in Europe, so it's questionable whether the lessons learned during the industrial evolution of the West can be readily applied to the Africa of today. This is why China's experience is perhaps more applicable to Africa's current situation.
China was even poorer than Africa when the Reform and Opening Up policy was introduced 40 years ago. In 1978, China had a per capita GDP of less than 160 U.S. dollars, compared to 490 U.S. dollars in Sub-Saharan Africa at the time, according to World Bank data. Less than 18 percent of people in China were living in urban areas in 1978. But through the process of industrialization, it took less than 35 years for China's urbanization rate to rise to over 50 percent in 2011. Industrialization has also played a key role in lifting more than 700 million people in China out of poverty over the last four decades.
For a long time after China kick-started its Reform and Opening Up, its large population was a major economic resource. This is why China's industrialization after 1978 began with labor-intensive industries such as garments and textiles. The huge exports of goods generated in these sectors is why China came to be known as "the world's factory". The Pearl River Delta, once a hub of labor-intensive manufacturing, enjoyed GDP growth of nearly 18 percent a year through the 1980s and 1990s.
In comparison with labor-intensive sectors, it usually takes much more time for capital and technology-intensive industries to sprout and take shape. That's why Shenzhen, the most iconic city in the Pearl River Delta, has spent decades transforming from a labor-intensive manufacturing city to the tech city that it is today.
When it comes to Africa's development, industrialization might also have to be focused at first in labor-intensive sectors. Similar to China's situation in the 1980s and 1990s, the biggest asset the continent has now is its people. In Sub-Saharan Africa, 55 percent of the population is aged between 18 and 34. In Zambia, half its population is less than 17 years old. Unlike economies that face the challenge of aging populations, these young people have enormous potential to be a powerful economic engine in Africa.
In countries like Ethiopia, the industrialization that has taken place with China's assistance is already showing early signs of success. Official figures from Ethiopia show that investment from China created nearly 20,000 manufacturing jobs between 2012 amd 2017. One of the investors is the shoe manufacturer Huajian. The company has spent two billion U.S. dollars building a giant factory in the country. Today, Huajian employs some 8,000 Ethiopians. Shoes produced at its factory account for 65 percent of Ethiopia's shoe exports. While many African countries relying on commodity exports are still recovering from the price crash a few years ago, Ethiopia's economy has grown by 10.9 percent in 2017. An International Monetary Fund report released in May ranked Ethiopia as one of the best-performing economies in Africa.
At the most basic level, modern infrastructure networks are essential for building industrial capacity. Without electricity, factories would stand idle. If transportation services are antiquated, goods coming off factory production lines risk being stranded. According to African Development Bank estimates, today over 600 million Africans are living with electricity shortages, and around half of Africa's roads are unpaved. This is why China is dedicating a large portion of its loans to Africa towards funding infrastructure development
China's industrialization has not been free of negative side-effects, such as the problem of industrial pollution, which China's government is continuing to tackle. The lessons that China has learned in dealing with these problems can help African countries to maintain steady economic growth while at the same time avoiding some of the same pitfalls China faced. For example, China introduced a new environmental protection tax that went into effect in January. Electric and plug-in hybrid cars are set to account for at least 10 percent of all cars on China's roads by 2020. China is home to the world's largest solar panel production capacity. In 2016, 40 percent of the world's green bonds, a financing tool to fund environmentally-friendly business opportunities, were issued in China.
As Africa looks for opportunities to industrialize while at the same time preserving its natural beauty, there is a lot of know-how that China could impart, including its list of "don'ts".