TV show spotlights doctors' African assistance
China Daily | Updated: 2018-09-04 07:10
BEIJING - Border for Doctors, a four-episode TV documentary depicting China's medical assistance to Africa, has been hailed as an excellent example of China-Africa cooperation and friendship.
The documentary tells stories of China's medical workers who, for more than half a century, have faced life-threatening diseases and epidemics, saving numerous lives in Africa.
The documentary, filmed by CCTV-4 Chinese international channel, has been watched 80 million times, and depicts China as a nation with affection and responsibility, according to channel director-general Li Xinyan.
What touches the audience the most is not the wild scenery of Africa, but instead the humanity embodied by the medical workers, says Zhang Tongdao, director of the documentary center at Beijing Normal University. "The medical workers are as vulnerable as anyone else, but they showed their professionalism at critical moments."
A quality documentary makes the audience remember several figures and stories, says He Suliu, a professor with the Communication University of China.
"Border for Doctors reflects the international humanitarian spirit. It is a good vehicle for shaping China's image as well as spreading the culture and values of China."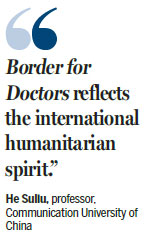 Through several stories, the documentary conveys China's ambition to build a community and a shared future for humanity, says Jiang Jianguo, deputy head of the publicity department of the Communist Party of China Central Committee.
Since the first Chinese medical team arrived in Africa in 1963, all kinds of nonprofit Chinese medical services have contributed to the continent's healthcare.
During the past 55 years, China has sent over 20,000 medical workers to Africa and some 200 million African people have benefited from the program.
In another development, China and Ghana will co-produce a feature film titled Ebola, commemorating Chinese medical aid to West Africa during the Ebola epidemic in 2014.
According to the producer-in-chief Wang Xiaoyan, the film will be shot in Africa next year and the production is scheduled to be finished in 2020, in time to celebrate the 20th anniversary of the Forum on China-Africa Cooperation.