New song released to help others hear
By Chen Nan | China Daily | Updated: 2018-09-08 10:21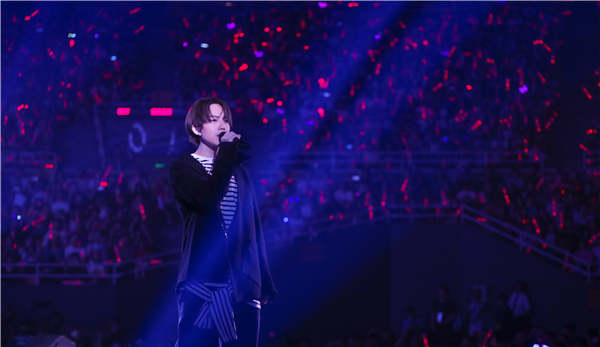 Taiwan singer-songwriter Yoga Lin's says that his latest single Flame In the Brook is inspired by his experience of becoming a father.
On Aug 3, Lin's wife, singer-actress Kiki Ding, gave birth to their son and the news was announced on his Sina Weibo account which has more than 11 million followers.
On Aug 5, Lin released Flame In the Brook in cooperation with the Beijing I Hear U Charity Fund and Chinese music streaming service Net-Ease Cloud Music. Each song download costs 3 yuan ($44 cents), and the money raised is donated to the charity fund. More than 1.2 million yuan has been raised so far.
Established in 2012, Beijing I Hear U Charity Fund offers help to hearing-impaired children by providing free cochlear implants and training the parents of hearing-impaired children. As of January 2018, 466 hearing-impaired children have received cochlear implant surgery.
"I have changed a lot since becoming a father, especially the way I see the world and my connection with children," said the 31-year-old when he held a mini concert in Beijing on Aug 29.
The concert, which was also held in Shanghai on Aug 31, was part of the fundraising project.
"I am a lucky father because my son is healthy. But not all the families are lucky. I want to raise money for hearing-impaired children who with cochlear implants may recover from their hearing loss," adds Lin.
The singer-songwriter rose to fame after winning Taiwan's reality TV singing competition One Million Star in 2007. He has released six studio albums and garnered a large fan base in Asia.
Lin says that there are many things he loves about his musical career, and one of his favorite parts is the messages he delivers through his music.
"People will tell me how much they are influenced by my music and I hope this song, Flame In the Brook, will function the same way," he says.
Yao Xuesong, a television host on China Central Television and the charity fund's co-initiator, says this is the first time the charity fund has raised money through music.
"With celebrity power, we want more people to join us," Yao says.
Ding Bo, vice president of NetEase Cloud Music, shares the same sentiment.
"As music lovers, we appreciate a good song and the emotions being expressed through sound, but many children don't have that luxury to enjoy music because they cannot hear, which is why we have launched this charity with the hope of making a difference," Ding says.