Activists criticize vandalism of 'comfort women' memorial statue in San Francisco
China Daily | Updated: 2018-09-10 11:05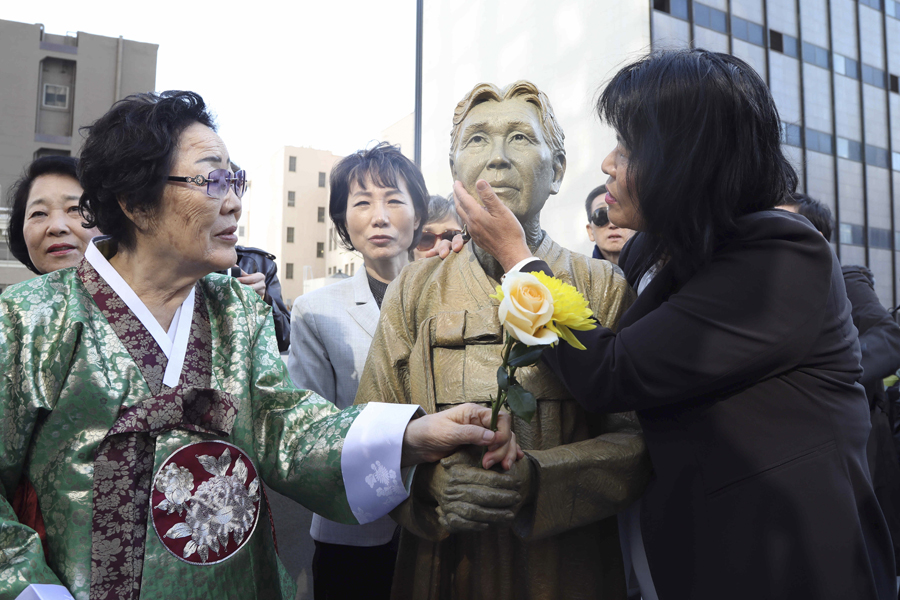 SAN FRANCISCO-A "comfort women" memorial in San Francisco in California has recently become the target of vandalism ahead of the anniversary of its installment, and activists said the act may have been motivated by hate.
The statue, called "Column of Strength", depicts a grandmother looking up at three Asian girls standing on a pedestal and holding hands together.
They represent "comfort women", the hundreds of thousands of women from China and other Asian countries who were forced into sexual slavery by the Japanese military during World War II.
In the past few weeks, paint was splattered on the statue and the grandmother's eyes were painted white, while the panel that bears the description of the statue was scratched up at least four times.
"We have sent the tape to the video camera surveillance department (of the San Francisco Police Department). They will look to the manager of the building which hosts the memorial and look over the tape," said Julie Tang, co-chair of "Comfort Women" Justice Coalition, a local grassroots advocacy group, on Saturday.
Tang said it hasn't been determined when exactly the act of vandalism happened.
"The deep scratches and the four separate incidents of vandalism look to me very intentional. It looks to me like a hate crime," she said.
"The act itself speaks for the intent and I think it's an intentional vandalization against the purpose and meaning of the statue, which is to promote peace and honor the courage of these women," said Tang.
The memorial had sparked protests from Japanese rightists even before it was installed at St. Mary Square in the city's downtown area last September.
Opposition
The most pronounced opposition came from Japan's Osaka Mayor Hirofumi Yoshimura, who threatened late San Francisco Mayor Ed Lee last November that he would sever the 60-year-old sister-city relationship with San Francisco if Lee accepted the statue on public land.
However, Lee pushed back and went ahead with the plan to erect the statue in Chinatown.
Less than two weeks after San Francisco's new Mayor London Breed formally took office on July 11, Yoshimura wrote to her, saying he would terminate the relationship if the statue wasn't removed from public land. He gave her a deadline until the end of September to respond.
"I think it (the vandalism) has something to do with the Osaka mayor's letter, because the information has been propagated," said Tang.
Xinhua