UN chief: climate change 'direct existential threat'
By Wang Linyan at The United Nations | China Daily | Updated: 2018-09-12 09:24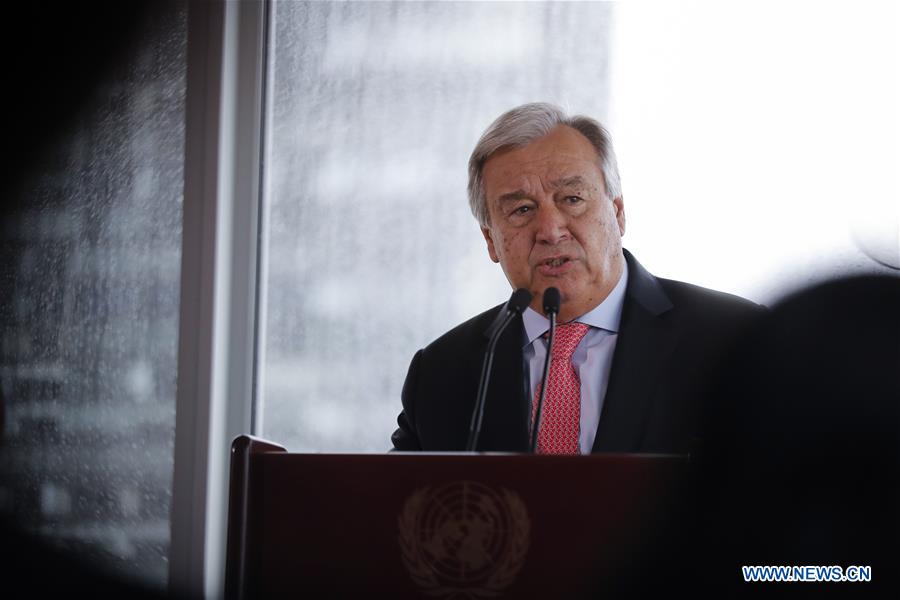 UN Secretary-General Antonio Guterres on Monday appealed for stronger leadership and ambition from the international community to reverse the impact of climate change, "a direct existential threat" at what he said was "a defining moment".
"If we do not change course by 2020, we risk missing the point where we can avoid runaway climate change, with disastrous consequences for people and all the natural systems that sustain us," Guterres warned in his landmark speech at United Nations headquarters in New York ahead of the Global Climate Action Summit to be held in San Francisco this week.
The pledge made by world leaders in the Paris Agreement three years ago to prevent temperatures from rising by less than 2 C, and working to keep the increase as close as possible to 1.5 C, was really the "bare minimum" to avoid the worst impacts of climate change, he said.
According to a UN study, the commitments made so far by parties to the Paris Agreement represent just one-third of what is needed.
The UN chief outlined the dangers of climate change, including extreme heat waves in Japan, wildfires in the US and floods in southern India, which have left a trail of death and devastation.
For example, according to the World Meteorological Organization, the past two decades included 18 of the warmest years since 1850, when records began. This year is shaping up to be the fourth hottest.
"The mountain in front of us is very high, but it is not insurmountable. We know how to scale it," he said. "Put simply, we need to put the brake on deadly greenhouse gas emissions and drive climate action."
Guterres highlighted effective measures taken by China and other countries as he called for a shift away from the dependency on fossil fuels toward cleaner energy and away from deforestation to more efficient use of resources.
In China and the United States, new renewable energy jobs now outstrip those created in the oil and gas industries, he said in his speech. Last year, China invested $126 billion in renewable energy, an increase of 30 percent over the previous year.
Strong message
Ma Zhaoxu, China's ambassador to the UN, said after Guterres' speech that the UN chief sent out a strong message asking the whole world to put more emphasis on fighting climate change.
Guterres has recognized China's efforts on climate change, particularly on promoting the use of renewable energy. And he expects China to continue to play a leading role on this issue, Ma said.
"Tackling climate change and building eco-civilization are part of building a community of shared future for mankind, proposed by President Xi (Jinping)," Ma said.
"Measures taken by China on climate change have helped advance the global sustainable development and are significant to building a community of shared future for mankind."
In his speech, Guterres also outlined his vision for a new Climate Summit in 2019, during which he will rally the international community to step up action in key areas, including sustainable energy production, economic growth and better stewardship of natural resources.
Meanwhile, he called on civil society and young people to act.
"There is no more time to waste. We are careering toward the edge of the abyss," he warned. "Every day that passes means the world heats up a little more, and the cost of our inaction mounts.
"Every day we fail to act is a day that we step a little closer toward a fate that none of us wants - a fate that will resonate through generations in the damage done to humankind and life on earth," he said.