Year's most violent storm brings devastation to HK, Macao
By HE SHUSI/LI WENFANG | China Daily | Updated: 2018-09-17 11:06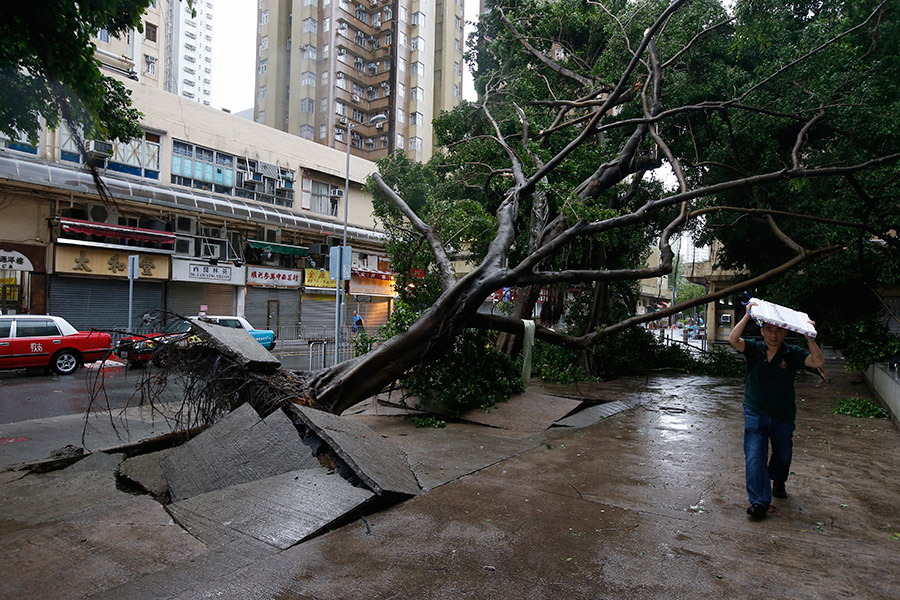 Typhoon Mangkhut, reportedly the world's most intense storm this year, left a swath of floods, property damage and injuries in its wake as it slammed into the Pearl River Delta region on Sunday.
The storm brought several cities in southern China nearly to a standstill, after killing 59 people as it tore through the northern Philippines.
At its strongest, Mangkhut packed sustained winds of up to 189 kilometers per hour with maximum gusts above 230 km/h, as it skirted Hong Kong toward the western delta area, bringing fierce rain.
Photos and videos, many by members of the media who braved the severe weather conditions, showed swaying buildings, smashed windows, rough seas, fallen trees, collapsed retaining walls and flooded building lobbies, all across the delta.
Streets that were virtually abandoned were littered with debris. Public transport services were mostly suspended. Authorities in the Hong Kong and Macao special administrative regions and Guangdong province issued repeated appeals to the public to stay indoors if possible.
In Hong Kong, the scaffolding of a high-rise building under construction and a construction elevator were blown down by the destructive winds.
In eastern Hong Kong Island, low-lying coastal areas suffered serious flooding, including building lobbies, parking lots and streets, as a storm surge above 3 meters crashed against the shoreline, on Sunday afternoon.
Near Heng Fa Chuen, a private residential estate that was flooded by a severe typhoon last year, the streets were knee-deep in water. Some vehicles were half-submerged.
Tai O, a fishing village in western Hong Kong, saw serious flooding, with waist-deep water.
The government had arranged early evacuation, with residents moved to safety as Mangkhut approached.
Macao also reported serious flooding on Sunday afternoon. The situation was described as worse than that of the Signal 10 - or maximum - Typhoon Hato in August 2017. Some areas of Macao suffered power outages and suspension of internet services.
Macao Electricity Co, the city's power supplier, said it proactively cut the power supply in some low-lying areas at 1 pm on Sunday. Flooding was as deep as 2 meters. The company said the power outage affected about 20,000 customers in different districts. It said it would send maintenance teams to restore power after the water level had receded.
In August 2017, Hato claimed 10 lives in Macao and caused economic losses running into the billions. For the first time, the Macao government suspended operations at all gambling venues, effective from 11 pm on Saturday.
In Shenzhen, 120,000 households were without power for hours. Adjacent to Hong Kong, it also reported several landslides and pavement collapses.
People in the region were stalled by canceled flights, disrupted schedules and extended working hours by the storm.
Some employees who usually work a night shift arrived in their offices early on Sunday morning, fearing there would be no public transportation by afternoon.
Zhou Jing, a 30-year-old endocrinologist at Sun Yatsen Memorial Hospital at Sun Yat-sen University in Guangzhou, found herself stranded in Shenzhen after visiting her husband on Saturday. Her high-speed train to Guangzhou, scheduled for 9 pm on Sunday was canceled, adding to the other storm-related transport paralysis.
Zhou, who is supposed to be at the outpatient clinic on Monday morning, had lost hope that she would be there on time.