Fashion trade show focuses on Shenzhen
By Bo Leung in London | China Daily | Updated: 2018-09-18 00:16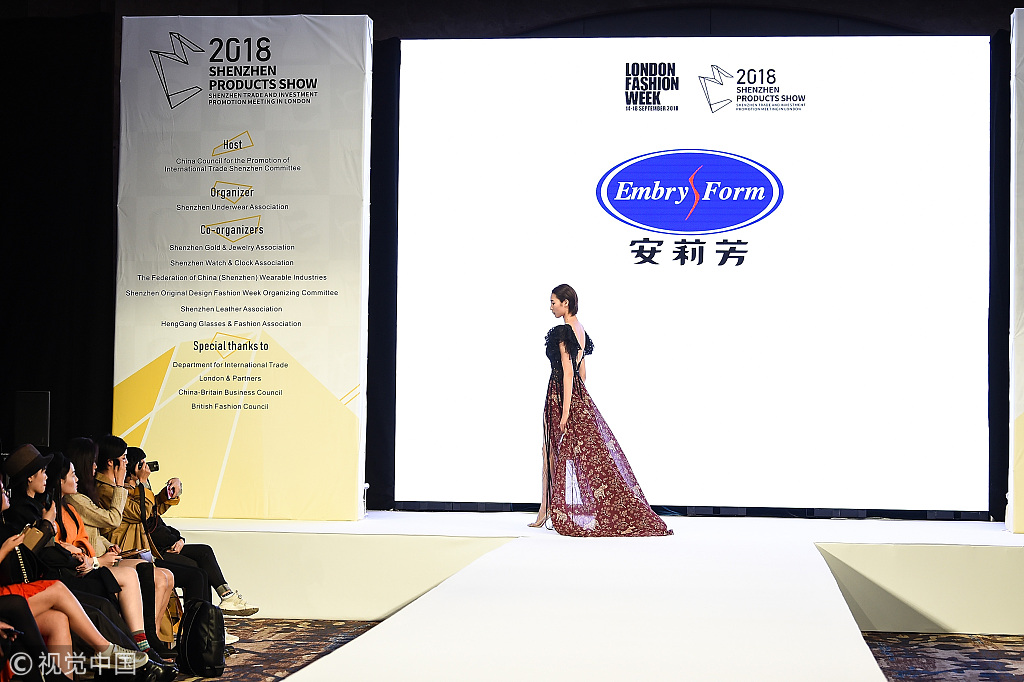 Around 50 Chinese companies from Shenzhen, in Guangdong province, took part in the 2018 Shenzhen Products Show in London on Sunday and Monday to promote and showcase Shenzhen's fashion and accessories trade.
The event, which coincides with London Fashion Week, offers trade and investment opportunities to British companies.
The trade show also featured a seminar on the market opportunities in Shenzhen and its creative sectors, as well as a trade exhibition.
Models also strutted down the runway to show off creations by Chinese designers that are featuring in fashion shows.
Visitors and industry professionals browsed through collections of lingerie, leisurewear, fashion collections, and accessories, including shoes and handbags. Exhibitors also showcased jewelry and watches.
The Chinese businesses at the trade event engaged with buyers, agents, distributors, importers, and exporters, as well as explored collaboration opportunities with British designers.
The Shenzhen delegation also highlighted its technology and innovation sector, especially in showcasing materials and manufacturing processes.
Guo Jingwei, deputy director of the China Council for the Promotion of International Trade Shenzhen Committee, said the Chinese city has around 2,800 clothing enterprises and about 300,000 people employed in the industry.
"We have over 12,000 leather industries," Guo said. "Many of the world's leather processing companies are in Shenzhen, which includes Britain's big brands. The production of glasses is worth 100 million yuan ($14 million) a year, and high-end glasses (produced in Shenzhen) account for 70 percent of the world."
He said the fashion industry in Shenzhen leads all other Chinese cities and famous global companies have a presence in the city.
"London is a fashion capital," he said. "I believe the future of our cooperation with the UK will be promising."
The British Fashion Council said Chinese tourists are the biggest spenders in the UK's luxury fashion market.
According to the UK's Department for International Trade, UK-Shenzhen trade is worth 4.7 billion pounds a year, with Britain being the biggest European investor in this city.