Chinese film makers dazzle film fest
By NA LI in TORONTO | China Daily USA | Updated: 2018-09-19 22:22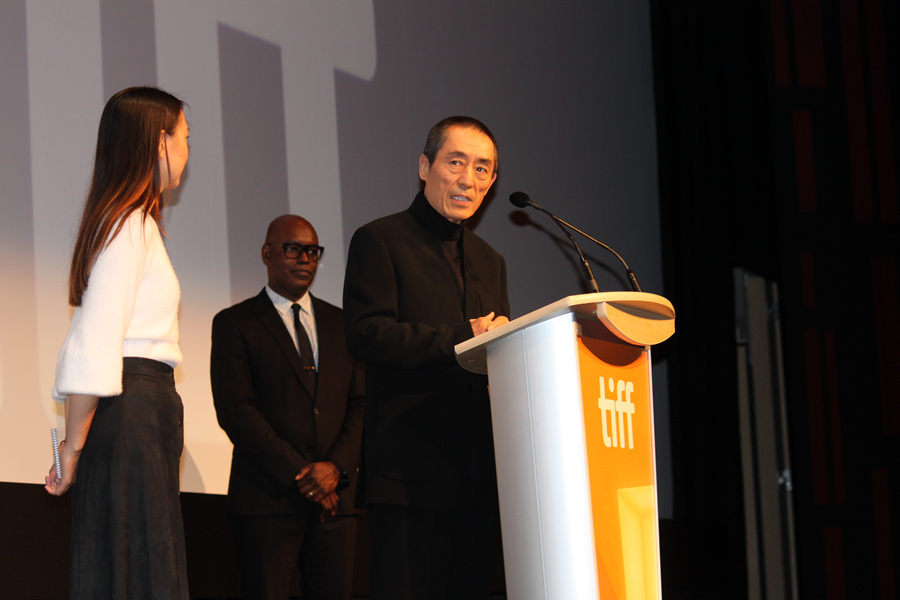 Acclaimed Fifth Generation directors Zhang Yimou, Chen Kaige and Jiang Wen showcased classic Chinese-style movies at the 2018 Toronto International Film Festival (TIFF).
This year's TIFF presented one of the strongest lineups it has ever had, with 24 films from China, including two North American premieres — Zhang Yimou's Shadow and Jiang Wen's Hidden Man.
Zhang's artistry is well known, from the big screen to the Beijing Olympics opening ceremony and he continues to surprise audiences through his constant innovation.
Zhang is famous for his daring use of vibrant colour. In Shadow,he draws on China's centuries-old tradition of ink-wash painting to craft costumes and production designs in rich shades of black, white and slate grey.
"I was inspired by the Chinese traditional ink-brush painting," Zhang told China Daily. "This is also an exploration of artistic innovation. I want to represent the world from a different perspective."
Various other Chinese elements are applied in the film, such as Yin-Yang, costumes, calligraphy and music from a guzheng, or Chinese zither. By using these elements, Zhang said he aims to promote Chinese culture on the world stage bridge East and West.
"It's clear that this one is so Chinese, and people would discover things about Chinese culture in the history," said Ellen Eliasoph, president and CEO of Village Roadshow Entertainment Group Asia, producer of Shadow.
"It's natural to incorporate the traditional Chinese culture elements into a historic film. I think it creates a scene for the young people to look back on history and learn more about traditional culture," Zhang said.
Zhang said film festivals like TIFF are good opportunities for Chinese directors to learn from the world and exchange with the world.
Zhang was just honored in Venice with the Glory to the Filmmaker award, before heading to Toronto for the festival.
With an epic screen adaptation of a Japanese novel, director Chen Kaige returned to TIFF with a tale of love, intrigue and mysticism, set in a fantasized vision of the Tang Dynasty, Legend of the Demon Cat.
"The writer is Japanese, but it is really in favour of the Chinese culture of the Tang Dynasty," said Chen. "China at that time was another Roman Empire, with a lot of foreigners and immigrants in China. You can see an open society with cultural exchange — that's what I wanted to show the world."
Chen hopes that the younger generation can watch the film and learn that in its heyday Chang'an was a cosmopolitan city and a high point of civilization.
Central to the story are two key historical figures: one of China's greatest poets, Bai Juyi, whose verse embodied the spirit of the Tang dynasty and became a model for Japanese literature; and Japanese monk Kûkai, who first took the secrets of esoteric Buddhism to Japan. The two young men team up to investigate the death of an imperial concubine.
"There have always been young people who stand up to defend human dignity. It's an international story," Chen added.
Another director and award-winning actor from China, Jiang Wen, brought his latest action-epic, Hidden Man, to TIFF 2018 as part of the Gala Presentations programme.
An adaptation of Beijing-born writer Zhang Beihai's novel Xia Yin,the movie tells the story of a spy's revenge amid romance and conspiracies set in 1937 Beijing, as Japan invaded China. Jiang described the film as "Hamlet in Beijing and Bruce Lee navigating Casablanca."
Jiang recreated the old city of Peking from historical records in the film by using digital technology and set designs to portray what the old Chinese capital looked like.
"We are very glad to host the premieres of Chinese directors' movies at TIFF," said Cameron Bailey, artistic director of the TIFF, which wrapped up Sunday after 10 days. "These movies in the gala lineup for our audiences really show their dazzling energy and amazing style of film making."